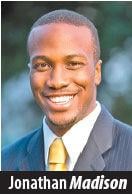 I was only 12 when the terrorist attacks of Sept. 11, 2001, occurred. The country, it seemed, was surmounted with fear and despair after bearing witness to terrifying images of the two tallest towers in the heart of the world's superpower collapse at the hands of a few foreign terrorists.
Beyond those images, I recall one moment more vividly than any other. Believe it or not, it was not the frightening images of dark debris that swallowed lower Manhattan. The moment came when my father picked me up from school early for fear that another attack might occur. On the drive home, I saw more American flags on lawns, roofs, windows, doors and parks than ever before. I have yet to see another moment when patriotism was displayed in nearly every direction. It was proof to me that we often find the source of our strength in moments of true darkness.
With that strength, the country rallied behind President Bush in his sweeping measures to fight the war on terror, such as the enactment of the Patriot Act and a declaration of war on Afghanistan. Although I am critical of their tactics, I am thankful that the Bush administration and Congress took the important steps to bolster our military intelligence capabilities. I truly believe that protected us from dozens of potential attacks on our beloved soil.
For all the criticisms that candidate Obama leveled against the Bush administration, President Obama continued and even expanded many of Bush's policies in the war on terror to more effectively protect our nation. Many of his early supporters were disappointed to see him take actions that did not reflect his campaign of change. However, I am grateful the Obama Administration realized the need to expand our national defense and intelligence capabilities in the wake of new terror threats.
The Obama administration also shares the blame for its fare share of mistakes. Our nation has lost the trust of a number of allies and adversaries during this administration, in part because of fairly weak leadership on national defense, and because of the diplomatic failures in Iraq inherited from the Bush administration.
As a result, the Islamic State terrorist group emerged as a major threat. The terrorist group attacked innocent civilians and filmed beheadings of Egyptian Christians in the name of ideologically purifying a religious sect.
In spite of the dark days that lie ahead of us, history gives us reason to believe we will prevail in the war on terror nonetheless. Consider the numerous fights against terror that the United States has won. In response to Hitler's extermination of millions of Jews, the United States created a War Refugee Board that successfully saved about 200,000 Jewish lives on several search and rescue missions. Those efforts paved the way for the creation of the state of Israel, a crucial Middle Eastern ally for us to this day in the war on terror.
Don't forget that 10 years ago, our nation succeeded in bringing to death Osama bin Laden — a worldwide symbol of the war on terror — allowing American families to find solace years after the 3,000 lives that were lost on Sept. 11, 2001.
We have not been flawless. Many groups now use our dominance in the Middle East and policies of torture and drone strikes as a recruiting tool for a new generation of terrorists. Beyond that, the Biden administration's brash withdrawal of our nation's troops from Afghanistan is being hailed by many as the genesis for new forms international terrorism, particularly after we effectively armed the Taliban with black hawk helicopters, assault rifles, and other deadly military equipment. After more than 20,000 wounded soldiers, 2,400 American deaths, and $2 trillion spent over the past 20 years, the uncoordinated withdrawal of our troops Afghanistan is nothing short of an international embarrassment.
One thing is certain — our nation's response to the Sept. 11 attacks tested our faith in government. In spite of everything, I remain faithful that our nation can overcome this, as we always do. We have come through a Great Depression together. We defeated Nazi Germany and the Japanese in two theaters and have liberated millions of innocent people. We have stood together and become a stronger nation than ever following Sept. 11 and have chased its perpetrators to the corners of the Earth.
We will never live in a world that is immune from terror — but if we do not want our children to have to live through the horrors that we witnessed Sept. 11, 2001, we must stand together as a nation to protect our innocents from future attacks.
A native of Pacifica, Jonathan Madison worked as professional policy staff for the U.S. House of Representatives, Committee on Financial Services. Jonathan is lead attorney at the Madison Firm. Jonathan can be reached at jonathan@themadisonfirm.com.