Preston's Candy & Ice Cream, the Burlingame maker and seller of fine chocolates and other sweets, is celebrating 75 years in business, and will host a gathering this Saturday to ring in the occasion. 
The quaint Broadway store will offer free hand-made candy to guests from 11 a.m. to 1 p.m. Oct. 16, as well as a history lesson on the establishment's rich past to anyone who asks. 
"There are not very many places like us left," owner-operator Irene Preston said. "I have generations of customers who come in here."
Stepping inside the old-timey storefront, with its checkerboard floors and 1950s wallpaper, evokes a nostalgia increasingly hard to find in a world where small-scale makers and artisans are often displaced from brick-and-mortar to online sales.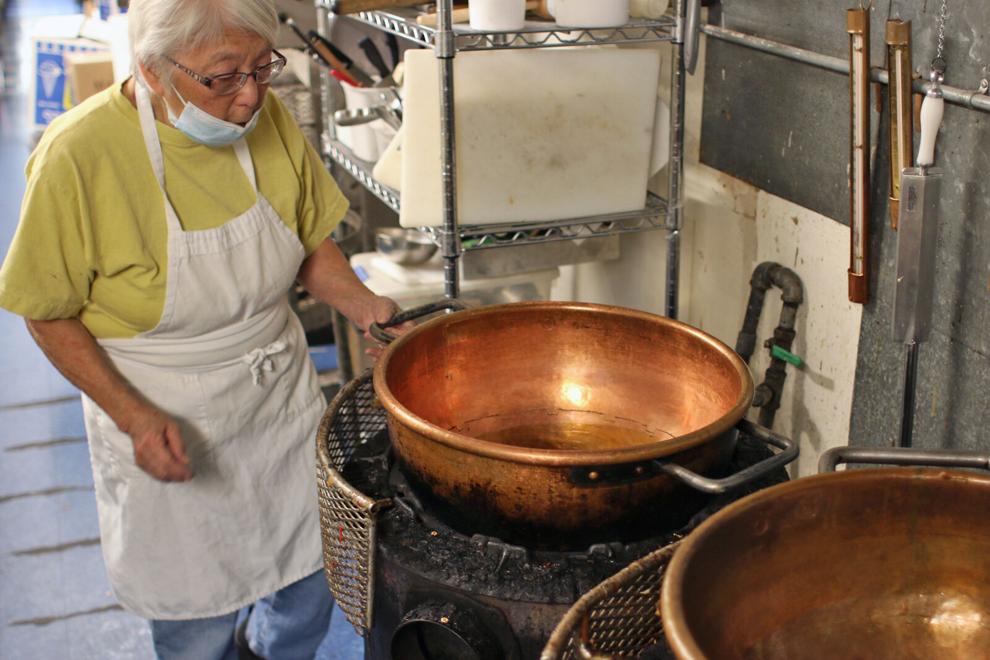 The store's offerings are made almost entirely in house, with many appliances in the kitchen dating back to its 1946 opening — or earlier. Large copper mixing bowls, for instance, were a gift to the store's founder Art Preston, from San Francisco chocolatier Douglas Shaw to whom Art Preston apprenticed. 
Though Irene Preston shares no relation to the store's founder, she calls the shared last name a "karmic-convergence."
"My ex and I, we had always thought 'well wouldn't it be fun if we had Preston's,' because that was our last name," Preston said. The two bought the store in 1997.
"I did not know anything about candy, all I knew is that I like chocolate," Preston said. "Once you start eating good candy you don't go back to your Mars bars and your Snickers and things like that."
Pre-pandemic, Preston offered "candy tasting classes," as well as more advanced candymaking lessons to those interested. She said she is also always seeking new apprentices looking to learn the candymaking trade. 
"I've trained many people now, they're all very good candymakers," she said. 
Included for this weekend's celebration, a diorama of the store, made by a family member of the store's founder, will be on display. The diorama displays the store's original state dating back to its opening.
Preston's Candy and Ice Cream is at 1170 Broadway, Burlingame. Go to sites.google.com/view/prestonscandy for more information.
(650) 344-5200, ext. 105