Alisa Ferrari has been having a tough month.
Ferrari has owned Stella Alpina Osteria, an Italian restaurant just off Burlingame Avenue in the lower level of the former Alpine Inn for the past 15 years. And just over the last few weeks, her restaurant's water heater exploded, costing thousands of dollars to replace, and then their freezer died, spoiling a massive amount of inventory. Ferrari couldn't afford to replace the freezer and instead paid to have it fixed. Finally, on top of all that, she had to make the difficult decision to close her restaurant when the shelter-in-place ordinance was issued last month.
"At that time, we knew that it was going to be at least three weeks, so we gave away all of our food," said Ferrari. "I had already told my staff, the day before on March 15th, I said 'file for unemployment because you're not going to be making what you made last month or last year.'"
Unlike many other restaurants, Stella Alpina didn't do much takeout before the pandemic hit. It wasn't a huge source of revenue for them and, as a result, they didn't have the infrastructure in place to transition to takeout only. Ferrari decided to close instead, waiting to see how the crisis unfolded, planning to reassess later on.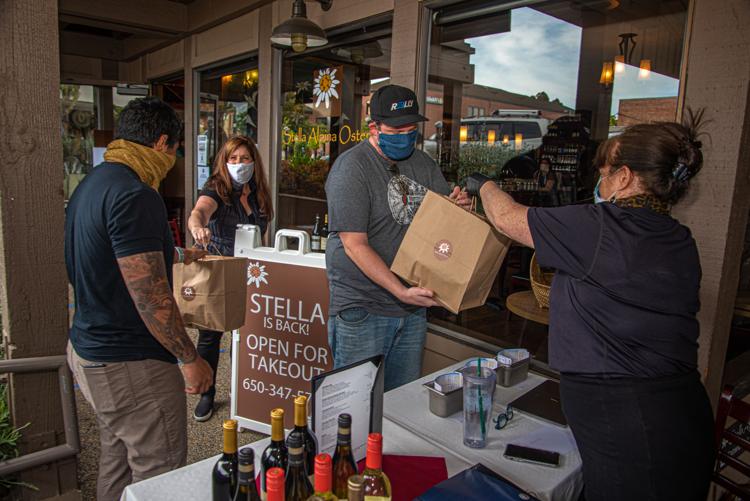 "We didn't know what the rules were, and then take out started to bubble up in the following days," she said. Ferrari wanted to wait and see what the success rate was with everybody else, she said, "but I also wanted to keep my employees at home, and keep them safe." She has been paying staff who have been unable to receive unemployment in the meantime.
Ferrari is one of several Burlingame business owners forced to make this choice when the shelter-in-place ordinance went into effect — either close up altogether or pivot operations as creatively as possible to try to survive COVID-19. While hoping for the crisis to end and waiting for federal aid, many have found support among the community and among their fellow business owners, and have worked together with the Burlingame City Council to come up with some creative solutions. Last week, the council passed two initiatives designed to help the community — a $500,000 small business grant program and a $250 gift card program for low-income residents to hopefully spend at local businesses.
"Burlingame businesses provide a significant part, 18 to 20%, of our general fund revenue that's tied to sales tax," said Burlingame Councilwoman Donna Colson. "They create the vibrancy in our downtown area that attract shoppers and attract people to come, and we wanted to make sure that they were able to carry on through this shelter-in-place order."
After a number of meetings with its Chamber of Commerce, business improvement districts and several business owners, the council decided to model their grant program after other similar programs, like the San Mateo County Strong Fund, said Colson. The goal is to launch the program within the next week, offering grants from $5,000 up to $10,000. Colson hopes they will reach as many as 75 local businesses.
Colson said the city felt especially compelled to step in and help fill this financial gap after so few of their businesses were able to acquire federal loans.
"They really seem to be getting squeezed out from the federal aid," she said.
John Kevranian, owner of the Nuts for Candy shop in downtown Broadway for the last 26 years and the president of the Broadway Burlingame Improvement District, has been actively hearing concerns from other merchants during this time, particularly about loans.
Last week, he surveyed businesses on Broadway. "And I asked how many people got their PPP loans," said Kevranian. "I got 15 responses, out of the 15, only one had received a loan."
"I've received calls, they're saying 'John, how are we going to make it? We don't know if we will ever reopen,'" said Kevranian. "It's devastating to our business community."
Kevranian's own store has been closed for more than 40 days, with no income coming in. His main focus has been making sure he can pay his bills. He and wife run their candy shop themselves, so they at least don't have to worry about employees.
But for Orhan Kurt, his employees are always on his mind. Kurt runs Ristorante Rocca on Broadway with his family, as well as working as a partner with two other businesses — il Piccolo Caffe, also on Broadway, and the SaltYard Restaurant and Bar off of Burlingame Avenue. All three of his businesses have closed during shelter-in-place. Between all three, Kurt said he had well over 50 employees.
"We're like brothers, sisters, we work together as a team," said Kurt.
His businesses opted not to do takeout. In the beginning, his employees were scared, and he didn't want to make anyone uncomfortable doing takeout.
"I run a business for the people to be happy to work at, and make a living for their family, I didn't create a business to force, to bring people into work," said Kurt.
While his businesses have been closed, Kurt applied to federal and local loans. But he has yet to see any results. He's been frustrated seeing big corporations get loans while small businesses like his haven't, and the longer the shelter-in-place order continues, the less sure he is if his businesses will make it through.
As for Chris Diez, owner of Pot-Pourri, he has been thinking outside the box to ensure his store's survival. A gift shop specializing in handmade American crafts, Diez first sold gift cards to customers, redeemable once the order is lifted, and just last week began hosting private shopping sessions over Zoom.
Diez has had customers reach out to him requesting gifts for Mother's Day coming up, or a birthday, or a baby gift. Diez thinks of ideas to prepare for before the call, "and then we'll connect through Zoom and then I'll have the items kind of ready and I'll just hold them up," said Diez. "And they'll say 'yay' or 'nay' and then we'll move on until, you know, they feel like they found what they're looking for." It's a short-term solution, and unfortunately, said Diez, the one-on-one shopping sessions are not as lucrative as having their regular, in-person foot traffic.
Pot-Pourri has not needed an online presence before this, said Diez, because they had enough foot traffic in the almost 25 years they have been open, first at a location on Burlingame Avenue, and for the last 10 or so years on Broadway. This experience has shown him the value of investing in a website and is in the process of putting that together. But he's been lucky, he said, because "we have a very loyal customer and we have a very unique product, which has protected, I think, our business."
And Diez is also lucky that with his own reserves and savings, he has been able to get by so far without needing a loan or a grant. "I would rather right now try to make it work with what I have before I start putting myself into debt," said Diez.
As for Ferrari, the owner of Stella Alpina, she has also recently embraced an outside-the-box perspective. Last week, she tentatively reopened her restaurant for takeout orders. Among her restaurant's usual fare, like gnocchi and lasagna, she's added other creative options to her takeout menu-cocktails in mason jars, pasta sauces by the quart, loaves of ciabatta, and even toilet paper, and eggs by the half-dozen or dozen.
After her first day reopened, Ferrari was pleased. "A lot of our regular clientele was here to support us," she said. "It's difficult because it's a new way of business for us. It's a completely different business model, but we're figuring it out as we go, and our guests are being so supportive."
"Is it sustainable long term?" she asked. "Absolutely not. It's a start, and we're getting our takeout business rolling, so that when the quarantine is lifted, and we get, you know, possibly, our dining room to be at 50% capacity — well, we're going to need that takeout business still."