STANFORD — Christian Robinson didn't mind that his teammate was walked intentionally ahead of him to load the bases. He saw it as an opportunity.
"It's nice to come through and make them regret it," Robinson said after his two-hit, four-RBI performance helped Stanford rally to beat Fresno State 9-7 in the championship game of the Stanford Regional Monday night.
Maverick Handley hit a pair of home runs and drove in three runs as the top-seeded Cardinal (45-12) won their first regional in five years. Stanford will meet Mississippi State in Starkville in a Super Regional beginning Friday.
"We pieced it together," Stanford manager David Esquer said. "We needed every pitch, every ounce of energy."
Carter Bins and Nate Thimjon each hit a two-run homer for the Bulldogs (40-16-1), who had won nine straight before losing twice. Jeff Jamison also drove in a pair of runs.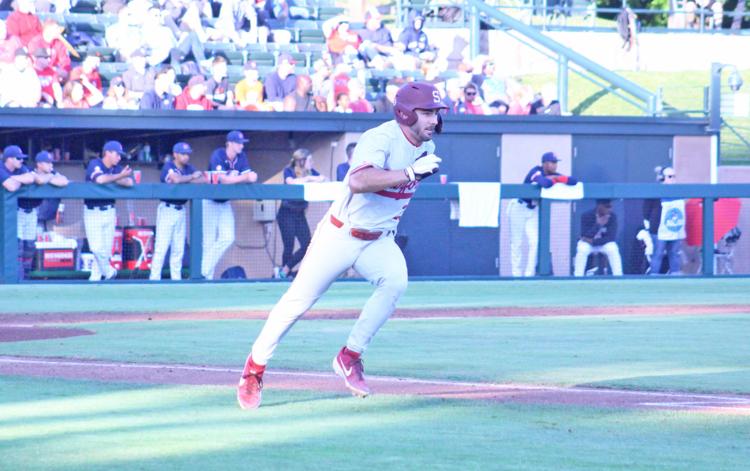 Both teams repeatedly changed pitchers several times in an attempt to keep the game within reach. The Bulldogs started their closer Jamie Arias, making his first appearance of the regional.
Arias went four-plus innings, allowing four runs on four hits. He walked three and struck out five. Kevin Larson (2-1) took over with a runner on in the fifth and was greeted with Handley's second home run, tying the score.
"We hoped to go four, one, two, two with our pitchers," Fresno State coach Mike Batesole said. "Jaime left the lead. He did his job. The middle didn't quite go the way we planned."
Stanford added four more runs, including Robinson's two-run double, to go ahead 9-5.
"They wouldn't go away," Robinson said. "It was not going to be easy but I think we showed we can be a tough team."
Thimjon hit his home run in the bottom of the fifth to close the gap to 9-7.
Ryan Sullivan (2 1/3 innings) and Oscar Carvajal (two strikeouts in two innings) gave the Bulldogs a chance to comeback.
Cody Jensen made his second start of the season for the Cardinal and went an inning-plus before handing it off to Jacob Palisch (5-2), who gave up three runs on three hits, walking two and striking out four.
Zach Grech got two outs and game one starter Brendan Beck took the ball and retired 10 straight, giving him 10 scoreless innings for the weekend. Jack Little struck out the side in the ninth for his 12th save.
"They did what they do," Handley said of Beck and Little. "They pound the zone, mix speeds and put it wherever they want."