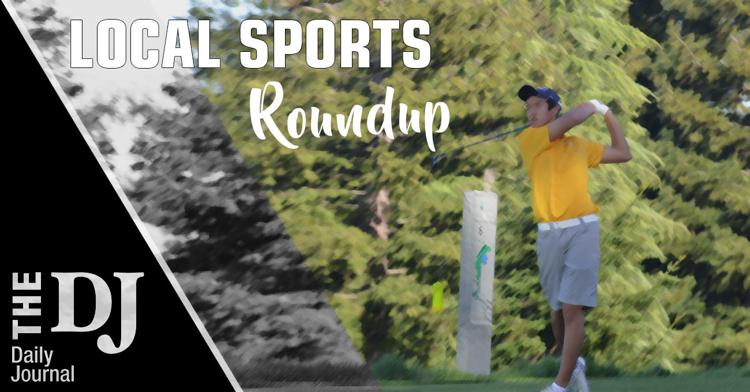 Notre Dame-Belmont 5, King's Academy 2
The Tigers improved to 2-0 to start the season as they knocked off the Knights in Sunnyvale.
Arya Tumuluri and Madison Macha cruised in their singles matches. Tumuluri, playing at No. 1 singles, was up a set, 6-0, and leading 5-2 in the second when King's Academy's Sarah Fisher retired.
Macha, at No. 3 singles, blew past her opponent, 6-1, 6-1.
Chloe Mohan gave NDB wins in three of the four singles matches, winning her No. 4 singles match 6-2, 7-5.
The Tigers' top doubles team of Maddie St. Geme and Sophia Lissin lived up to their ranking, waltzing to a 6-3, 6-1 victory. Annika Kim and Lauren Peters posted a 6-2, 7-5 victory at No. 3 doubles.
Menlo School 9, Palo Alto 7
Meg Reinstra had a strong game on both ends of the pool as the Knights downed the Vikings in a non-league match.
Reinstra and Alina Hernandez each scored three goals to lead Menlo, with Reinstra adding four steals defensively.
Izzy Hinshaw, Meri Klingelhofer and Sydney Bianchi rounded out the scoring for the Knights with one goal apiece.
Knights' goaltender Celeste Aguilar finished with eight saves.
Hillsdale 3, Sacred Heart Prep 1
The Knights grabbed one of the biggest wins in their program's history with a 29-27, 25-19, 15-25, 26-25 win over the Gators.
A pair of underclassmen led the Hillsdale attack as sophomore Audrey Gilbert and freshman Jessica Dean each had 11 kills. Senior Marcella Jones and junior Sydney Yuen combined for 27 assists. Defensively, Nadia Barcklay, a junior, came up with a team-high 29 digs for Hillsdale (2-0).
SHP (3-1) got 15 kills and 13 digs from Ally Polverari, 10 kills and five blocks from Elena Radeff and 24 assists and 14 digs from Millie Muir.
There would no repeat of last year's Scots' upset as the Monarchs swept past Carlmont 25-12, 25-16, 25-21.
Carlmont beat Mitty 2-1 during the Milpitas Spikefest tournament in 2017.
Morgan McClellan had a solid all-around game for Carlmont, as did Jules Tan. McClellan finished with a team-high five kills, five aces and six digs. Tan had 14 assists to go along with two digs and two blocks. Elizabeth Prozell had five blocks defensively and added two kills for the Scots.
Carlmont will host Notre Dame-Belmont in the "Battle of Belmont" at 6:30 p.m. tonight.
Menlo-Atherton 3, Menlo School 0
The Bears put together a statement win over the Knights in a non-league match — 25-18, 25-19, 25-16.
M-A (2-0) was led by sophomore outside hitter Emma Spindt, who finished with 11 kills and added 14 digs on defense. Alicia Letvin and Natalie Grover combined for 10 kills, while Mariah Grover pumped out 19 assists.
Menlo (0-2) got a match-high 20 kills from Grace King, who also added eight service aces. Zoe Gregory dished out 18 assists, while Riley Holland had 16 digs.
Terra Nova 3, Half Moon Bay 2
The Tigers outlasted the Cougars in a five-set match between rivals: 25-20, 24-26, 25-20, 25-18, 15-13.
Half Moon Bay got 17 kills and five service aces from McKenzie Mell, while Sophie Barger had 30 assists. Alex Hosilyk had 31 digs on defense and Sarah Hawkins added four blocks.
Notre Dame-Belmont 3, Lowell-SF 1
Abby Miller had a strong showing in the Tigers' 25-22, 17-25, 25-18, 25-20 non-league win over the Cardinals.
Miller, a sophomore, had a team-high 16 kills along with nine digs, two blocks and a service ace. Senior Vanessa Pan added 10 kills for the Tigers.