GamePrep manager Anthony Granato is accustomed to seeing what Benito Valle-Jhanda can do at the top of a batting order.
Valle-Jhanda — commonly referred to as V-J — has played for the Atherton-based travel team since he was 13 and has long been a two-way standout. As a junior at Serra in 2019, however, he was used exclusively as a pitcher.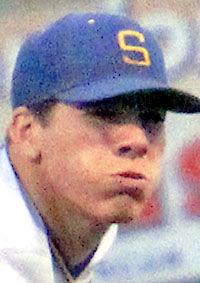 Through five games over the weekend at the New Balance Future Stars Series in Cypress, Texas, though, Valle-Jhanda showed he can impact games on the offensive side of the ball as well. The right-handed hitter batted .417 (5 for 12) through four games.
"He has been (a good leadoff hitter) for a long time," Granato said. "He's fast, he's athletic. … At Serra he's gotten a majority of his opportunities on the mound. But he's a scrappy hitter and he can really run."
Valle-Jhanda turned out to be Serra's workhorse in the spring. The junior right-hander led the Padres' staff with 43 2/3 innings, recording a 2.73 ERA in the process. He was called upon to start the Central Coast Section Open Division semifinals against Mitty, but scuffled through four innings at Municipal Stadium to take the loss as Serra fell 4-2.
Through the summer, Valle-Jhanda has continued to excel on the mound. He hit atop the GamePrep order for four of their five games in Texas. In the game he didn't bat, he was busy picking up the win with six innings of work in a 5-4 comeback win over STiCKS Academy out of Wisconsin.
"It was a really good game," Granato said. "Even though we were down we were hitting a lot of balls hard. … We made a couple mental mistakes early but they were competing the entire time. It never really felt like we were out of it."
When Valle-Jhanda walked off the mound in the top of the sixth to end his day, GamePrep trailed 4-2.
"Obviously they're a very good team … but we felt like we were good enough to play with them and beat them," Valle-Jhanda said. "So, we didn't want to let that game slip away because we knew we had it."
But V-J's offense rewarded him with the win, rallying for three runs in the bottom of the inning, including a go-ahead, two-run double by Jake Albro (Menlo-Atherton).
"Our team erupted," Granato said. "It was awesome."
Right-hander Julien Hernandez (Menlo School) continued to gather momentum this summer with a clutch outing, working a scoreless seventh, including two strikeouts, to nail down the save.
"It was awesome for him to go out there with that confidence," Granato said, "and go out there with that closer mentality and get it done."
The pool-play win put Game Prep in the championship bracket of the top eight teams in the tournament. But loses to the Houston Heat 10-5 and the Louisiana Knights 12-1 dropped GamePrep to eighth place in the 32-team tourney.