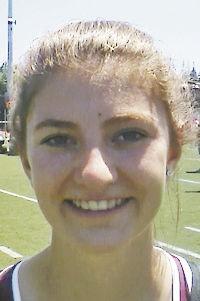 Menlo-Atherton's Jessica Eagle dominated in the sprints, while Menlo School's 1-2 distance punch of Kyra Pretre and Charlotte Tomkinson highlighted local performances at the Central Coast Section Track and Field Championships at Gilroy High School Friday night.
Eagle, a senior, took home two championships. Eagle ran the second leg of the girls' 4x100 relay gold, teaming with Autriyana Hardy, Malia Latu and Lauren Collinsworth to post a time of 48.22 seconds, holding off Valley Christian, which finished with a 48.35. Eagle then won the 100 in a time of 12.07, reaching the tape ahead of Silver Creek's Jazlynn Shearer, who finished with a 12.18. Eagle finished fourth in 200 with a time of 25.68 in an event won by San Lorenzo Valley's Camryn Crouch, who finished with a 24.97.
Pretre and Tomkinson each won titles, with Pretre taking the girls' 1,600 in a time of 5:01.58, with Half Moon Bay's Claire Yerby finishing third with a time of 5:05.02. Tomkinson took first ahead of Pretre in the 800 with a time of 2:13.69, compared to Pretre's second-place time of 2:15.16. Tomkinson also added a third-place finish in the 400, finishing with a 57.35.
Pretre and Tomkinson were not the only Knights to perform well. Alexandra Chan took third in the girls' 100 hurdles with a 14.71 and was eighth in the 300 hurdles. The Menlo girls' 4x400 team of Michelle Louie, Lauren Hamilton, Pretre and Tomkinson finished seccond with a time of 3:56.74, about a second off of winner San Lorenzo Valley's time of 3:55.75.
Carlmont's Kaimei Gesuk took home the championship in the girls' 3,200 in a time of 10:42.15.
In the field events, the Peninsula dominated the shot put. Terra Nova's Carly Watts repeated as CCS champ, finishing with a toss of 46 feet, 2 inches to easily outdistance Notre Dame Belmont's Krissy Smoot, who finished second with put of 45-7, and Mills' Nane Ikahihifo, who was third with a mark of 40-1.
Smoot, however, prevented a Watts double for the second year in a row when she finally got past her nemesis in the discus, taking the CCS title with a throw of 142-4, two feet further than Watts' best effort of 140-4. Ikahihifo was 11th with a throw of 94-1.
County boys were not nearly as prolific as their female counterparts, but there were a couple of good showings. M-A's Francisco Sanchez was third in the 100 with a time of 10.93 in a race won by Azjani McGill of Monterey, who ran a 10.82. In the 3,200, Carlmont's Justin Hsu finished fifth in a time of 9:29.18. Bellarmine's Chris Peattie won the title with a 9:27.42.