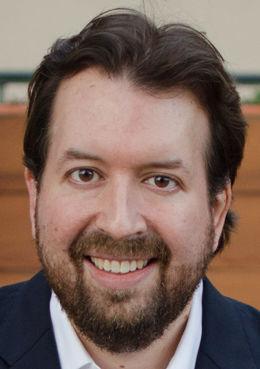 If you've driven past the Burlingame/San Mateo border on Highway 101 recently, you've likely noticed the four large office buildings currently under construction on the Burlingame Bayfront. Next year, they will become home to Facebook's Oculus virtual reality division and hold 3,500 mostly highly-paid tech workers. If you've wondered why during a housing crisis, with severe traffic and parking impacts, we continue to build enormous office parks that are pretty much only accessible by car, you wouldn't be alone.
Oddly, less than 2 miles away in Burlingame's Broadway area, the City Council recently decided to fund a $50,000 pilot program to help businesses pay for fixes to their facades. How is it that in one part of Burlingame, the private sector finds it worthwhile to invest hundreds of millions of dollars in new construction, and 2 miles away, businesses are unable to justify a few thousand dollars worth of facade improvements?
The answer is that Burlingame and most cities on the Peninsula have unwisely restricted the development of their downtowns for decades. Combined with a penchant for allowing giant office parks on their outskirts, this is a recipe for all the things that Peninsula residents hate: rising rents that are pushing out vulnerable residents and middle-class families; traffic that chokes our streets and highways; and parking shortages in residential and commercial areas. Fortunately, we can ease all of these problems — and cut our carbon emissions — by allowing our downtowns to grow along with the broader economy.
When my wife and I moved to Burlingame four years ago, we intentionally looked for apartments within walking distance of Caltrain. I was taking a job with an education nonprofit in Redwood City, and my wife was working for a startup in San Francisco. Burlingame was the perfect place in the middle, and our proximity to public transit meant we could easily live owning just one car. For our neighbors, competing with one fewer automobile for parking and at rush hour is a win.
But finding such an apartment wasn't easy, since housing in the downtowns of most Peninsula cities is limited. This contradicts what experts on city planning would suggest, which is to develop "complete neighborhoods" where a resident's daily needs can be met without having to get in a car. For a growing number of Peninsula residents — from millennials who've lived in dorms and apartments since age 18 to seniors who would like to downsize — we would happily live in the middle of thriving, walkable downtowns and rid ourselves of full-time car ownership.
And doing so creates a virtuous cycle of economic growth: more downtown residents means more daily customers for local businesses; more dollars spent locally means more investment in infrastructure and amenities, which attracts even more residents and businesses, raising property values and continuing the cycle. This is a far more sustainable, resilient economy than one premised on luring major projects from the tech giants.
Indeed, since we've already added more than 80,000 jobs in San Mateo County since 2010, with tens of thousands more on the way, the only way to improve our quality of life on the Peninsula is to grow our downtowns. In most cities, this means allowing more apartments and condos in our commercial districts that are well-served by public transit (The new Burlingame general plan does a fair bit of this. We'll see if that's enough to spur significant development). All those new workers could then live closer to work, and more of them could walk, bike, or take public transit, removing cars that are already commuting on our roads.
And when we do add new office space, it should be in our downtowns, not in self-contained office parks far from homes. Those thousands of new Facebook employees in Burlingame are going to eat lunch, get coffee and go to happy hour all within the comfortable confines of the Bayfront campus, with little spillover benefit to local businesses. And the city's incremental property tax revenue — likely somewhere in the ballpark of $600,000 per year, or $20 per resident — will not come close to mitigating the traffic impacts of that campus, to say nothing of the rising rents that will inevitably push out more and more longtime Burlingame residents.
Given the continuing tech boom, we have the choice between growing our downtowns or watching quality of life on the Peninsula deteriorate further. For the families, young people, seniors, local businesses and environment all suffering now, that's an easy choice.
Mike Dunham is an education data consultant and affordable housing advocate who lives in Burlingame.