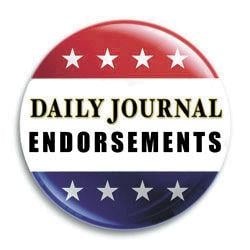 One of the top issues for the city of San Carlos for the next few years will be development of the east side at Industrial Road. There is significant interest in the area, and managing that well while also getting community benefits could solve a number of issues — revenue, housing, open space and more.
While it is just one issue of many a member of the City Council will face, it is important to have someone who is well-versed in the issues, the area and the potential benefit. That person is current Planning Commissioner John Dugan. He, teamed with incumbent Mayor Ron Collins, who is also steeped in the issues, are the best bets for the people of San Carlos right now.
Dugan has the requisite bona fides when it comes to serving on the council but also has his own ideas — especially about requirements for more affordable housing from new developers. Though his comments about spending some surplus can be worrisome to those who have watched budget needs rise and fall over the years, there can be some assistance provided to small businesses now to keep them afloat. This can be seen as an investment to assure future tax revenue.
Collins is a known quantity who understands the need to balance the small-town charm with new housing. He believes there could be housing developed over storefronts so the business districts remain lively and able to assist the need for housing of all types. Collins has presided as mayor this year during a particularly difficult time and has exhibited leadership when necessary and listening when appropriate.
Candidates David Tom and JT Eden are impressive as well. Tom has similar views as other candidates and believes more can be done to assure developers pay their fair share. Tom also supports lowering city fees. Eden, at 18 years old, is young and provides that perspective. He believes the city should be spending more money to provide more support for child care, which is an emerging need — particularly now in the pandemic. He also wants more emphasis on climate change and believes the entire city could be upzoned so more housing can be built in residential neighborhoods.
In this election, for San Carlos, the two candidates who deserve your vote are Ron Collins and John Dugan.