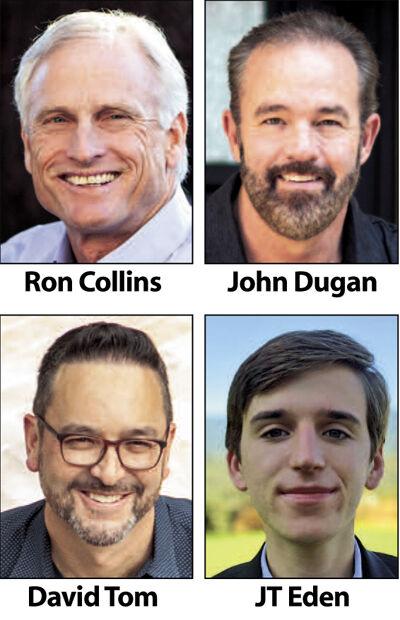 Development and the future of San Carlos' east side is top of mind for the four candidates vying for City Council seats including incumbent Mayor Ron Collins, Planning Commissioner John Dugan, Apple executive David Tom and newcomer JT Eden. 
With Councilman Mark Olbert's decision to not run for re-election after serving on the council for 12 years, and Collins up for re-election, two seats on the San Carlos City Council are up for grabs. The candidates largely align on pressing matters including fire preparedness and meeting affordable housing needs, but noted subtle differences on achieving desired outcomes.  
Faced with growing interest in developing the east side, Collins, a two-term councilmember who called affordable housing priority A, said the council needs to play a role in incentivizing developers with constructing affordable units. To bring additional density to the city while keeping its small-town charm, Collins said he'd like to see housing developed over storefronts. 
He also credited the council for developing a commercial linkage fee, which requires developers to pay into an affordable housing fund in lieu of constructing units. 
Dugan, a corporate attorney and recent chair of the Planning Commission, shared appreciation for the linkage fee but called for stronger requirements pushing developers to construct the housing themselves, at a minimum of 15% affordable housing. His vision for the east side, he said includes public green space with public accessible amenities such as dry cleaners and restaurants. 
"I am pretty fired up about east San Carlos and making sure we get in front. That development will literally shift San Carlos and we'll be a different city on the other side of that so how that goes down will be of critical importance," said Dugan. 
Once a Planning Commission hopeful, Tom questioned whether the city was asking enough of developers moving into the east side. Referencing the Alexandria development, a 1.6-million-square-foot biotech campus coming to the city, Tom said the city could get more from the developers than the nearly $3 million worth of improvements promised in the proposal. 
"When you talk to the residents of San Carlos, east side or wherever, everybody has a lot of ideas and I think there's fundamentally something wrong with this process where these agreements get done in private," said Tom, calling for community engagement with the project.
The youngest candidate at 18 years old, Eden expressed excitement for the coming development, echoing Tom's sentiment that community members should get a stronger say in community benefits. He set himself apart from the other candidates by supporting rezoning neighborhoods to allow for the development of duplexes and quadriplexes in single-family-home neighborhoods, calling zoning policy "exclusionary."  
"I realize there might be some pushback to that to keep the town character … but I think there are a lot of ways we can do this … that can still maintain the beauty of our city but can start to meet the challenges of this housing imbalance," said Eden. 
Small business and budgeting 
Addressing small business concerns, Dugan suggested additional support could be pulled from the city's reserves which built up to a $8 million surplus in the Fiscal Year 2019-20 budget before the pandemic. Noting the value of hotel occupancy taxes, Dugan also shared support for bringing additional hotel development to the city's east side to bolster the city's minimal tax revenue. 
"We do have a very conservative bent it seems because we had to learn some very hard lessons," said Dugan. "We have these rainy-day funds, we have these reserves. This is a rainy day so if I have any criticism now is the time to reach into the pot and do more." 
Eden also supported additional spending, voicing specific concerns for child care providers hit hard by the pandemic and parents struggling to balance remote learning with their own employment. He suggested the city could play a greater role in assisting Parks and Recreation staff and school district officials with preparing virtual and in-person programming for children. 
"The way we can use our reserves going forward is to support our parents and children as this pandemic doesn't seem to be ending any time soon," said Eden.  
Noting other small businesses are also struggling due to the pandemic, including those lining the city's temporary street closure program, Eden said he'd like to see the city solve parking concerns which have hindered business for nonrestaurant retailers. 
Tom, also driven to address business-harming parking concerns, suggested the city initiate parking programs to incentivize employees of downtown businesses to park in local structures, freeing parking for customers. He also called for the city to provide greater promotion for businesses and to develop an association for restaurant owners, similar to a chamber, to simplify dialogue amongst businesses. 
In keeping a steady budget, Tom disapproved of raising taxes on businesses hit hard by the pandemic and supported lower fees. 
Collins, who expressed recent disappointment in the city's Chamber of Commerce, shared Tom's view on the importance of having an organization promote business and provide representation. In an additional term, Collins said he aims to revisit the idea of creating a downtown business association. 
"If you had an organized group like a downtown business association or downtown business district you could speak with one voice," said Collins.  
Collins also sits on the committee responsible for managing the street closure program, and said the program has forced the council to strike balances between the various needs of the community. Years of balancing the budget also gave the council leeway to extend support to residents struggling from the pandemic, said Collins, who said reserves have been used in "ways we never expected," including tenant assistance and grants to nonprofits. 
"No one had any idea that this economic downturn would be caused by a pandemic but we've been adding to those reserves for the entire nine years that I've been on the council," said Collins. "If we don't help people stay [in their homes] we start to lose our people." 
The four candidates shared overall support for the Sheriff's Office, who the city has contracted for law enforcement services following the 2008 recession, a decision which saves the city millions of dollars annually, said Collins. He noted San Carlos is not Chicago or Minneapolis, both major cities hit hard by protests following acts of police brutality, but said some local reforms may be needed. 
Tom, who said he initially disapproved of the city's decision to disband its police department, said he now appreciates the shift and applauded the Sheriff's Office for automating services and publishing data online.  
Dugan said he supports greater de-escalation training, referencing his own training while serving in the military, and encourages public interactions between officers and civilians to potentially develop greater trust. Eden also called for public engagement in the form of a commission made up of nonprofit and community leaders tasked with reviewing the equity of various city policies.