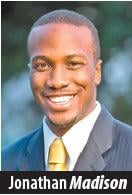 Next Thursday our nation will honor the service of our men and women in uniform in recognition of a national holiday — Veterans Day. Veterans Day is one of two national holidays that commemorate our fallen heroes, the other being Memorial Day.
Some years ago, my family and I paid respects to my grandfather Warren Madison — a Vietnam veteran who proudly served our beloved nation — at the Memorial Cemetery. Warren Madison served in the hard-fought battles of Vietnam during the 1960s.
As we made our way up the hill to his beloved spot of rest, I placed a small U.S. flag and some flowers on his granite plot. After a brief moment of silence, I found myself conflicted in thought with respect to how our country honors our wounded heroes. Namely, I wrestled with the fact that, while our nation designates two holidays to pay respects to our brave men and women in uniform, we provide very little support for those who are in urgent need of medical care and support services.
I have seen time and again that our fallen comrades are treated with little to no respect with regard to their health and stability following years of patriotic service. Take for example the fact that, every 65 seconds, a veteran commits suicide. This is in large part due to our nation's inability to provide effective treatment for our wounded warriors, many of who suffer from post-traumatic stress disorder in addition to a multitude of physical ailments. What's more, more than 573,000 of our wounded comrades are unemployed, according to the Bureau of Labor Statistics.
Beyond that, the Department of Veterans Affairs — the federal agency tasked with administering emergency assistance and services for our wounded heroes — is significantly underfunded and inadequately staffed. As a result, the VA faces several challenges in providing quick and effective treatment for veterans who need it most.
Needless to say, it is ironic that a nation that honors its patriots with two national holidays cannot seem to muster the support to provide basic necessities for the brave men and women who have sacrificed their lives for the preservation of our dear nation. Our wounded warriors deserve better treatment than each of us. Sadly, this is not the case. Not even close.
In spite of the consistent increases we see in our national defense budget, we have continued to witness an embarrassingly limited amount of dollars designated to support our fearless soldiers following their service. A recent CNN investigation into the VA determined that our brave men and women in uniform "continue to wait months for care at some VA facilities." The investigation also noted that "a federally funded report prepared for the VA released in September concluded the agency remains "plagued" by problems including growing bureaucracy, staffing challenges and unsustainable costs."
This Veterans Day, I pray each of us take a moment of silence to honor our fallen heroes. Moving forward, let us begin the work of restoring our commitment to our patriots who have sacrificed everything. Let us work together to assist them in obtaining meaningful employment and treating their mental and physical battle wounds to the highest degree.
Our nation will continue to be in a constant state of hypocrisy if we celebrate our veterans on two national holidays without doing more to ensure that our homeless, unemployed and medically impaired patriots receive care. I hope you will stand with me in urging our government to do more to assist the brave men and women who made tremendous sacrifices for our dear nation.
A native of Pacifica, Jonathan Madison worked as professional policy staff for the U.S. House of Representatives, Committee on Financial Services, from 2011-2013. Jonathan is lead partner at The Madison Firm. He can be reached via email at jmadison@themadisonfirm.com.