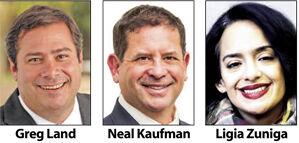 While the school system navigates unique challenges posed by the pandemic, an incumbent and two challengers are vying for the opportunity to fill two open seats on the San Mateo Union High School District Board of Trustees.
Incumbent Greg Land is seeking re-election for his second term alongside challengers Neal Kaufman and Ligia Andrade Zuniga, who are both running their first races. Incumbent Marc Friedman did not seek re-election, leaving a second vacancy on the board.
While the district begins its first full semester with online learning, Land said he believes his experience will help stabilize the school system through a potentially precarious stretch.
"I feel like we have more work to do," said Land, a Burlingame resident who works as a principal in Los Altos.
The initiatives he is focused on include preserving the social and emotional wellness of students, while also assuring they clear the technological hurdles necessary to engage in remote learning.
Also a Burlingame resident, Kaufman said he has the track record necessary to adequately manage the district's assets as the school system anticipates a hearty spending plan over the coming years.
"I still think it is importance we have good oversight and good guidance," said Kaufman, a finance executive who helped run the district's most recent successful bond campaign.
For her part, San Mateo resident Zuniga said she is focused on equity and inclusion and ensuring the perspective of all student communities are involved in the conversation among elected officials.
"I want representation," said Zuniga, who has worked as an advocate and contributed to various district and county committees.
Zuniga said her interest in advocacy is formed partially through her life experience as the daughter of immigrants and as a quadriplegic. Also, in her community work, Zuniga said she has built skills as a collaborator that will serve her well if elected.
"There have to be faces you can look to that look like you to make you feel part of the community," said Zuniga.
Land agreed, while noting he too is Latino and worked for years as an educator in Los Angeles which shaped his perspective on equality and representation.
"Equity needs to be at the forefront in education," said Land.
Such issues are especially pertinent as the district attempts to negotiate the gap students face in access to resources — the value of which are amplified during the pandemic, said Land.
He suggested allowing small groups of students who need specialized educational assistance back on campus as a means of leveling the playing field.
The challenges of online learning must be acknowledged too, noted Land, who is alert to the mental health of students and teachers balancing educational obligations and personal issues.
Kaufman shared a similar set of concerns, along with noting the difficulties some students are facing while participating in teleconferencing all day. As a prescription, he suggested more flexible scheduling.
"I think that is something we need to strongly consider," said Kaufman, regarding the opportunity to offer more asynchronous learning outlets.
The district also needs to do a better job communicating, said Kaufman, who said the initial plan to adopt remote learning was complicated by not all members of the school community being on the same page.
"The biggest challenge is the lack of transparency," said Kaufman, regarding the difficulties the district faced.
Looking ahead, Zuniga too advocated for greater collaboration with students, teachers, parents and administrators to assure all competing interests are appropriately balanced.
"We have to hear from everybody. But we also have to consider what are the facts and what will keep us safest," said Zuniga, who urged officials to consider working with outside agencies for additional assistance while planning to reopen during the pandemic.
Land agreed that inclusiveness is paramount, and said he has the skills as a community builder to unify the district though a challenging time.
"I want to bring people together," he said.