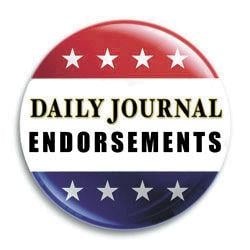 Friedman, of Burlingame, has endorsed Neal Kaufman for the position and, with his financial background, he seems to be a good fit to fill Friedman's role as the money man on the board always keeping an eye on the bottom line. And he would. Kaufman, of Burlingame, has all the bona fides, is dedicated to the community, is well-versed in board policy and understands the need for balance when it comes to student achievement and parent participation.
The board overall is solid and it makes sense to maintain the balance that keeps it that way. However, the district's strong footing is also in part because of a strong superintendent and administrative team that provides stability for any challenge it may face.
There comes an opportunity to go in a slightly different direction. This opportunity has brought us Ligia Andrade Zuniga, who shares many of Kaufman's insights and expertise but also provides a strong emphasis on equity and inclusion. This has been a strong discussion topic in recent months and the impacts of the pandemic have brought to light even more inequities in our society. This is a focus for Zuniga who talks openly about representation and how she brings a new perspective as a daughter of immigrants and as a quadriplegic. She also brings experience being a parent leader at Hillsdale High School in San Mateo. These are areas that deserve some representation and someone with a solid background of collaboration like Zuniga will provide that.
As the district preps for reopening, having someone on the board who knows the impact on needs on a variety of communities will only help.
Land has been a solid board trustee and also provides a set of expertise as a school principal and a former member of the Burlingame Elementary School District Board of Trustees. He is open and communicative, with a strong awareness of the importance of keeping the mental health of students and teachers at the forefront.
The district is fortunate to have such a strong set of candidates for these two positions. Any of them would fill the role well and get to work right away, however, the best choices at this time, right now, is Land and Zuniga.