Every Saturday and Tuesday, during a brief three-hour window, a quiet neighborhood street tucked next to the Highway 101 Peninsula Avenue exit in San Mateo temporarily becomes the most popular spot in town. Between 9 a.m. and noon, KitchenTown, a small food business incubator created six years ago in a 20,000-square-foot kitchen facility, serves nearly 200 customers arriving either on foot or by car. In an innovative response to the COVID-19 pandemic, KitchenTown has turned its operations model into an online market for grocery-style pickup. People pick out their items on the website and then when they arrive in person they are given bags of small batch products, like gluten-free crackers or hummus, and frozen delicacies like Nepalese dumplings, Tom Kha Gai soup and sweet and sour pork belly prepared either by the in-house chef or by outside chef collaborators.
"We've been doing, I think, about 300 meals a week now," said KitchenTown's Culinary Director Eric Minnich. "And that's just the meals themselves, that doesn't include the bread."
KitchenTown acts as a hub and workspace to help small food business entrepreneurs create, package and sell their wares, everything from artisanal bread and muesli to dried cricket snacks, while also operating a working café/small restaurant with a patio. But when the shelter-in-place order went into effect about two months ago, the facility shut its doors, letting most of its café staff go in the process.
For the makers who need the facility for production, KitchenTown Director of Operations Anna Derivi-Castellanos said the facility was closed for a week so they could establish new standard operating procedures with increased sanitation and personal hygiene practices.
The facility is already large enough that most of their stations were already 6 feet apart, said Derivi-Castellanos, but at their peak KitchenTown had around 30 makers using the space to make their products. Now the number has lowered to about 11, but Derivi-Castellanos is making sure the space is being used by those remaining responsibly and scheduling shifts to ensure that social distancing is possible.
And soon after, KitchenTown tentatively unveiled its online market, using the products of their makers and meals made by their café workers.
"We decided to leverage our community of makers and small businesses and kind of, for lack of a better word, kind of band together," said Minnich.
Luckily, the transition was easier for them than how it's been for other businesses.
"We definitely had some of the infrastructure needed to pivot and open up this business quickly," said Derivi-Castellanos. "We worked on the website for a week, and then we launched it."
For one KitchenTown maker, Theresa Petry of Organic Pantry, which makes gluten-free products like crackers and granola, the pandemic has been an opportunity to find ways to give back. Petry has been a maker at KitchenTown for four years, and besides participating in the KitchenTown online market, Petry has been donating her products to first responders at the Kaiser Permanente San Francisco Medical Center.
"Because we make crackers, they get broken," said Petry. "All of the broken ones are still good, so we package them and donate them there."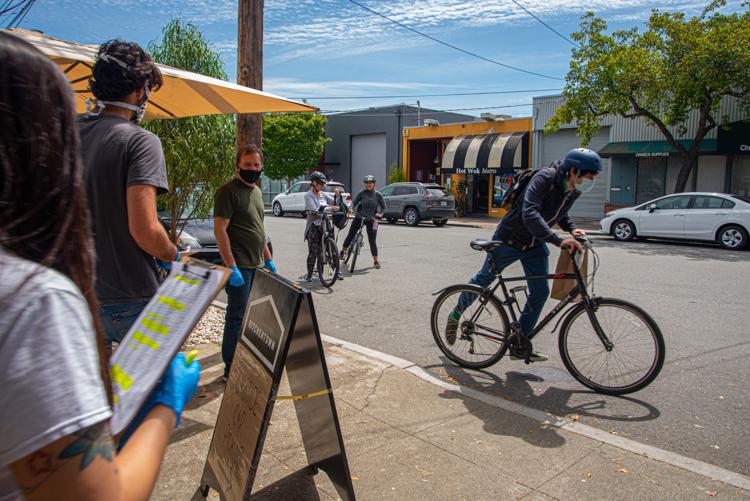 Petry also donates other packages to La Casa de las Madres, a domestic violence support and prevention shelter for women and children in San Francisco. Petry estimated that KitchenTown's online market is only about 5% to 10% of her sales, not nearly as significant as it is for the bread makers.
Tanner Rubin, another of the KitchenTown makers, started his operation Bread & Friends Bakery just a few months ago, in January. But his business hasn't been suffering due to the pandemic. On the contrary, on average, he's been selling 150 to 250 loaves of bread a week with the KitchenTown online market.
"I would say there's kind of, a little bit of a bread boom going on," said Rubin. "Which is odd to think that an industry could be, really like a small industry, like bakeries in the Bay Area, could be thriving in this sort of situation.
"In the Bay Area, bread has always been a hot commodity, but I've never seen it be quite as hot of a commodity," he said.
But it makes sense to Rubin. In his opinion, bread, "definitely supplies a sense of comfort, and even like momentary stability."
KitchenTown started initially with just Saturday morning market pickups, but demand grew so large that they recently added Tuesday mornings as well. As a result, "we've been able to bring back a lot of our back of house and front of house team from our café, to do either the fulfillment side of things, and run the actual two-day-a-week pickup events that we have," said Derivi-Castellanos. "But then also, on Eric's team, make all of the meals. Because we have our own fresh frozen meal program that he's in charge of."
Minnich has been experimenting with their menu in the weeks since the launch, but pivoting to frozen food has had some growing pains.
"I've never really made frozen food before," he admitted. "So, I was like, I have to figure this out too. It was a learning curve on all levels for everybody really. But I think, just our motivation to get things going again, or get something going, was drive enough for us to really just get it done."
And the response from the community has done nothing but encourage Minnich and the rest of his team.
"One thing that just really amazed me was how many people supported us, and how many people just really received it so well," said Minnich. "That was the most, I don't want to say unexpected, but it was like humbly surprising."