Eager to prove the county's ability to quickly and equitably vaccinate its population, San Mateo County officials launched a mass vaccination site at the San Francisco International Airport, signaling to state officials it is ready for greater allotments.
"If we had the doses we could ostensibly get this entire county done in a month," said County Manager Mike Callagy. "But at least we've got the infrastructure so when the doses start flowing we'll have the opportunity to really get people vaccinated in a really meaningful way as quickly as possible."
Officials launched the pilot mass vaccination site at the San Francisco International Airport over the weekend as a proof of concept and plan to vaccinate 12,500 people by the end of the four-day pilot program. Site appointments have been made available to residents ages 65 and older, regardless of insurance coverage or provider and Phase 1A health care workers yet to be vaccinated.
David Canepa, president of the San Mateo County Board of Supervisors, noted the county could run the site 24 hours a day, seven days a week if supplies were made available. Echoing Canepa, Callagy estimated up to 15,000 doses could be administered per day.
"This will be a model — mark my words — throughout the nation," said Canepa. "I'm delighted that we're working on this and I do believe this vaccination site will take flight."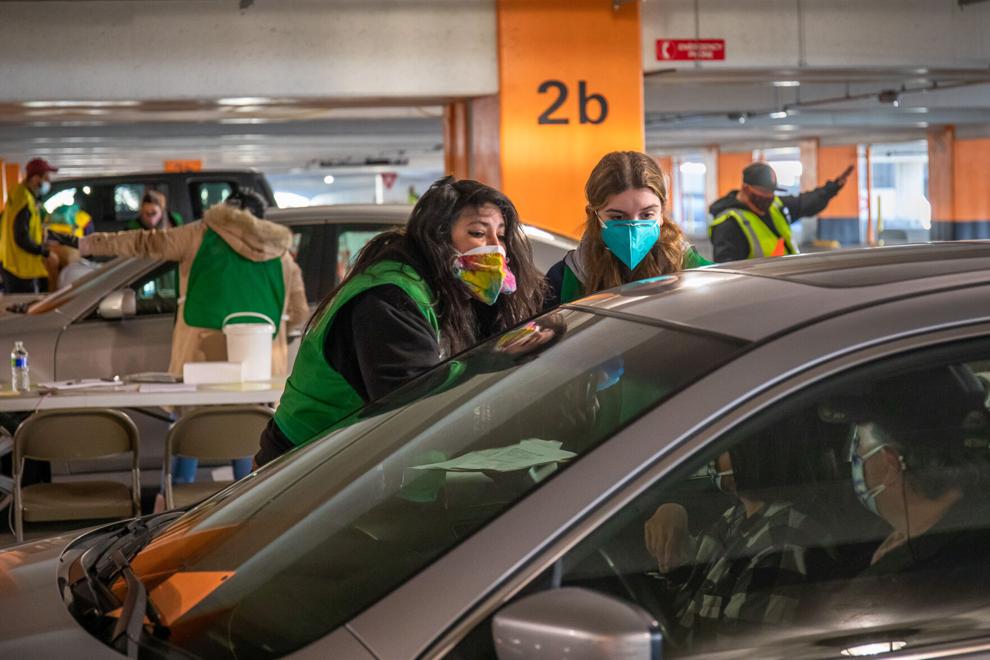 Karen Wright, a 65-year-old San Carlos resident, received her vaccine at SFO on Tuesday and praised the efficiency of the event. Wright's husband, eager to book his wife an appointment, found one on Sunday, Feb. 14, for the Tuesday event.
"I had stopped looking because I heard we were out of vaccines and closing centers regionally," said Wright, noting many of her friends had already received their first doses. "Personally I don't need to be the highest priority. Front-line workers, educators, grocery store clerks have higher risks of contracting it but the fact is we all need to get it and I'm old enough to qualify."
Happy to have booked her appointment, Wright arrived at the SFO Long-Term Parking facility 10 minutes before her 2:30 p.m. appointment. She easily managed to navigate the winding maze of orange cones set out to guide patients, received her dose, parked her car in an observation area for 15 minutes and was on her way home by 3 p.m., she said.
Residing in a household of four, Wright has been content with living a quiet life since the pandemic first struck the region. Being self employed, she is grateful for being able to travel to her office but has refrained from visiting family over the holidays and traveling.
"We felt like the wisest course of actions was to follow science, wear our masks," said Wright. "We're not angry about it but it will be nice to get back to normal."
She also praised the 150 volunteers and firefighters staffing the event center. Callagy said the county hopes to eventually partner with American Red Cross to mobilize additional volunteers.
Ultimately, the mass vaccination site at SFO, and adjacent clinics are meant to signal to the state that the demand and capability to ramp up distribution in the county is strong, said Dr. Anand Chabra, the section chief of COVID-19 mass vaccination and medical director of Family Health Services.
An additional 3,000 vaccine appointments will be open to seniors ages 65 and older, regardless of insurance coverage or provider and Phase 1A health care workers on Thursday, Feb. 18, through a partnership between the county and Dignity Health.
As of Wednesday night, just less than 1,050 appointment slots were still available, said Kevin Kimbrough, Dignity Health's manager of external communications. The clinic will offer first-doses of the Pfizer Inc. vaccines to patients, 1,000 from county allocations and the rest provided by Dignity, said Chabra.
The Event Center will likely be the location for vaccine clinics being opened to Phase 1B employment sectors including educators, child care workers, nonmedical first responders, retail employees and field workers. Officials estimate the population will add up to about 37,000 people, though that number may be greater, said Chabra.
Staging the vaccination events has been difficult, said Chabra. Figures for how many doses the county is slated to receive typically come in each Tuesday, hindering staff's ability to plan clinics far in advance. But as of this Wednesday, the county had yet to be informed of how many doses it would be receiving in next week's shipment.
Officials have been using educated guesses when roughly planning out future clinics, said Chabra, noting as of late shipments have steadily ranged between 9,000 and 11,000 doses.
Blue Shield, an Oakland based insurance agency, is now managing vaccine distribution for the state. Concerned by delayed the shipment and remaining unknowns, Chabra said jurisdictions are still unclear on what that relationship will look like moving forward.
"There's a lot of unknowns about how it's going to work with Blue Shield," said Chabra. "It's a little bit of a wait-and-see and certainly advocating for the things we think are important in the process but I think how that's all going to work out."
The agency will be meeting with counties in three phases but because San Mateo County has managed the pandemic fairly well compared to other jurisdictions, officials and other Bay Area counties will not meet with Blue Shield leadership until the third meeting in March, said Chabra.
Linked to the phased approach, Deputy Chief of Health Srija Srinivasan noted during a virtual press briefing Wednesday that on March 15 the county will fully join the state's vaccine information and appointment system called MyTurn.
Callagy voiced optimism for the partnership, doubling down on the county's interest in working with any agency in acquiring additional vaccine doses.
"We look forward to working with them and we look forward to getting as many vaccinations for folks in this county as possible," said Callagy. "Send us as many doses as you can of vaccines and we will get it done in this county."
Visit smchealth.org/sfo65 or call (650) 263-1867 to learn more about booking a vaccine appointment through the county. Call times may be long.