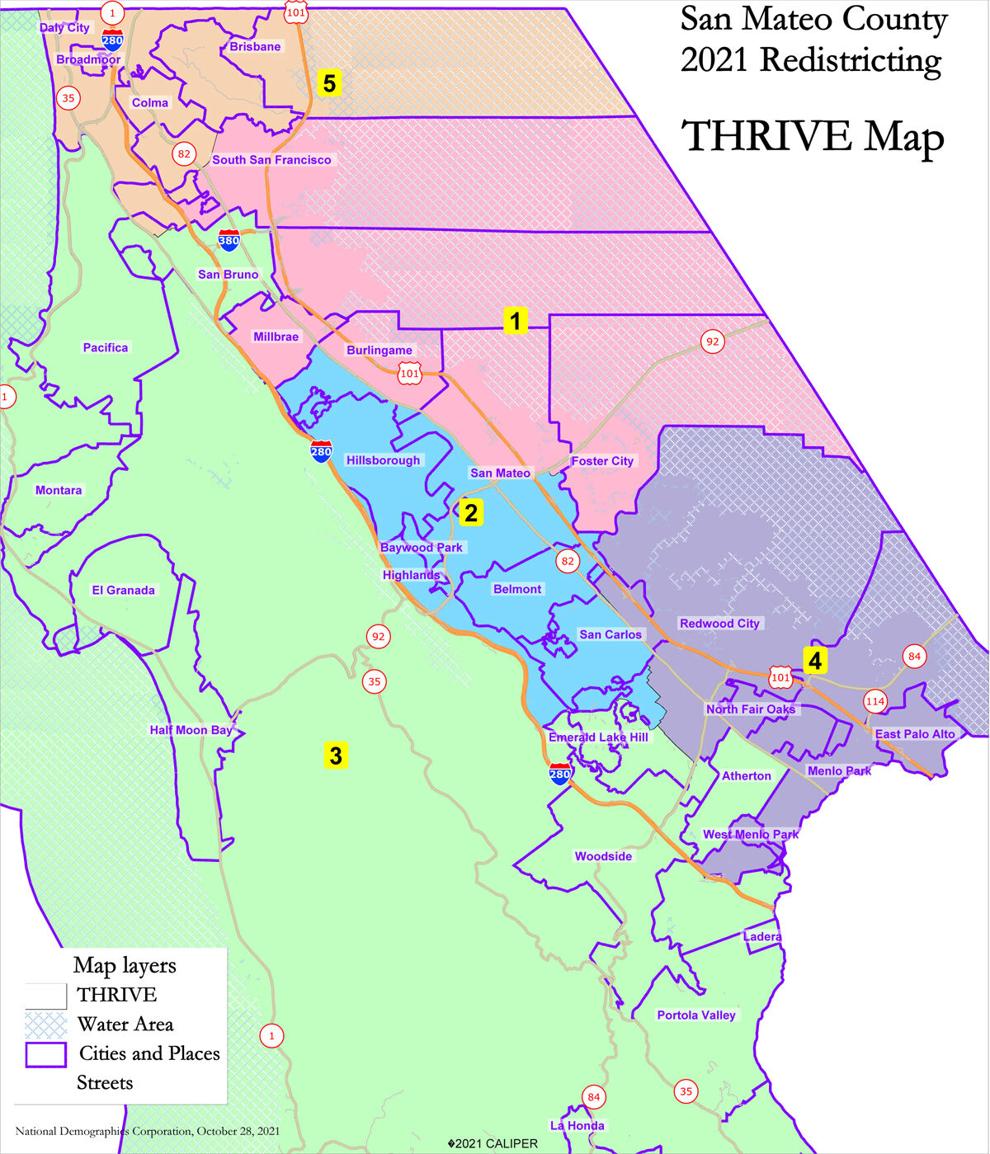 Two new San Mateo County supervisorial district boundaries draft maps have been recommended to the Board of Supervisors by the Supervisorial District Lines Advisory Commission, with a focus on how to best divide cities and empower communities of interest.
The two maps recommended were called the unity map, submitted by a coalition led by Thrive, an alliance of local nonprofit agencies, and the Commissioner Espinoza map, named after Advisory Commissioner Rudy Espinoza of Redwood City, who submitted it. The unity map prioritized keeping communities of interest together but divided several cities like Burlingame, San Mateo, San Carlos and Redwood City. The Espinoza map kept all cities together except Burlingame but placed Menlo Park and East Palo Alto in the same district as the coast.
The Supervisorial District Lines Advisory Commission held an Oct. 28 meeting to debate and recommend draft map options for new supervisorial district boundaries in San Mateo County. County districts are redrawn every 10 years, so each district is roughly equal in population. Data from the 2020 census will be used to help. Each district must contain around 153,000 people. The map must minimize divisions of cities and communities of interest, be identifiable, follow geographic contiguity, be compact and not discriminate against a political party. The commission had more than two dozen maps to examine and comment on from public and commissioner's submittals. The commission consists of 15 San Mateo County residents. Each of the county's five districts is represented by three current residents of each district.
Both recommended maps received praise and criticism about aspects of composition. Commissioners praised the unity map for including areas that had shared common interests and challenges. Others praised the Espinoza map for keeping cities together and being in line with other map options.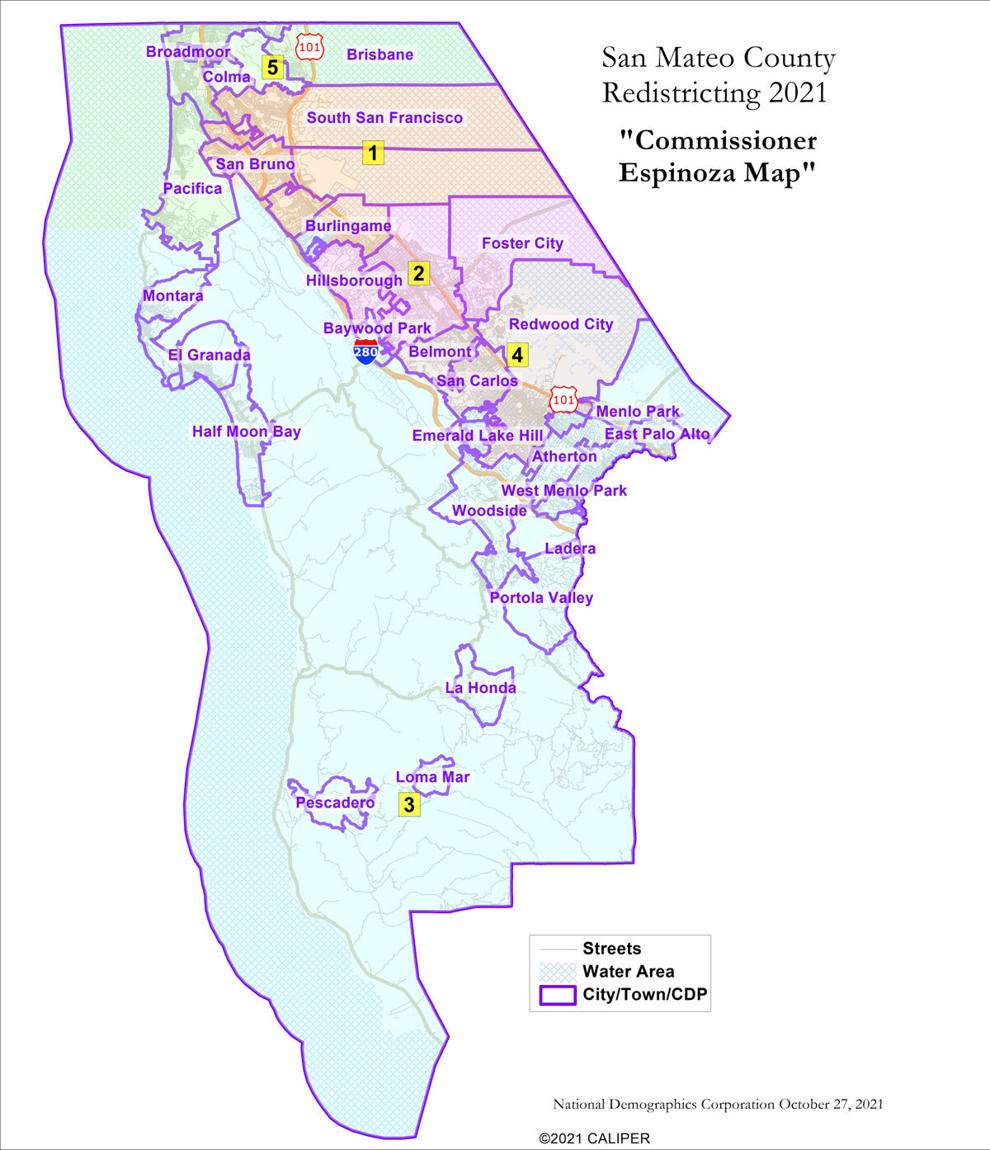 "I like the Thrive [unity] map. I have some issues with the Espinoza map. In particular, the lumping of East Palo Alto, east Menlo Park and Belle Haven with the coastside communities. I worry that those two groups are fairly different, and they will kind of wash out," Commissioner Ben Azose from San Carlos said.
Commissioner Mark Dinan of East Palo Alto agreed, noting East Palo Alto and Menlo Park had little in common with the coast. He was against sharing a district due to the lack of similar communities of interest.
Vice Chair Priscilla Romero recommended the unity map with modifications that included the eastern part of South San Francisco. She also wanted to see two more districts added to address underserved populations in South San Francisco from the future Board of Supervisors.
Commissioner Marcus Barber of San Mateo praised the Espinoza map but had issues with the unity map.
"I do like the Espinoza map. I'm not sure I'm clear on all the advantages of the unity map. It seems that it splits several cities, and I've just heard that may also mean they split communities of interest. So I would like us to look at it further," Barber said.
Espinoza noted significant community input helped shape the map. He understood the opposition to East Palo Alto and parts of Menlo Park combined with the coast. However, he stressed his map also kept together communities of interest, considered the whole county and only split up one city in Burlingame.
"I want to thank the community who came out in support of my map. I've actually been surprised about how many folks came out for this map," Espinoza said.
Public comments called for keeping cities together, while some emphasized the need to keep communities of interest with similar issues together. Some liked maps that kept the unincorporated coastal areas together. Several asked to prioritize the needs of historically disenfranchised communities of interest over affluent cities. Others called to use the unity map to highlight marginalized communities. Petra Silton with Thrive Alliance said the organization worked with the community to present a map representing the whole county and keeping communities of interest together. The map split cities along the Bayshore coast east of El Camino Real because they have a lot more in common due to environmental justice issues like flooding and sea-level rise. She noted many of the hills areas don't face those same concerns but have wildfire dangers.
"We really feel like the unity map does accomplish all of the things you're setting out to," Silton said.
The commission recommended the unity map and the Espinoza map to the supervisors in one motion by an 8-7 vote. The nay votes wanted to separate the motion and vote on each map one at a time, with some opposed to the Espinoza map. A move to rank the unity map above the Espinoza map failed.
There will be a public hearing at the Board of Supervisors' meeting Nov. 9 to review the recommendations and consider public input.