When Jim Beer opened the Coin Broker in Palo Alto's Town & Country Village shopping center some 40 years ago, he was retiring as a civil engineer and looking to further explore a lifelong hobby.
A collector of rare coins himself, Beer opened a store where he and his staff bought and sold rare coins, paper currency, gold and silver from around the world. Including everything from coins from ancient Greece and Rome to one of the 12 known 1870 silver dollars minted in San Francisco, currency of all shapes, sizes and chapters of history has passed through Beer's store.
Nearly four decades later, Beer and his daughter Rebecca Clay Pippin moved the business from its longtime location in Town & Country to a retail storefront at 1604 Laurel St. in San Carlos, where they hope to continue helping enthusiasts build their collections and introducing coin novices to a new world.
Beer said he didn't expect to become Town & Country's longest-standing merchant when he first opened the store doors in 1980, a time when dozens of similar stores were also in business. But he acknowledged it can take several years to develop a body of knowledge for coins and rare materials, something he and his daughter have had some time to do.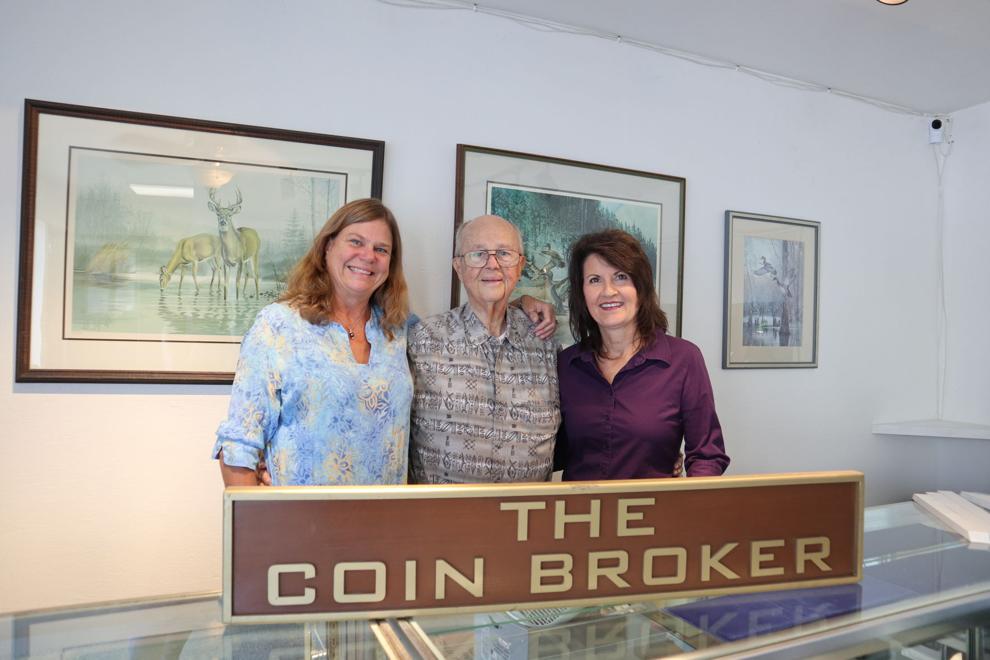 "I didn't figure it would go on for that long," he said. "It takes a really long time to learn … how to grade coins [and] how to price them … you just don't read a book and start doing this, you need to be in the business for years."
For Pippin, her father's hobby-turned-business has always loomed large. Though she has long shared an interest in coins with her father, she said she was around 10 years old when she first started going to coin shows with him. The father-daughter pair acknowledged that the internet has played a role in the drop in the number of Bay Area coin stores, with many believing they can find cheaper prices on the online marketplace.
But Pippin felt the pendulum has swung back toward retail stores for rare coins and precious metals, noting the opportunity to look at a coin and talk to experts at a retail location has become more valuable in the face of the counterfeit risks and customer service challenges that the internet presents.
"Having a retail store and actually looking at a tangible coin is still really, I think, important for the collector," she said. "People appreciate coming to the coin shop and looking at it through the magnifying glass."
Beer estimated some 95% of the materials their business handles today comes from people selling collections or estates they inherited. He added many prefer bringing their collections to a local dealer they trust over bringing them to shows. Customers have traveled to his business from China, Chicago, New York and all across the Bay Area, he said, giving his business a chance to help collectors develop some of the finest collections of coins and paper currency in the world.
Though Beer himself is focused on collecting on early Americana coins, or pieces from the nation's Colonial era, he acknowledged ancient Chinese currency has been very popular in recent years. Pippin said customers have also gravitated toward the ancient Greek and Roman coins in the store's collections over the years, just one piece of the store's ever-growing collection that they have had to figure out how to fit in their new, smaller space in San Carlos.
"There's not a lot we don't have," said Pippin. "We found that out as we were getting packed up to move."
Pippin has also seen the U.S. Mint's 50 State Quarters Program and subsequent America the Beautiful Quarters Program generate interest in United States history among children. She said numismatics, or the study of currency, can be a great educational tool for students and knows from experience that it can also be a great way to connect with family.
"For 10 cents, they can pick up a coin from anywhere in the world," she said. "They can come into the coin shop and just feel like they're traveling the world."