Caltrain officials promised to explore alternative locations for a maintenance yard they're planning to construct in San Mateo's Hayward Park neighborhood in response to outcry over its proximity to homes. 
"We don't know of another location in this area that meets our needs operationally, but we have committed to taking another look and we've certainly heard the concern," said Rafael Bolon, a project manager at Caltrain. 
The plan is to construct the maintenance yard with a spur track on an area adjacent to the Caltrain tracks between 10th and 14th avenues. That area would be used to store rail cars and maintenance equipment and it would be located within 30 to 50 feet of homes, said Caltrain spokesman Dan Lieberman.
During the day, trucks and forklifts would unload equipment at the site and at night around 8 p.m., an on-track vehicle parked there would be deployed to wherever it's needed to maintain the tracks, Bolon added. 
All of that activity has Hayward Park residents outraged about noise impacts, among others, and many of them turned out to a community meeting Tuesday to express their frustrations. 
"This is an industrial yard and no city would allow nighttime industrial work to go on in a residential neighborhood," said Hayward Park resident Anne de la Rosa. "We can handle the electrification and occasional work on the tracks by our homes, what we cannot handle is an industrial yard with work going on all night directly beside our homes. There are no mitigating factors that can improve this situation. This industrial yard needs to be in an industrial neighborhood."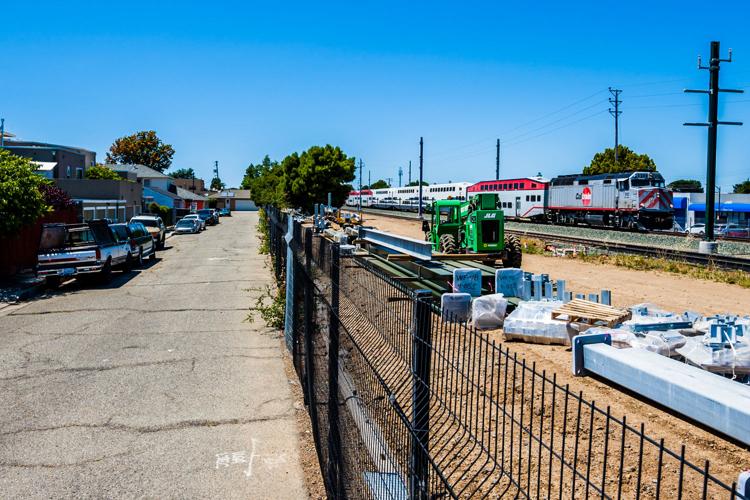 Will Hartmann, also a Hayward Park resident, described the maintenance yard as a public safety issue.
"I'm really nervous about all the traffic and trucks," he said. "I don't think you're including the safety of the public in putting it in this place. … My kids [won't be able to] ride their bike outside because of flatbed trucks and [heavy equipment] riding around because it's right around the corner from my house. I can't do my nightly walk around the block with my kids because of traffic and trucks. And what does it do to the prices of our houses, too? Put that on your Zillow ad when you try to sell your house and it's next to a Caltrain maintenance yard."
Bolon said the maintenance yard is being relocated from 25th Avenue because of the grade separation project occurring there, adding that it can't be moved very far from its former location to meet the railroad's needs. He said the area between 10th and 14th avenues is the only feasible spot in San Mateo for a variety of reasons.
"To be viable, we need something at grade, meaning the railroad can't be above or below the road to access it, there has to be sufficient width and length for us to be able to physically fit the thing in there, it needs some physical way that pickup trucks can access it from the roadside and it has to be compatible with electrification, which we're doing corridorwide," he said. "When you add those things up there're really not a lot of locations."
Bolon also noted that there are many similar maintenance yards located throughout the corridor, some near residential areas.
The relocation of the maintenance yard saw a public review period between Jan. 29, 2018, and Feb. 19, 2018, for the California Environmental Quality Act and the railroad's joint powers board approved it on April 5, 2018.
Some residents are also worried about impacts from bright lights and hazardous materials; others threatened lawsuits during the meeting, and many, including San Mateo Councilman Eric Rodriguez, disparaged Caltrain for its meager outreach efforts.
"Why this is so disappointing to me is that San Mateo has traditionally been a very solid partner with Caltrain and what I don't understand is for a very important decision like this, why didn't you notify the elected officials locally? Why didn't you work with staff so we could make this decision as a community?" he asked. "If this was in your backyard wherever you live, wouldn't you be showing up to a meeting like this?" 
Bolon answered that question in the affirmative and conceded that Caltrain's communication on this matter was lacking. He also said robust engagement and community meetings would have occurred within a few months from now, and the meeting Tuesday was held earlier than planned because of neighborhood pushback.
Many residents were initially alerted to the planned maintenance yard when heavy equipment recently began dumping soil on the site. Bolon noted that the soil transported to the site came from the 25th Avenue grade separation project and that construction work on the maintenance yard has not officially begun.
Moving forward, Bolon said trees can be planted to separate the homes from the maintenance yard and he and his colleagues will be exploring potential solutions.
"The reality is we're hearing you and we are willing to step outside the box to look at anything and everything," he said. "I just don't want to stand here and over promise you 'hey don't worry about it we'll move this thing.' We need this thing to safely operate our railroad and there are a whole bunch of restrictions on where we can put it."