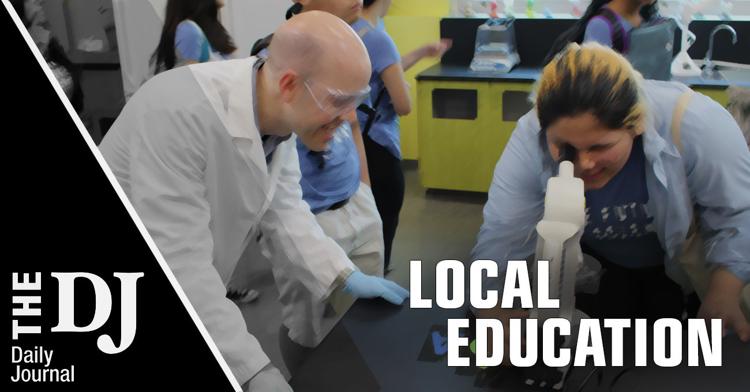 All Burlingame middle students will finish algebra before graduating, according to school officials who approved expanding access to the advanced math course at the urging of parents seeking a more rigorous curriculum.
The Burlingame Elementary School District Board of Trustees approved reconfiguring the school system's math program during a study session Tuesday, Feb. 25.
The community discussion featured dozens of parents who wanted their student to take algebra before graduating eighth grade with hopes of staying academically competitive, said board President Kay Coskey.
"We see it as a gateway to their career readiness, college and whatever they want to do in life," said Coskey.
Historically, algebra has been an advanced math course for Burlingame middle schoolers, and students wishing to enroll would be required to meet multiple testing measures to qualify, said Superintendent Maggie MacIsaac.
But over recent years, a growing amount of students have pressed to finish algebra before matriculating into high school, resulting in more classes being added to accommodate demand. And with mounting pressure from parents to allow those who didn't meet the criteria to enroll, officials ultimately determined to comprehensively reconfigure the district's math program, said MacIsaac.
"Parents feel all kids should have access to algebra in eighth grade," she said.
The move will require a reconsideration of the way students are taught, said MacIsaac, who said the district's curriculum will need to be shifted to assure all students are adequately prepared for success.
Officials are still determining their strategy for integrating the course, but MacIsaac expected the move will be a hit for the district budget as more teachers, support programs and additional resources will be required.
Through the change, officials must also keep an eye to students who are currently in middle school, to assure their curriculum is not overly squeezed, compacted or abbreviated, said MacIsaac.
She also suggested that the repercussions may eventually filter down to elementary school, as officials could elect to begin introducing more advanced math concepts at an earlier age to assure students are ready for algebra before graduating.
"We are looking at pushing it from both sides," she said.
Some parents advocating for expanding algebra access pointed to neighboring school districts where middle school students are taking geometry classes as local precedent for nudging the boundaries of student achievement, said MacIsaac.
But Burlingame officials felt adopting algebra for all was a more appropriate measure and stopped short of introducing geometry, said MacIsaac. High school officials were present at the recent meeting warning against the threats of accelerating math curriculum too aggressively in the early grades, she added.
"We're facing pressure as a school district because everyone has geometry but us," she said, synthesizing the concerns raised by parents.
Coskey too noted the growing push for geometry, but she balanced that perspective against the concern of compounding mental health issues for young students feeling the weight of competing academically against their peers.
Coskey also spoke to the institutional challenges associated with the move, noting the hardship officials already face in finding available and qualified math teachers.
Hiring math and science teachers has grown increasingly difficult along the Peninsula in recent years, as more districts compete for a diminishing pool of talent often drawn away from education in favor of more lucrative industries.
"There will be issues with this," said Coskey.
But she reconciled that perspective with a commitment from officials to work diligently toward meeting the expectations of parents and also setting students up for success as they continue onto high school.
"We will do our best," she said.
(650) 344-5200 ext. 105