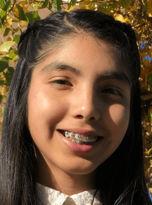 P-U-L-C-H-R-I-T-U-D-I-N-O-U-S. Pulchritudinous.
With a favorite word like that, it should come as little surprise that Borel Middle School student Leilani Campos would be a good speller.
But as the 12-year-old prepares to take her talents this weekend to compete against the rest of the nation's best in the Scripps National Spelling Bee, Campos said she is caught off guard by her success.
"It feels surprising I guess because I didn't expect it to happen," said Campos, who is one of the only 519 left to compete in the competition dwindled down from an initial pool of nearly 11 million students.
Such a reaction may be justifiable since Campos' run to the nationals is unprecedented, making her the first San Mateo-Foster City Elementary School District student to ever reach such a stage.
Locals may get a shot at seeing the San Mateo native in action, as the second round of the competition airs Tuesday, May 29, on ESPN. She will need to make it out of the initial round of the competition though, which starts two days earlier in Washington, D.C. Anita Beroza, of Ralston Middle School in Belmont, will compete in the event as well.
Looking ahead to the event, Campos said she is readying herself with measured enthusiasm.
"It's pretty nerve-racking because there will be so many spellers there. But at the same time, I'm super excited," she said.
Borel Middle School Principal Kenyetta Cook expressed the school's support for Campos in an email.
"Leilani is a student that works hard, applies herself and goes after what she wants. We are very proud of Leilani and her accomplishments and wish her the best of luck this weekend in D.C.," said Cook.
Campos reached the ultimate spelling test after progressing through her school's competition to the regional finals hosted in Berkeley. And while she did not win the second event, judges selected her to continue through a new feature allowing certain participants to be picked for advancement.
Since the decision, Campos said she has been studying diligently — marking a departure from her initial approach.
While Campos said she prepared little for her school event, she is regularly spending a few hours a night reading SAT prep books, materials provided by the event host and working online to bulk up her language skills.
A key to her success, said Campos, is knowing Greek and Latin root words, which she uses to break down the complex terms often put before her in competitions. The process helps her identify familiar patterns she can use as guideposts while digesting potentially large and unusual words.
That method was successful in spelling sesquicentennial during one of the earlier rounds of qualifying, when she recognized root words sesqui and cent as Latin. Though she'd never heard the term, she used her power of intuition to spell the rest of the word defined as a 150th anniversary, marking what she considers one of her most challenging competition successes yet.
Exposure to other languages is also a useful mechanism Campos tried to broaden her foundation for taking apart words into fragments more easily spelled during competitions.
"I'm also studying more patterns in different languages like French, Latin and Greek and that has been pretty helpful," she said.
She finds completing crossword puzzles and studying to classical music to be fruitful as well, capping a process she considers relatively enjoyable.
"I don't really see it as work because I feel like I enjoy learning all these words. Sometimes I do have to take a break because it does get kind of stressful," she said. "But for the most part, it is pretty fun."
In the bright lights on the big stage, will the enjoyment continue? Campos is optimistic. She is also an experienced musical theater actress, which could help stave off some of the stage fright.
"I'm used to performing in front of people, so it probably won't be as scary as I think it will be right now," she said.
Should she prove able to push through the potentially tense times and let her training do its work, the outcome could be beautiful — or pulchritudinous.