In the years since Yoshihiro Sakaguchi's grandfather opened Taishoken restaurant with his relative Kazuo Yamagishi in 1951, the family has been perfecting its ramen dishes, with a special focus on tsukemen.
For 60 years, the restaurant — which started in Tokyo and has expanded to include some 80 locations across Japan — has presented diners with a bowl filled with ramen noodles and another with a fish-based broth for dipping. Now the family has its sights set on opening its first U.S. location in San Mateo, the plan is to stick with the tsukemen recipes that have kept diners coming to the restaurants they run in Japan, said Sakaguchi's father Mitsuo Sakaguchi.
"We make our own noodles and use … a fish broth for tsukemen," he said, through a translator. "That's been going on for 60 years. That's the history of Taishoken … over here, as well, we will be keeping that."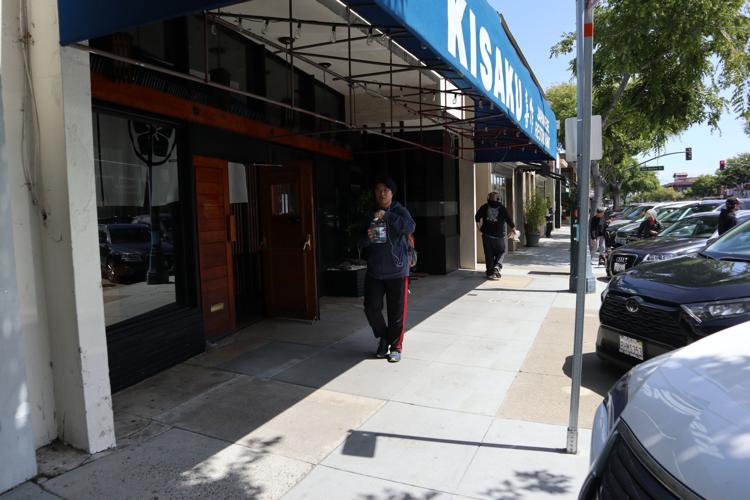 The father-son duo will be offering at their new restaurant at 47 E. Fourth Ave. a dish developed when workers at the original Taishoken restaurant dipped cold leftover noodles into a rich broth on a hot summer day. Formerly home to Kisaku restaurant, the space caught Yoshihiro Sakaguchi's eye for its open kitchen and close proximity to other Japanese restaurants, as well as Central Park's Japanese Garden.
With plans to use key ingredients like soy sauce and other flavorings from Japan, Yoshihiro Sakaguchi said through a translator that he'll also be incorporating ingredients like chili peppers from Mexico as he develops the dishes to be served at the San Mateo restaurant. The 31-year-old said he is honored to bring his family business to the United States, but does feel pressure to ensure its dishes are well-liked by customers here after the business' success in Japan.
Much like his relatives, Yoshihiro Sakaguchi tried his hand in the business early on by working at an Italian restaurant after college. Then, when he was 25, he began work at Mensho, a renowned Tokyo ramen restaurant that opened a San Francisco location in 2016.
In opening his own restaurant, Yoshihiro Sakaguchi said he sometimes wonders how they will manage so many customers but also looks forward to creating dishes and watching diners' expressions from the open kitchen as they taste them.
He said for those in the restaurant business, it's not uncommon to see them smell a tsukemen noodle and try it on its own before dipping any noodles in the broth so they can concentrate on the quality of the noodle. Though every aspect of the dish is important, Yoshihiro Sakaguchi said the ratio of the flour and water when making tsukemen noodles is a focus for him.
For the father-son duo, opening their first restaurant location in the United States, and especially the Bay Area, fulfills something of a dream. Mitsuo Sakaguchi said he began working with his father Masayasu Sakaguchi when he was in his 20s, and got a chance when he was a student to study abroad in the Bay Area. The experience left an impression on him that would last decades and inspire him to open a San Francisco-themed restaurant in Japan in recent years. Having grown up in a particularly hilly part of Japan, San Francisco's ups and downs reminded him of home, and years later he encouraged Yoshihiro Sakaguchi to study abroad and travel in the Bay Area.
In the hopes of opening its doors on 47 E. Fourth Ave. in early June, Yoshihiro Sakaguchi said he has a lot of preparation ahead but looks forward to seeing customers try the dishes for the first time. And though he acknowledged the success other dishes such as shoyu ramen, served in a soy sauce-based broth, have had in the family's other restaurants, Yoshihiro Sakaguchi knows where his focus will be as they prepare to serve diners in San Mateo.
"This is our first Taishoken in America, so tsukemen is a 'must' item that we have to serve," he said.