Pop Warner Youth Football is set to return this season.
The coronavirus pandemic took its toll on the league. A staple of youth sports nationwide dating back to its inception in 1929, Pop Warner did field some teams in 2020 here and there. But not in California, and not for the annual Pop Warner National Super Bowl held in Orlando, Florida, which was also canceled last season.
Menlo-Atherton Vikings president Harold Atkins said he's certain as he can be the league will return to the Peninsula this season. The start date for practices is tentatively set for Aug. 1, with game play starting by the end of August. This aligns with the routine schedule Pop Warner has long played.
"We're preparing for a full go season starting Aug. 1, as usual," Atkins said.
The Vikings' home league, previously known as Peninsula Pop Warner, will be going by a new name this season — Bay Area Pop Warner Youth Football and Cheer. The league is comprised of 18 teams, including the M-A Vikings; the Redwood City 49ers; the Bayside Broncos out of San Carlos; and the Pacifica Tiger Sharks.
With more far-reaching teams joining the league in recent years — such as the East Bay Warriors and the Gilroy Browns — it seemed like the 'Peninsula' moniker was no longer the way to go.
"They were so far away from the Peninsula, it just … didn't seem right to have 'Peninsula' as the name for teams that were located so far away from the Peninsula," Atkins said. "So, I just think the brand is a little better."
Atkins has been involved in Pop Warner football for over 20 years and has spent the past 13 with the M-A Vikings. He typically coaches one of the organization's five teams, ranging from 6U to 14U. In addition to his wife, Erika, serving as the Vikings' vice president, each of his five sons has played Pop Warner, including his youngest, Erik, who is currently enrolled in the league.
"That's the youth league I really trust with my own kids," Atkins said. "It just has the name … I think it's pretty darn close to a hundred years. And their structure, I know they have the age and weight categories ... and the kids, you have to get good grades in order to play, which aligns with the high school programs. And I also like that on the national track you can compete."
Atkins said there has been a drop in enrollment numbers for the past few years, something he attributes to the growing traction of concussion studies being linked to playing football. He is now concerned about the lingering effects of COVID quarantines, with people, especially kids, getting more reliant on staying home and seeking an outlet in the cyberworld.
"I also think the COVID situation can also hurt us," Atkins said. "If kids are getting used to staying at home … and parents are getting used to not dropping them off at practice … I'm hoping that doesn't also happen with youth football."
The M-A Vikings are anticipating approximately 100 kids or more to enroll this season. Each of the six teams in the organization can have up to 35 players on roster.
The Vikings haven't officially secured a venue to practice and play. They have long called Menlo-Atherton High School their home, but the Sequoia Union High School District is currently allowing for any teams other than high school teams to utilize high school facilities. Atkins said he expects the team to return to M-A High School this season.
"As of right now it hasn't been approved … because they haven't been cleared," said Atkins, who also serves as coach of the M-A High School junior-varsity team. "But it's my understanding that by the end of June that should be different."
Atkins is looking for the Vikings to continue a run of prominence dating back to 2018, when the 14U team made the trip to the Pop Warner National Super Bowl tournament. The team Atkins coaches went the following year of 2019 in the 14U division as well.
Now, many of the players from those teams are playing at local high schools, such as Menlo-Atherton High School's star quarterback and wide receiver, Matt MacLeod and Jalen Moss.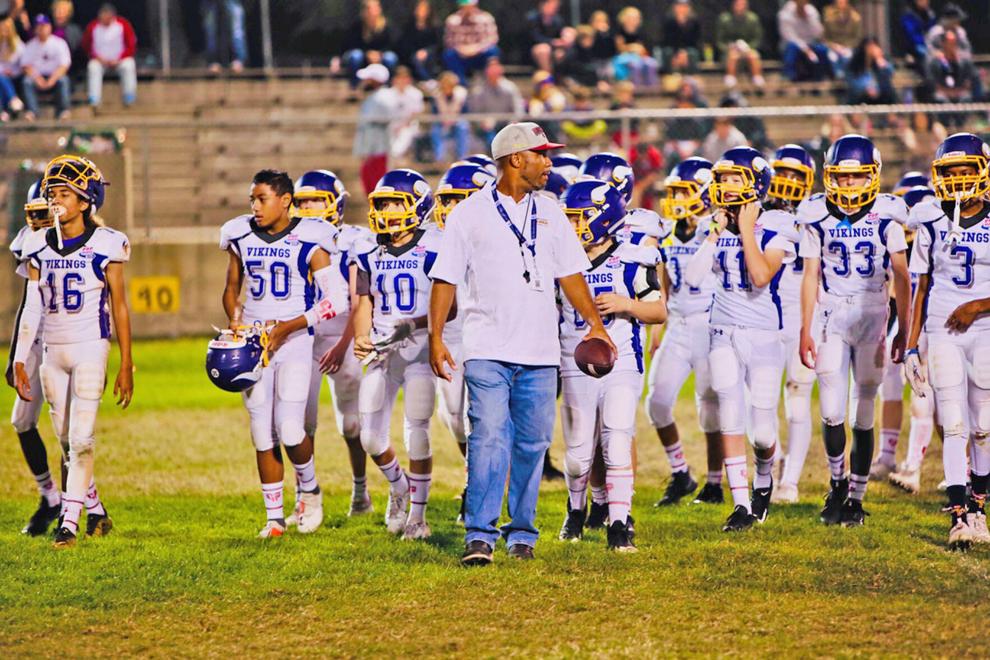 Atkins said one of his favorite players he's coached is lineman Sebastian Ortiz, who joined the M-A Vikings as an 8-year-old because he was looking to lose weight. He has continued with the sport and recently finished his season on the Serra freshman team.
"One of my favorite players I've ever coached … just watching him grow as a person and get over there to Serra, which was huge jump for him," Atkins said. "But now he's over there rolling."
This is the math that has sustained Atkins through over two decades of coaching youth football.
"It's just amazing to watch those kids grow," Atkins said.