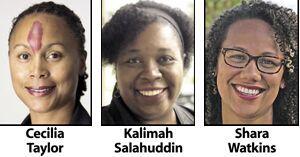 San Mateo County is no stranger to inequity and the disproportionate impacts that systemic racism has on communities of color and low-income communities. The current pandemic has laid to bare these inequities in a way that is raw, transparent and undeniable. It is incumbent upon all of us — particularly our elected leaders — to take swift and immediate action to support the most vulnerable members in our communities. 
We want to start by expressing our sincere gratitude to the San Mateo County Board of Supervisors for its recent adoption of the San Mateo County Recovery Initiative Plan, with the inclusion of the County Equity Platform. Transparency around the ways in which COVID is disproportionately impacting the Latino community, clear and timely data, along with the resources to support our communities that are most in need must continue to be pillars in our recovery work. REACH Coalition is a group of local elected officials and community-based organizations of color, steadfast in dismantling systemic bias and long-standing barriers to access across our county. We have had the honor to work alongside many of our county leaders to bring the voices of all of our communities into the conversation and to prioritize equity in our county decision-making — a strategy that must be incorporated in all work moving forward. 
We would be remiss if we did not also mention there is still much work to be done. The COVID crisis has required immediate action and attention. State mandates have required equity-focused decision making. The crisis has blatantly shown us who our most vulnerable and impacted community members are. Inequity and disproportionality, however, will still be here after the global pandemic is over and our county has begun its recovery process. San Mateo County will likely still have the largest arrest rate racial disparity in the entire state of California. Exclusionary zoning and redlining were built into the policies, practices and procedures of almost every city in our county and these policies will still remain in many of our cities, which will continue to have direct implications for home ownership and quality of life. Our schools will continue to remain segregated with wealthy schools in our county receiving up to three times the per pupil funding as our poorest schools. These issues are also urgent, they are life and death, and they must be prioritized at every level throughout our county. 
We look forward to continuing to work alongside the county, and other elected officials, to address the short- and long-term barriers to equity. In the short term, we must ensure continued direct, targeted testing for our most affected communities, inclusive of the wraparound services necessary to keep our communities safe and healthy. We want to see the data around how that is happening and what the impact is. In addition, we want to see a commitment to call for additional targeted funding with a bottoms-up approach to support our most vulnerable communities and exploration into how local partners — such as school districts — can support reaching these communities.
As a part of the long-term strategy, we hope to see the county continue their deep dive into equity work, inclusive of all voices of people of color, to address the systemic inequities that have always existed in our county. We envision a county that prioritizes an equity-based economic recovery and provides the resources for the long-term viability of minority-owned businesses and community-based organizations of color. We envision a county with elected and appointed leadership at all levels of government that reflect the cultural, linguistic and economic diversity of our county. These are the kinds of commitments that will ensure that all those that call San Mateo County home can thrive. 
Cecilia Taylor is the mayor of Menlo Park, Kalimah Salahuddin is the president of the Jefferson Union High School District and Shara Watkins is a member of the San Mateo-Foster City Elementary School District Board of Trustees. They wrote this on behalf of the REACH Coalition.