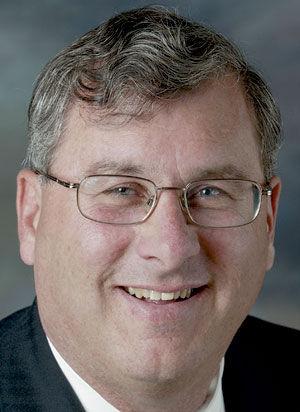 Every day, inefficient transportation networks and increasing traffic congestion are having harmful impacts on commuters and our communities. These impacts challenge our ability to sustain our economy and maintain a high quality of life. Improving Caltrain is an essential part of the solution to these issues. Last year, Caltrain began a process to define how much service the system should provide to accommodate regional growth. Development of this "Service Vision" is a part of a larger Caltrain Business Plan, which also discusses strategies for implementation of the vision.
The Service Vision describes a future where 12 trains-per-hour travel along the Caltrain corridor in each direction. A combination of local and express trains will serve the corridor all day with an average of 7.5 minute frequencies and expanded service to South Santa Clara County cities and the Salesforce Transit Center in Downtown San Francisco. Ridership on the corridor will triple to 180,000 daily riders — an increase that is the equivalent of keeping 5.5 lanes of highway traffic off the roads.
The system will also be prepared to accommodate services that connect the Peninsula to the rest of the region and the state through high-speed rail, a potential second transbay tube and a new rail connection between Redwood City and the East Bay.
By all accounts, Caltrain has become one of the nation's most effective rail systems. Since 2004, Caltrain's ridership has more than doubled, making it the nation's seventh largest commuter rail system. It's also the nation's most efficient. Caltrain has one of the highest farebox recovery ratios of any rail system in the nation and carries more passengers and operates more miles per employee than any other major U.S. railroad.
But doing more with less has also brought challenges, and today the system is strained, with overcrowded trains and outdated equipment. To address these issues, Caltrain secured a historic level of local, regional, state and federal investments to modernize the corridor and operate high-performance electric trains. This project is under construction and, once completed, will increase the system's capacity, improve frequency, reduce travel times and provide the foundation for future expansion of the service.
But to address the demands of our growing region, we will need to do more. Caltrain, unlike most other major transit systems lacks a dedicated and reliable revenue stream. It relies on its farebox recovery and operating subsidy from the three member agencies — San Francisco, the San Mateo County Transit District and the Valley Transportation Authority — to provide a backbone transportation service for communities from Gilroy to San Francisco.
To further increase capacity and expand service, we will need to make major further investments in the system. By making smart, long-term investments now we can improve reliability, capacity and frequency for riders in a way that addresses growing regional traffic congestion.
That is the intent and result of our long range Business Plan. Through this effort, Caltrain is leading the way to a better future. We have proposed a bold, but necessary path to keep the Bay Area moving while better connecting our communities, improving our quality of life, enhancing our economy and protecting our environment.
The approach is a "big tent" plan derived from an open, technically rigorous and collaborative process with communities, riders and our partners. We have worked closely with 21 cities and 93 stakeholder organizations on the plan and we hosted more than 150 stakeholder meetings resulting in tens of thousands of comments.
The plan is sound. To implement it fully, we will need to make a number of major capital improvements. A necessary first step will be finally providing Caltrain with a dedicated funding source.
Before trains began operating from San Jose to San Francisco in 1863, the fastest way to get between the two cities was an eight-hour steamboat ride. Caltrain's baby bullet does the same trip in just more than an hour. In the future, electrification will shave an additional 10 minutes off the journey. Future investments will make the system even faster, provide more service and expand our capacity to serve more people.
While a lot has changed in the 150 years since passenger service started on this corridor, Caltrain's Business Plan connects our immediate needs to our future needs, and outlines the investment necessary to prepare for our next 150 years.
Jim Hartnett serves as the executive director of Caltrain. Visit caltrain2040.org to learn more about and comment on our collective future.