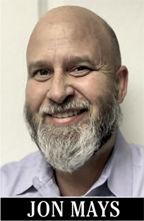 There were six cop cars on my street, why didn't the Daily Journal have the story? Believe it or not, that's the type of question we get quite a bit. A large police action may seem to merit news coverage, and people assume we will know all about it and have a story the next day. So when we don't, people sometimes wonder why. But there is a bit more to it.
The rule of thumb when the Daily Journal first launched in 2000 was that we didn't pay attention to fire trucks unless there were two barreling down B Street, the location of our first office.
More often than not, the fire engine, then the ladder truck, was from Station 21 downtown. On slow news days, we might find a reporter meandering down the street to see what's up. That was back when we solely covered the city of San Mateo, and a little of Burlingame. We also might find ourselves at a two-alarm fire or a gas main break that caused office workers to vacate their buildings.
Fast-forward more than 20 years and we now cover nearly every city on the county's Bayside from South San Francisco to Redwood City, and Half Moon Bay on the coast. And our staff is not that much bigger than when we first started.
There is also much more to cover. There are developments left and right, a housing crisis, transportation issues, school and municipal finance concerns, the pandemic and everything in between.
We cover breaking news, but it has to be fairly significant for us to head out there. For instance, we immediately sent a reporter to the active shooter incident at the Shops at Tanforan in 2019. The CZU Lightning Complex fire last summer was substantial and we covered that from multiple angles for multiple weeks. Besides that tragic fire, we have been fortunate recently in not having to cover a major structure fire. I recall one at Cunha's Country Store on Main Street in Half Moon Bay that reached six alarms. We get grass fires on San Bruno Mountain about once a year that look worse than they are, but that are also becoming more worrisome. There was also a structure fire in the Shoreview neighborhood of San Mateo that was about three alarms and hit one main structure and two smaller ones. A two-alarm fire may seem big but can be for a pot on a stove in an apartment building and the second alarm is called in case it spreads to another unit. However, it typically has to be three alarms or higher for us to head out.
Another thing we encounter is large police presences in neighborhoods. Sometimes police, depending on how busy everyone is, might have additional backup for routine stops. Or there might be a warrant arrest that requires officers from multiple jurisdictions. It looks like a mighty big crime, but it might be something relatively minor and for an incident that happened previously in another city altogether. One incident in San Mateo caused a large-scale response because a woman called police to say there was a gun involved but was later uncooperative. Turned out her boyfriend had an out-of-county warrant and was arrested at a gas station across the street. Still, because of the initial report, police had to provide a full response. In another instance, there was a huge police presence at an investment firm building but it turned out to be swatting, a term for a false call. And sometimes a car crash can seem like a pretty big deal, and it is, but they are quite common and not something to which we would dispatch a reporter — especially if they are on deadline with another important story. But you never know. Sometimes a car crash can be linked to another crime and have significant news value.
So let us know if you hear of something because you never know if it's something that might build into a news story.
We always keep tabs on public safety through websites, social media and the scanner and sometimes act upon tips. We scan police reports, also known as blotter, but they don't always yield all the information. Sometimes, if you don't see something in the paper, it's because we didn't know. So feel free to let us know. We will always check into things and report back personally even if it doesn't turn into a story for everyone to read.
Jon Mays is the editor in chief of the Daily Journal. He can be reached at jon@smdailyjournal.com. Follow Jon on Twitter @jonmays.