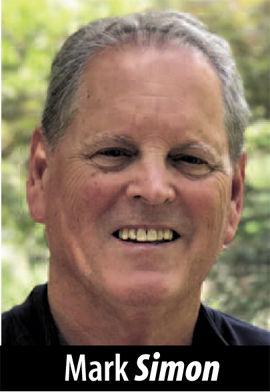 Redwood City's landmark Fox Theatre was boarded up tightly, eerily, Tuesday afternoon, as was much of the downtown commercial neighborhood. 
It was a striking recognition that a handful of scoundrels intent on uncivil mayhem could trail behind a crowd of thousands who gathered peaceably and earnestly at Courthouse Square to join the national dialogue on racism, police misconduct and the realities of life as an African American. 
Fox General Manager Ernie Schmidt smartly encouraged young people to use the sheets of plywood as a canvas and happily they complied with striking artwork, names of African Americans who died in police custody, quotes from historic civil rights figures and words of love and hope. Among them was this: "We gon' be alright."
Are we? What does "all right" look like? And how do we get there?
We start here: We are a people formed with a crowning and quirky assertion that each of us has the right to the pursuit of happiness. It's a right that can be captured in a single word: Fairness.
We love fairness. It's why we love sports and the idea of an even playing field, where success is the product of unique talents or hard work. It's why we hate cheaters.
We want to believe that any one of us can achieve happiness as we choose to define it, so long as we are free to work hard and to maximize our natural abilities, whether it's a unique talent or a work ethic. We welcome the success of others who achieve through their own hard work and their own fair advantages.
But the stark reality is that the system is rigged. Most of us sense there is an inherent unfairness that permeates our lives. It is this unfairness that drives our divisive national rhetoric. There are chasms of unfairness that breach our ideals, some so deep that many can barely see the sky.
Any ethnic group in the United States has felt this unfairness in discriminatory hiring and housing practices, in laws written and unwritten that codify stereotypes and ugly mythologies and in prejudices that have forced one generation after another to "stick to their kind."
And all of us have witnessed the actions of vandals who take advantage of uncertainty and see freedom as an opportunity for exploitation, for self-achievement through the degradation of others. Some of them are obscenely-paid corporate executives, who make street thieves look like children.
"Land of the greed," read another graffiti on the Fox plywood.
Yes, many of us have a family history, an ethnic history, of unfair treatment, of the denial of opportunities, of the closing of paths that seem to open magically to those with the right connections, the right family and the right kind of money.
But only African Americans have faced the sweeping, sanctioned and systematic denial of the freedom to pursue happiness — from the arrival on our shores in chains right up to today's still-systemic insistence that they be treated differently and denied the pursuit of happiness in their own way and without fear. Absence of fear is a particular kind of freedom, the ability to go about your life with confidence, unmolested and undeterred.
In his second inaugural address, Abraham Lincoln spoke of the bloodshed of the Civil War as God's punishment for slavery. It is, as Catholics might put it, America's original sin. 
We have not atoned, and it has metastasized.
Because we ask our police departments to work in the twilight border of our worst behavior, it comes as no surprise this is where we most directly face, and too often act upon, the inbred racism that, as Malcolm X said about violence, "is as American as apple pie."
Police departments are paramilitary organizations in which attitudes and behaviors — what is accepted, tolerated or simply ignored — are very much the product of a top-down command structure. If police behave badly, or well, it is a reflection of leadership at the top. Just as is the case in our nation, where the president's own prejudices are on prideful display.
What will it take to get to "all right?"
What it always takes — understanding, acceptance, looking internally at the uglier parts of the American dream. It will take reconciliation, forgiveness, speaking out and standing up.
"It will take this," said Pastor Paul Bains of the We Hope community services program in East Palo Alto, gesturing toward the crowd, the vast majority young people, who spanned from the courthouse steps to the plywood-buttressed Fox Theatre.
Said Tyson Fraley, who set Tuesday's rally in motion, "It will take the power of love."
Mark Simon is a veteran journalist, whose career included 15 years as an executive at SamTrans and Caltrain. He can be reached at marksimon@smdailyjournal.com.