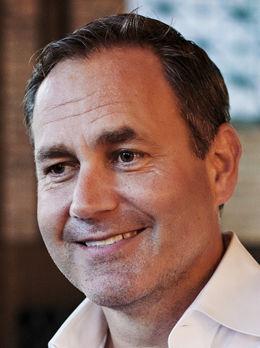 A fine-dining restaurant inspired by the glamour of Hollywood in the 1930s and 1940s is set to open in unincorporated Redwood City this summer in the former home of Chantilly's.
Located at 3001 El Camino Real near the Atherton border, the 10,000-square-foot restaurant called Selby's will also pay homage to each of the concepts that previously occupied the site, said Tim Stannard, founding partner of Bacchus Management Group, which is also responsible for Michelin-starred Spruce in San Francisco and The Village Pub in Woodside.
"One of the more appealing things about the location is everyone has had a long 20- to 40-year run," Stannard said. "The [former occupants] were all higher end concepts and one of the things that sparked our imagination is they all served what's now called continental cuisine — a post-World War II reinterpretation of European food."
Stannard said Selby's will offer a modern take on continental cuisine, which is known for heavy cream and butter-based sauces, and his team has been combing through cookbooks from the 1930s through 1960s for inspiration.
"The same concepts [in those cookbooks] will apply at Selby's, but a lot of the food we'll cook is cleaner, lighter and brighter with less cream," he said, adding that dishes including oysters Rockefeller, lobster thermidor, roast crown of duck and chicken a la king will be on the menu. "We're reviewing and refining those recipes, but honoring the essential ideas."
Overseen by two-Michelin star chef Mark Sullivan, the menu will feature dry-aged steaks and chops from celebrated San Rafael-based provider Flannery's Beef, ingredients sourced from a private organic farm as well as comfort options, including a signature "Black Label" cheeseburger.
The ambitious wine program entails about 2,000 selections on the opening list with anywhere between 30,000 and 40,000 bottles in the cellar at a given time.
"It's probably one of the largest opening wine lists in the country in the last decade," Stannard said.
Selby's will also feature a full bar, deep list of American, Scotch, Irish and Japanese whiskey plus a tableside martini cart with a selection of ice-cold gin and vodka.
"We'll build a martini at your table and the goal is to create the coldest martini on the West Coast," Stannard said.
Pâté and spiced crown roast duck, for example, will also be carved tableside and the dessert menu will be filled with throwbacks, including strawberries romanoff, bananas foster and strawberries roasted in cognac.
Upon entering the restaurant, patrons will be confronted by a white marble staircase that spirals up to the second floor, where a balcony dining room overlooks the main one.
The main dining room is outfitted with brass and crystal chandeliers, artwork by local artists, an antique limestone fireplace imported from France, and it's adjoined by three private dining rooms and a separate bar and lounge.
Stannard envisions a wide range of diners in Selby's including couples grabbing a meal before a movie or enjoying a wedding anniversary, friends meeting for a drink after work or a company launching an initial public offering.
"It's important to us that the restaurant be used by the entire community," he said.
Selby's is named after a tree-lined street adjacent to the property and it's expected to open in June or early July, Stannard said.