With overhead costs like rent and utilities piling on and two months of tight restrictions keeping people out of storefronts, Redwood City restaurant owners have turned to public assistance programs to fill the void left by absent patrons. 
The city's downtown area has turned into a scene from "The Walking Dead," said David Kassouf, the owner of The Sandwich Spot on Broadway. Neighbors Ramon Bravo of Margaritas and John Kim, the owner of three restaurants down the strip, said they are in negotiations with their shared landlord. And for Vesta owner Peter Borrone, business has remained consistent. 
With such a variance in business, officials have been tasked with aiding business owners on a needs basis. As of May 15, 34 Redwood City businesses had received aid out of the 160 that applied through the San Mateo County Strong Fund, a local initiative focused on providing funds to small businesses and families struggling due to COVID-19. Redwood City funding capacity is a total of 69 grants for businesses according to data provided by Rosanne Foust, CEO and president of SAMCEDA, which is managing the fund with the help of the San Mateo Credit Union. The criteria for aid is strict, and they are still working through applications, Foust added.
Don Burris, the city's economic development manager, said he personally called 500 of the 6,600 businesses whose home is Redwood City. His goal is to get business owners connected to the resources they vitally need to remain in business. 
"In my experience, the small business community are experts at their service but aren't aware of the financial resources available to them. We were afraid if we didn't reach out we'd lose them," said Burrus. 
When shelter orders were first announced, he said most of the inquiries his team received were from business owners attempting to determine whether their services were considered essential. Now most calls received are from nonessential business owners trying to figure out their next step. 
"Right now it would appear that the majority of businesses in a situation where they would shutter completely tend to be in service industries including professional services as well. They're reliant on consumers walking through," said Burrus.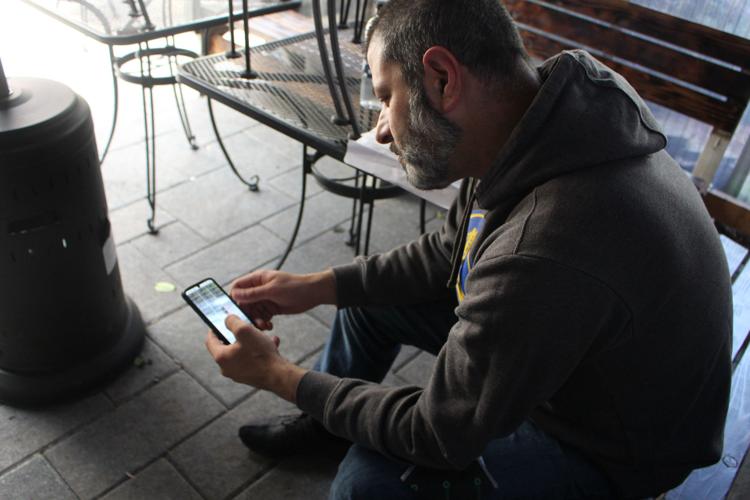 At the Sandwich Spot, Kassouf and his team would have celebrated their nine-year anniversary on May 2 with their regulars in attendance. The business was started during hard times but the recession of 2008 was nothing like the economic downturn today, he said. 
"I don't even go to bed at nighttime and sleep well at all because every time I go to bed, I stay up two three hours sitting, thinking 'What's tomorrow?'" Kassouf said. 
With revenue substantially down, Kassouf said he plans to push through until the end of June. His one request from the city is that officials provide greater details for a potential timeline. 
"The Sandwich Spot for me is my life, my first business, my baby," said Kassouf. "Now it's been a month and a half and I don't know how long I'm going to hold. And if this one goes bad for me it's a big issue. I lost everything. It's very simple." 
Kassouf has continued to pay his staff with loans provided through the Paycheck Protection Program, a $669 billion federal business loan program aimed at helping businesses pay their employees. He said he would like to see action by the city to limit operation and licensing fees placed on business owners. 
"I can survive and I will survive. Sometimes if you go drown in the ocean you can manage by floating a little and that's exactly what I'm doing but if you start fighting the waves you're going to go down," he said. 
On the corner of Jefferson Avenue and Broadway sits Margaritas Mexican Restaurant, which has called the location home for nearly 20 years. Margaritas supervisor Ramon Bravo, whose parents own the restaurant, said they were forced to close after takeout profits showed little promise. 
"It hit us so hard and no one was coming out. We just couldn't afford to pay for all the employees and having everybody here," said Bravo. 
After shuttering for two months, the family made the decision to reopen after receiving their PPP loan. Bravo said receiving the loan was a relief after not getting grants through programs including the San Mateo County Strong Fund. He added that hurdles faced by small business owners today coupled with health issues within the family has made 2020 a difficult year. 
"It was pretty hard, I don't know exactly how close we were to closing down but without any of the loans it probably would have been within the year, before the summer," said Bravo. "It's a big scary time right now and everything is up in the air." 
Operating just next door is Talk of Broadway, an institution of the city for 25 years. Owner John Kim also owns two other restaurants on the street, the BAP and Yokohama and said business at the restaurants has varied. 
"I started with about 15 to 20% [revenue] on a daily basis and now it seems like I do about 30 to 35% of what I use to sell. With the Japanese I started with about 25% of my normal sales and now I'm doing about 45," said Kim. 
While the other restaurateurs showed optimism for life after sheltering restrictions, Kim hid little about his concern for what he believes is to come. 
"I'm actually more scared for after it opens. I'm not sure how many people I'll have to staff, how many people will come to actually eat here. I have no clue and it'll be the same impact. I think the economy will be a lot worse after we reopen. Especially next year," he said. 
Kim said he applied for assistance through the SMC Strong Fund but had not received any follow-up correspondence. Receiving the PPP loan has helped him prolong operations for the time being. As for the future of his businesses, Kim has accepted the possibilities of a permanent closure. 
"I've been here 25 years, if [closing] is how it is. I'll take it. If my landlord doesn't cut down my rent I have no doubt I'm going to leave. This is a lot of work and I spend sometimes 12 to 16 hours a day here and if anything just pays my rent, it's not worth it to me," he said. 
Peter Borrone, owner of the Italian restaurant Vesta, has remained positive after receiving both a $100,000 high interest loan from American Express and a $100,000 from Mark Zuckerberg and Priscilla Chan. 
"We shut down just to kind of get a grip on what was happening in the world and let everybody be with their families and then we realized we had to reopen because I needed to get my kitchen guys hours and take care of my crew here," he said. 
The business is now running off of revenue accrued through takeout orders after the loan and grant funds were spent on payroll and other expenses. Borrone considers himself lucky. On top of the assistance he has received through CZI, he also received a single month rent break from his landlord who is also his father. 
While other business owners are eager to open their doors to dine-in service, Borrone shared concerns with Kim that the 6 feet of distance would limit revenue so severely it would not be profitable. For the time being, he said the constant disinfecting isn't worth a shift back to serving guests indoors. 
"[To-go service] is sustainable enough to where I know 100% that my employees will be getting paid and I feel like we won't go into the negative again," he said.