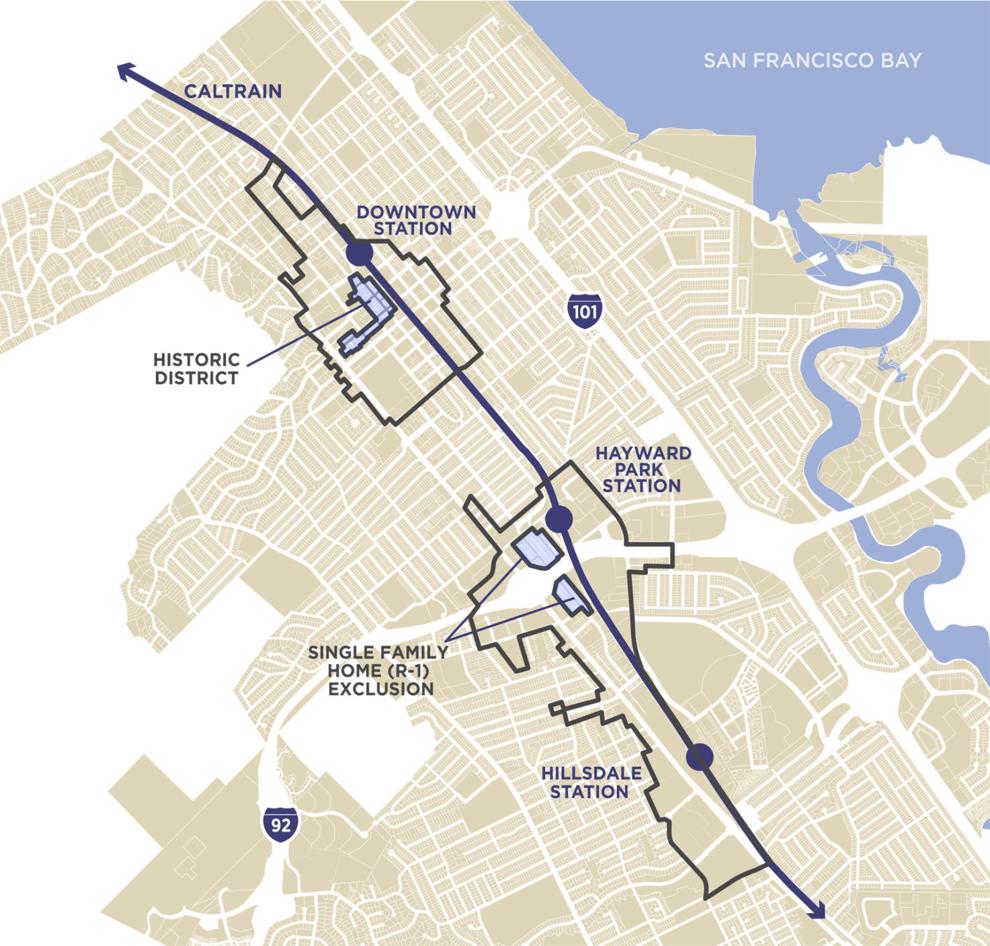 With Measure P set to sunset by the end of the year, a group of San Mateo residents is pushing to extend existing building height limits in the city while exempting areas around transit from those restrictions. 
Proponents of extending the height limit measure, however, suggest this effort will confuse residents who support protection from development interests through another effort set to be on the same ballot.
This week, longtime union leader and community activist Rich Hedges; Nicole Fernandez, San Mateo County Democratic Party chair; and developer Alan Talansky Wednesday announced the beginning of a signature-gathering effort to place on the November 2020 ballot an initiative titled "City of San Mateo Neighborhood Protection/Housing Opportunity and Affordability Act." 
The initiative would extend voter-approved height and density limits in the city for 10 years while removing those restrictions around the city's three Caltrain stations until new height limits are established through the general plan update process, which is underway. The initiative also contains provisions that remove barriers to affordable housing development in the city, according to a press release. 
Measure P, a 2004 extension of a measure approved by voters in 1991, caps building height in the city, including areas around transit, at 55 feet and limits density to 50 units per acre. 
"We are proud to bring forward what we believe is a great compromise measure that will protect our single-family neighborhoods and small-town feel, while also allowing the city to address our need for new housing," Hedges said in the release. "This initiative is critical to our city's ability to address the housing crisis, traffic congestion and impacts on greenhouse gas and climate change." 
Signatures from 10% of the city's voting population are needed to place the initiative on the ballot. There are 55,462 registered voters in the city so 5,546 signatures are required. 
If the signature-gathering effort succeeds and the initiative is placed on the November ballot, it will compete with another ballot initiative seeking to extend Measure P for 10 years with no height limit exception for areas around transit. The Measure P extension is set to be on the ballot because the citizens group San Mateans for Responsive Government in early 2018 gathered more than 7,000 signatures to do so.
Members of that group are ardently opposed to the "City of San Mateo Neighborhood Protection/Housing Opportunity and Affordability Act." They're worried it will usher in construction of towering high-rise buildings throughout the city and exacerbate traffic congestion. 
"Don't be fooled, this measure is not trying to meet the region's most pressing problems," said Michael Weinhauer, a member of San Mateans for Responsible Government. "It's nothing more than a Trojan horse for unrestricted high-rise development of 12 stories or higher in downtown, Hillsdale and other transit sites. It ignores the traffic and infrastructure problems associated with more housing, no matter where it is located in our community."
Housing advocates, on the other hand, support the proposed initiative and argue it's necessary to bring about construction of much needed homes. 
"We need thousands of homes now to meet our current needs, and that does not include the babies being born today or the new people moving in to work in this thriving community," said Evelyn Stivers, executive director of the Housing Leadership Council. "Without addressing the exclusionary height restrictions of our past, the city will continue to contribute to terrible traffic on 92 and 101, displacement throughout the region, and rising homelessness."