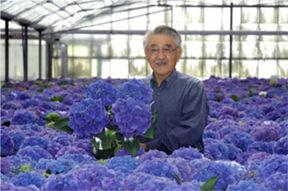 Bay City Flower Company, one of Half Moon Bay's largest and longest-running employers, is calling it quits, leaving nearly 200 workers deeply concerned about the future and scrambling to figure out what to do next. 
At a meeting Tuesday, councilmembers said they were committed to help.
"This is a heartbreaking set of circumstances, it is an emergency, it's a shock," Councilwoman Debbie Ruddock said, according to a video of the meeting. "People are wondering 'what next' and being in that situation of uncertainty is frightening. We don't want to leave people in that very stressful situation for long. We will work with you." 
Harrison Higaki, the company's CEO, said in a press release that Nov. 10 will be its last day of business, adding that it's investigating "alternative uses" for its facilities. 
Bay City Flower Company was founded in Redwood City in 1910 by Japanese immigrant Nobuo Higaki, who originally grew cut carnations, roses, chrysanthemums and gardenias for florists in San Francisco, according to the company's website. The nursery relocated to Half Moon Bay in 1959.
"After four generations and 110 glorious years in floriculture, we at Bay City Flowers Company have decided that the time has come for us to wind down the selling of our flowers," Higaki said in the release.
Higaki said the company decided to close its doors for various reasons, the main one being that "it has become increasingly difficult to run a flower farm and compete nationally while operating in the costliest place in the nation." 
During the Tuesday meeting, one resident said 60 employees have already been laid off. By Nov. 10, 195 employees will be affected by the permanent closure, a representative for the company confirmed.
Belinda Arriaga, director of nonprofit ALAS, described the nursery as an "economic engine for the Latino community" and said many of its employees are Mexican immigrants and seniors, some of whom have been with the company for as many as 40 years. She also said both the mother and father of many families work for the nursery. 
"We recognize any job loss is difficult, but this one is especially complicated as it hits the most vulnerable population in our community," she said. "The closure of [Bay City Flower Company's] doors means that so many will face challenges that are not only limited to job loss, but a displacement that is not easily replaced given the years there they've worked, their training and age."
One of the nursery's employees who did not state her name said during the meeting many of her colleagues have been living paycheck to paycheck and are uncertain that they'll be able to find another job. 
"Some of our companions here are waiting or expecting to receive some kind of reward after this, it's hard for us," she said through an interpreter. 
Councilwoman Deborah Penrose suggested the city offer financial assistance through local social service agencies, but not via direct payments to laid off workers. 
"We can't give money directly to people, not our job, but we can help social service agencies out," she said.
She also said the city has and will continue to reach out to county officials to help come up with a plan, noting that many of the nursery's employees live at the Moon Ridge apartment building, which is subsidized by the county and reserved for farm workers. 
"The folks who are leaving Bay City will be without home as well as job so it's not as simple as it might seem to be," she said. "The first step is getting the players together." 
Penrose named Coastside Hope, Puente de la Costa Sur, the Chamber of Commerce and Rotary Club, among others, as organizations that could be relied upon for help, adding that a community meeting should be held to mobilize well-meaning residents who might also offer assistance.
Ruddock added the Catholic Archdiocese to the list of organizations that should step in to help. She also said the needs of the laid-off workers need to be clearly defined when reaching out to nonprofits. 
"I spoke to one foundation that said it's probably interested in helping but needs to know what the exact need is," she said. 
Mayor Harvey Rarback said the most important thing the city can do is help find jobs for the laid off workers and proposed a jobs fair. Councilman Robert Brownstone suggested reaching out to local labor unions for advice on what to do when an employer shutters. 
A stakeholder meeting involving city staff and councilmembers was held last Friday and City Manager Bob Nisbet described it as a success. He suggested such a meeting become a weekly occurrence. 
"We don't have a lot of time so as we start to plan and strategize we have to move quickly," he said.
In other business, the council agreed to lower campaign contribution limits for City Council races. Campaign contributions are now capped at $250 by an individual, $500 by an organization and the outstanding balance a candidate may loan to their campaign can be no greater than $1,500. Previously, individuals and organizations could pitch in as much as $1,000.