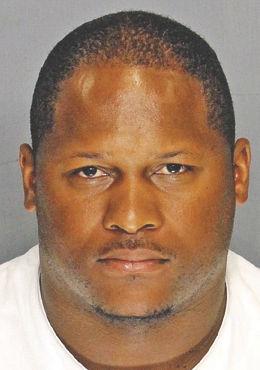 A former San Mateo police officer is facing life behind bars after a jury quickly found him guilty on 14 felony charges he faced for sexually assaulting four women between 2013 and 2015.
Noah Winchester, 35, was employed by the San Mateo Police Department when he allegedly sexually assaulted three women in San Mateo in 2015 and was employed by the Los Rios Community College Police Department when he reportedly abused one victim in Sacramento in 2013. Several of the victims were also kidnapped and threatened, with some indicating they feared reporting the assaults because Winchester was a police officer, according to prosecutors. District Attorney Steve Wagstaffe said the maximum sentence Winchester is now facing is a total of 118 years to life for all the charges, though he said Judge Lisa Novak has the final say. Sentencing is scheduled for December, he added.
Wagstaffe gave credit to the jury for its quick decision as deliberations took less than a day. 
"It reminds me that San Mateo County remains a good pro-accountability and law enforcement community, because we hold everyone accountable — especially a cop," he said. "Cop or criminal, prince or pauper, we are going to hold you accountable if we can prove it."
Wagstaffe added that the jurors said he lacked credibility and they didn't believe him. During the trial, prosecutors alleged Winchester forced a 21-year-old woman he found sleeping in a Sacramento building's exterior elevator with her three children to have sex with him in July of 2013 while he was working as a police officer for the Los Rios Community College Police Department. He also faced charges he groped a 24-year-old woman found with an Oxycontin pill in a parking lot of San Mateo's Hillsdale Shopping Center in September of 2015. Prosecutors also alleged Winchester told a 22-year-old woman to take off all her clothes under the guise of a probation search at the now-defunct Motel Avalon in September of 2015 and in October of 2015 told a woman to follow him from the Motel Avalon to the Coyote Point Recreation Area with the intent of having sex with her.
Winchester's defense attorney Paul DeMeester pointed to inconsistencies in the women's statements and to their criminal pasts as potential motives for making up stories about what happened between them and Winchester. But for Deputy District Attorney Alpana Samant, the women had little to gain by reporting the alleged assaults to the police because of their previous run-ins with authorities.
After the verdict, DeMeester said he was not surprised by the jurors' decision as it was four cases rolled into one. 
"Each individual case is a reasonable doubt case but the sheer weight of the allegations leads to a negative weight from a defense perspective," DeMeester said. 
Wagstaffe said he agreed with the assessment and that the testimony from the multiple victims provided "supporting credibility."
Winchester was 31 years old when he was charged with 22 felonies for on-duty sexual assaults occurring in 2013 and 2015. In the years that have passed, Winchester has had two attorneys represent him, has seen seven jury trial dates set and has had some charges dropped after the credibility of one of the alleged victims was called into question. Novak further consolidated the charges into 14 felonies for this trial, Wagstaffe said. Appointed to Winchester's case by the county's private defender program, DeMeester took over Winchester's case from attorney Michael Rains nearly two years ago.
The San Mateo Police Department said in a statement it was thankful the case reached its conclusion.
"[We] are grateful to the men and women of the San Mateo County jury and for the extraordinary efforts of the District Attorney's Office for their pursuit of justice," according to the statement. "We want to assure our community the actions of one in no way represent the men and women of the San Mateo Police Department as a whole, who strive to serve this community daily with the highest level of professionalism and service."
Winchester has been in custody on $3.1 million bail since his arrest July 21, 2016, and has faced all four alleged victims and several law enforcement officials he once worked with before taking the stand himself for four days at his jury trial, which lasted for approximately three weeks.