Editor's note: This story has been edited to indicate Carlmont's Ellie Molholm and Kara Kim finished in ninth and 10th place, respectively
Lindsey Huang admitted the pandemic got to her, as far as her academic and social life went.
But if there was one silver lining, it was Huang's ability to really focus on her golf game.
That work paid off this season as the San Mateo senior went through the Peninsula Athletic League as the lowest overall scorer, garnering the top seed in the PAL tournament.
It culminated Thursday with Huang shooting a 3-over 74 to capture the 2021 PAL individual championship at Poplar Creek Golf Course.
"The pandemic was hard for me from a social aspect. But I got to practice golf for two hours every single day," Huang said. "Going into the summer of 2020, I had lowered my scores a lot."
Huang showed off her improved game during the 2021 spring season — that did not include any postseason — and carried that momentum into the fall season.
Huang's 74 was two strokes better than her finish in the 2019 PAL championship, where she finished in third place. 2019 champion Nathalie Benrey of Menlo-Atherton did not defend her title at the 2021 tournament because, as tournament director Guy Oling said, M-A decided not to compete in the individual tournament. The Bears have already qualified for the Central Coast Section tournament as a team, following a 232-248 win over San Mateo Tuesday to determine the PAL's second automatic bid.
Bay Division regular-season champion Hillsdale earned the first automatic CCS berth from the PAL.
In addition to be the PAL championship, it was also the last chance for any PAL players to qualify as individuals for the CCS tournament.
Only Huang earned an automatic bid by virtue of winning the PAL title. There is a chance second- and third-place finishers — Hannah Sangha of San Mateo and Hillsdale's Ashlyn Johnson — still have a chance at making the CCS cut. It all depends on the at-large scores from all other leagues around the CCS.
Huang got off to a shaky start to her round. After a par on the first hole, she had a bogey at No. 2 and then dumped her tee shot into the water at the par-3 No. 3 and took a double bogey.
"The first three holes are the toughest," Huang said. "I got a little too aggressive (on No. 3). After that, I kind of stabilized. … Today, I said I'm not going to panic."
She had pars on the next two holes before notching her only birdie at No. 6, where she stuffed her approach shot to four feet of the pin.
She gave the shot back with a bogey on No. 7, but closed the front 9 with a pair of pars and had a 38 at the turn.
On the back 9, Huang got into a rhythm, carding eight pars to go with one bogey as she closed with a 36.
"I struggled a little on the front," Huang said. "And was decent on the back."
Sangha, also a senior who was playing with the San Mateo team for the first time this season, matched Huang with a 38 on the front 9, but couldn't keep it up on the back, shooting a 40 to finish four shots back of teammate Huang with a round of 78.
"I loved it," Sangha said of playing for the school team. "It was a good experience."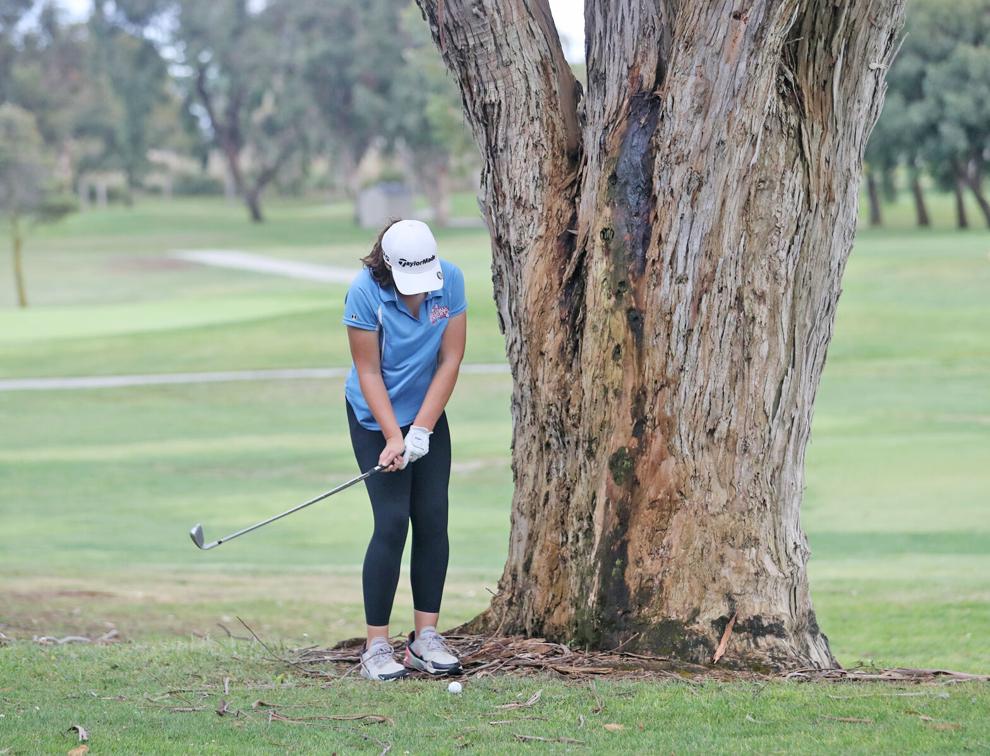 Johnson had six bogeys on the front, carding a 42 going out. Like Huang, Johnson got better over the final nine holes, finishing with five pars to come in with a 38.
Carlmont's Kiana Flores finished fourth, finishing with an 83. Aragon Grace Tao was fifth with an 88, while teammate Sofia Dioli finished with a 93 for sixth place. Gianna Flores out of Sequoia and Hillsdale's Chase Nestor each finished with 97s, but Flores finished seventh and Nestor eighth based on their back 9 scores, where Flores shot a 46 compared to Nestor's 51.
Ninth and 10th place went to a pair of Carlmont teammates: Ellie Molholm nad Kara Kim tied with 98s. Molholm took ninth based on her back-9 score of 48.