Given the suspension of athletics in the county, the Daily Journal decided to dive into our 20-year archives to bring readers some of our favorite stories over the years.
Feb. 7, 2019 — With the Skyline women's basketball team knocking off conference leader City College of San Francisco last Friday, it brought a lot of teams back into the mix for the Coast Conference North title.
Not only were the Trojans a game back in second place, College of San Mateo found itself two games behind the Rams, which put extra emphasis on Wednesday's matchup between the Trojans and Bulldogs in San Mateo.
Skyline jumped out to a 10-point lead after one quarter, but saw CSM come roaring back in the second. The Trojans regained control in the third and pulled away in the second half for 69-56 win.
"We couldn't hit anything," said CSM head coach Michelle Warner. "It was just one of those nights."
Other than the second quarter that saw the Bulldogs hit on nearly half of their field goal attempts, the other three quarters they struggled to find the bottom of the net as they finished the night 22 for 56 from the field.
And most of those shots were one and done as Skyline's freshman post duo of Olga Faasolo (Notre Dame-Belmont) and Kalisi Fononga did a good job of controlling the boards and making their presence felt defensively. Fononga grabbed 13 rebounds to go with her game-high 17 points. Faasolo finished with 16 points, but just six rebounds. She did, however, come up with four steals and was 6 for 8 from the free-throw line.
"We're typically under-sized," said Skyline head coach Chris Watters. "So to have a legitimate post presence is big for us. … They've elevated the level of our program. To everyone else's credit, they've risen to the occasion."
It was Faasolo who gave Skyline (6-2 Coast Conference, 17-7 overall) some early offense as the Trojans went to her on their first three possessions of the game. Faasolo hit a couple of mid-range jumpers and knocked down 1 of 2 from the line for a 5-2 advantage.
Then, the Trojans turned to Fononga, who scored the team's next six points. She converted a fast-break layup, followed that with a put-back basket and then knocked down a short baseline jumper to give Skyline an 11-4 lead midway through the opening 10-minute first quarter.
Morgan Vurek (Terra Nova) and Michala O'Donoghue (Burlingame) ended the quarter for the Trojans with back-to-back 3-pointers as they led 22-12 after one period.
Unfortunately for the Trojans, they were stuck on that 22 points for quarter a while, mostly due to CSM (4-4, 9-11) turning up the heat defensively as the Bulldogs came up with six steals in the second quarter.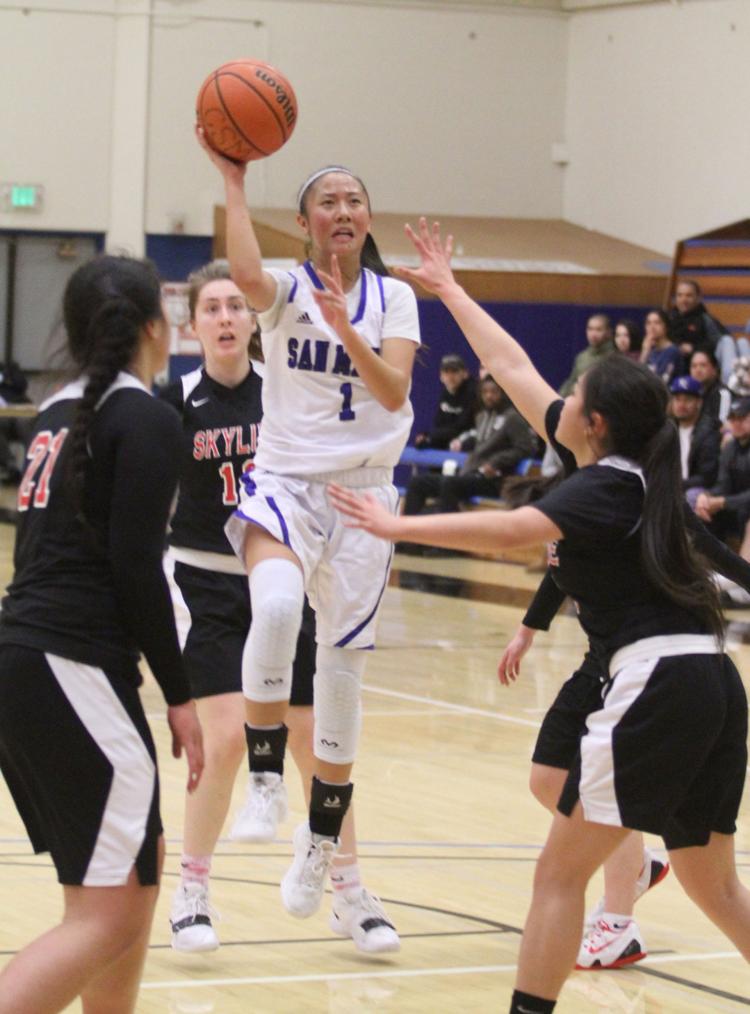 The Bulldogs' defense then jump-started their offense as the went on a 14-0 to get back in the game. Brittney Lewis (James Logan-Union City) started the run by converting a three-point play off a steal, followed by a 3-pointers from Chastity Wheeler (Logan). Kaitlyn Tamondong (Logan) converted a fast-break layup. When Ava Agustin (Logan) drained a pair of free throws, it cut the Bulldogs' deficit to just one point, 22-21. When Tamondong scored on a putback with 4:13 left in the first half, it gave CSM it's first lead of the night, 23-22. Agustin hit two more free throws and the Bulldogs had their biggest lead of the night, 25-22.
"I think what happened in the second quarter was, they hit a couple shots and we had a couple turnovers," Watters said. "[CSM is] scary with that kind of energy."
Fononga settled the Trojans down when she flipped in a shot from the baseline for Skyline's first points of the quarter with 3:34 left in the half. When Keri La (Oceana) knocked down a 3 with 2:38 left in the second quarter, the game was tied at 27. La was the third Trojan to score in double figures, finishing with 13 points.
Vurek hit her second 3 of the game to give Skyline a 30-29 lead at halftime.
"It was really important (to have the lead at halftime after giving up a 10-point lead), especially after we got off to a good start," Watters said. "We needed halftime. I think it hurt them and helped us. We couldn't make adjustments until halftime."
The Trojans regained control by scoring the first two buckets of the third quarter — a 3 from Giselle Mahinay (Westmoor) and a fast-break layup from Fononga — giving Skyline some breathing room, 35-28.
Megan Jajeh (Mercy-SF), CSM's second-leading scorer, hit a long jumper for her first points of the game to close to 35-31, before a Faasolo jumper from the free-throw line keyed a 8-0 run that gave the Trojans a 43-31 lead with 4:30 left to play in the third.
Jajeh would finish with 11 points, while Tamondong scored a team-high 12 points for CSM.
Leading by 10 going into the fourth, 47-37, the Trojans all but iced the game with a 10-3 run to open the final 10 minutes, pushing their lead to 57-40.
An O'Donoghue 3 with 7:22 would be the last field goal of the night for Skyline, which held the Bulldogs at bay at the line, connecting on 14 of 20 free throws.
"It's disappointing, but I'm proud of my girls for never giving up and fighting to the end," Warner said.