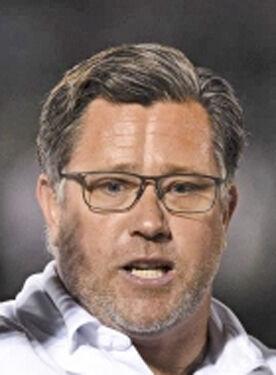 After months of work advocating for the restoration of youth sports, Serra head football coach Patrick Walsh is elated the fight has led to the upcoming return of outdoor sports following California's announcement Friday of loosened sports guidelines.
"I feel joy and gratitude that millions of kids can do what they love to do and coaches can do what they love to do in safe environments," Walsh said.
Walsh said many parents and students he had spoken to Friday felt the pressure and weight had been lifted off their shoulders given all the uncertainty over the past few months. Many have been concerned about not being able to do what they love, which is playing sports.
"The feeling that I have been hearing is just a lot of relief," Walsh said.
Walsh has been a leader in the fight to bring back youth sports, active in the "Let Them Play" coalition and helping to create a Golden State HS Football Coaches Community to advocate for the return of youth sports. Earlier in February, Walsh presented the group's data to Mark Ghaly, California Health and Human Services Agency secretary, in an effort to jump-start the return. He has spent time usually devoted to the Serra football program instead focused on bringing about its and other youth sports return.
Walsh has seen a tremendous amount of resiliency from kids that provided him and adults the power to continue fighting for youth sports.
"We as adults should forever be indebted to our kids, who had no voice in this whole thing. Their voice was, we are not going to quit, so, therefore, the adults should never quit on us, which is fantastic," Walsh said.
Watson Latu Jr., a Serra senior who plays on the offensive and defensive line for the football team, said he and the players never gave up on having a season.
"For us, we haven't given up at all, we believe in what we believe, which is football, and so we just work our hardest until we can get what we get," Latu Jr. said.
Sioeli Helu, a senior on the football team who also plays on both lines, said the year had been tough given all the uncertainty, and he knows kids at other schools who were unsure if football would be allowed to resume.
"They didn't think it was going to happen, and then talking to them all today and calling them, everybody's really excited around the Bay Area that this is probably going to happen, so it's just good news to hear," Helu said.
Both said they were willing to meet the state guidelines and requirements to play and that the school has been diligent and active in protecting students and athletes. The season has been shortened, and playoffs and Central Coast Section play will not happen, but they are excited to play against live opponents.
"This year has had a lot of ups and downs, and I'm just glad it's finally on the way," Helu said.
California announced loosened youth sports restrictions Friday that goes into effect Feb. 26, allowing the return of outdoor sports in counties where adjusted case rates are at or below 14 per 100,000 population. Outdoor high-contact sports like football, lacrosse and soccer can be played in the purple or red tier. High contact sports like football, rugby and water polo can resume with weekly testing of sports participants 13 and older and coaches that the state will provide for and cover costs. As of Friday, 27 counties, including San Mateo County, have met the case rate threshold to begin outdoor sports.
Gov. Gavin Newsom Friday thanked the Let Them Play coalition for its advocacy and involvement in the process. Walsh said getting information at the very highest levels of government was not easy and took a coalition of coaches and parents to reach Newsom and Jim DeBoo, the governor's executive secretary. There were moments when communication would go dark, and ups and downs happened throughout the process, but ultimately a solution was reached.
"The government did come through for the kids, and I have great respect for Gavin Newsom and Jim DeBoo for listening and giving us the opportunity to present data that we felt needed to be heard because it supported kids and supported a safe environment," Walsh said.
Serra Athletic Director Justin Ferdinand said the administration would work together to collaborate with vendors, potentially outside vendors, to come in and provide weekly testing for athletes to meet guidelines. He didn't know the extent or what type of tests would be required weekly.
"At this point, all we know is that they will be required to be tested weekly, and so we still need to figure out what type of tests will be allowed and those types of details," he said.
Ferdinand said the school is still working out exact scheduling for outside sports, but most athletes have been conditioning and were in a good spot to be ready to go.
"The ramp-up to getting them started is not going to be that drastic," Ferdinand said.
(650) 344-5200 ext. 102