From exhaustion to elation to realizing a lifetime dream, it has been quite a rollercoaster week for Stanford junior Andrew Daschbach.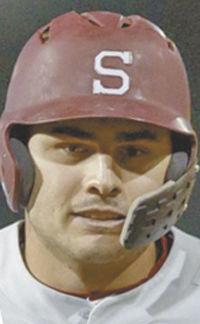 After emerging from the grind of a Stanford Regional playoff series smelling like a rose — the Cardinal's capped their fifth game in four days Monday night with a 9-7 win over Fresno State to advance — Stanford departs Thursday morning for Starkville, Mississippi to take on Mississippi State in the team's first Super Regional appearance since 2014.
Nestled between the two playoff series, Stanford enjoyed a strong showing in the Major League Baseball First-Year Player Draft. Daschbach was one of nine Cardinal selected as the Sacred Heart Prep graduate led off Day 3 as the first pick of the final day, going in the 11th round to the Baltimore Orioles.
"You do everything you can to not think about the draft," Daschbach said. "You know your priority at Stanford comes first. And that can be difficult at times. … You work your whole life for that day, and it's difficult not to think about it. So, now that it has happened, it's nice to be able to just think about winning two games and moving on to Omaha."
Leading off isn't new territory for Daschbach, who literally batted leadoff his entire senior season at SHP in 2016. Despite his coming off a junior season in which he posted a .814 slugging percentage, Sacred Heart Prep manager Anthony Granato was intent on getting his Stanford-bound prospect as many at-bats as possible.
"I hit him leadoff so he could get the most at-bats of anyone on the team," Granato said. "And he ended up giving us that spark."
In three years at Stanford, though, Daschbach has grown into a middle-of-the-order presence for one of the top baseball programs in the nation. After hitting 16 home runs as a sophomore in 2018, he has amassed his best season this year batting .300 with 17 home runs, both career-highs.
The junior's overall performance has been quite the comeback story. Through Stanford's first 19 games, Daschbach was scuffling through a .196 stint (9 for 46) but turned things around in a big way. He hit safely in nine of his next 10 games. But the most noteworthy splash came April 19 at Oregon when he hit four home runs in one game.
Daschbach is now ranked ninth in the Pac-12 Conference with a .626 slugging percentage.
"That's in there," Granato said. "That's not a fluke thing that just happens. It's something he's done time and time again."
When Granato arrived at SHP 2015, Daschbach already had one successful varsity season under his belt. In taking over his first high school program, Granato was immediately struck by Daschbach's maturity.
"I was really surprised by the way … just physically and character wise and all of that, he was clearly a standout and way above his years," Granato said.
Already being a nationally recognized prospect — Daschbach would go on to be drafted out of SHP in the 40th round by the Tampa Bay Rays in 2016, but likely would have gone much higher if not for his commitment to play at Stanford on a full ride — Granato said he was impressed by the absence of arrogance in Daschbach's personality.
"He wasn't like that at all," Granato said. "He was actually the exactly the opposite. He was coachable and always looking to learn more … and always leading by example. It was really refreshing to have a kid like that with that kind of mentality."
Players are prohibited from negotiating with major league clubs until their college season is over, so Daschbach won't be eligible to sign until after Stanford's postseason is complete.
Of Stanford's nine draftees, three were taken by Baltimore. Outfielder Kyle Stowers was selected by the Orioles in the Competitive Balance B round. In the sixth round, the O's drafted catcher Maverick Handley.
"My focus is just still on Stanford baseball," Daschbach said. "But I really like that fit. I'm really happy Baltimore took a chance on me. There were other options, but the chance to play with two of my best friends, and just the big picture in Baltimore … there are a lot of things I like about that organization."
With Stowers, Handley and Daschbach having appeared in the playoffs every season they've been at Stanford, there is also a palpable buzz from Daschbach that the trio could be the start of something special for an Orioles organization that hasn't reached the World Series since the 1983 world championship season.
"[The Orioles] seem very excited," Daschbach said. "All three of us are obviously very excited. We're all likeminded and we have similar work ethics, and we also bring a lot of different things to the table in terms of our skill set … but I think they took note of that in thinking that we can build something very special. So, I think that both sides are really excited."
Daschbach is the second SHP alumnus ever drafted by MLB. The first was Spencer Lucian, who was selected by the New York Yankees in 2008 out of Princeton University.