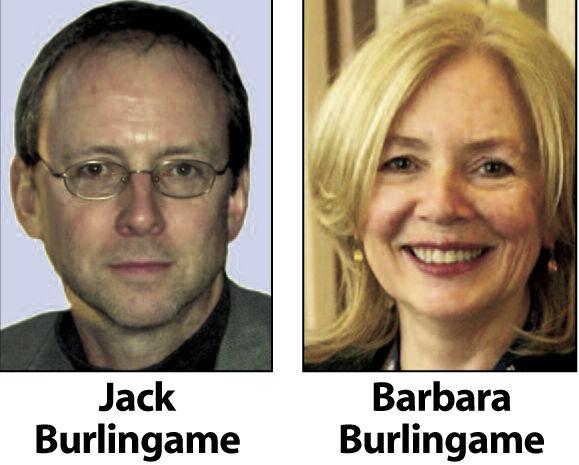 While most Bay Area residents could find Burlingame on a map, far fewer, one suspects, know much about the city's namesake. This year, the 200th anniversary of Anson Burlingame's birth, provides a chance to become acquainted.
As an outspoken congressman, fervent abolitionist and groundbreaking diplomat, Burlingame dedicated his life to causes as significant now as two centuries ago. Indeed, Burlingame likely would have felt right at home today as he was in mid-19th century America, joining protests for racial justice, fair treatment of immigrants, equality and the sovereignty of nations.
In the mid-1800s, during the months leading up to the Civil War, Burlingame crisscrossed the country giving fearless and uncompromising orations against slavery at a time when, as his friend Mark Twain wrote, "it was neither very creditable nor very safe to hold such a creed."
In fact, Burlingame considered abolition and emancipation a cause literally worth dying for. Case in point: In 1856 in Washington, D.C., Massachusetts Sen. Charles Sumner delivered a provocative anti-slavery speech, denouncing Southern legislators for their "hateful embrace of slavery" and for having "chosen a mistress to whom he has made his vows ... the harlot, slavery." These sexually charged insults incited the fury of Southerners in general and South Carolina's Congressman Preston Brooks in particular, who brutally attacked Sumner in his Senate office.
Still regarded in infamy, the "caning of Sumner" incident, which historians cite as "the first battle of the Civil War," left Sumner near death. Burlingame, appalled by the assault against his colleague, issued a scathing public rebuttal in a speech before the U.S. House of Representatives, first reaffirming Sumner's condemnation of slavery, and then denouncing the craven attack. So vigorous was Burlingame's response that Brooks, Sumner's assailant, challenged the Massachusetts congressman to a duel. Brooks soon regretted the invitation, discovering that Burlingame was not the opponent he envisioned. No mild-mannered representative of a cultured state, Burlingame was in fact raised in rural Ohio and Michigan and was an expert marksman. Once Brooks learned of his foe's sharpshooting skills, he swiftly concocted excuses to avoid the mortal confrontation. Public ridicule followed, with "Bully Brooks" "humiliated and emasculated" by the affair.
Similarities between the 19th and 21st centuries also exist in international relations. During the presidential administration now drawing to a close, insults and threats have often substituted for diplomacy. This antagonistic approach recalls antebellum times, when the more-powerful empires dominated their perceived inferiors, with treaties often one-sided pacts negotiated under duress.
But Burlingame, initially as Abraham Lincoln's ambassador to China, and subsequently as China's envoy to the Western powers, disdained such domineering tactics in the landmark Burlingame Treaty — the first of the modern era to raise diplomacy to the level of fairness and cooperation, and to recognize China's sovereignty and reciprocity of rights and privileges. This philosophy and practice became known as the Burlingame Doctrine. As Twain noted in his eulogy of Burlingame, this novel approach to treaty negotiation was "to frame them in the broad interest of the world, instead of selfishly seeking to acquire advantages for his own country alone and at the expense of the other party to the treaty, as had always before been the recognized 'diplomacy.'"
And what about the California connection? Burlingame passed through the Bay Area on official journeys to and from China, and became so smitten that he purchased a large tract of land in the city that now carries his name, intending to reside here upon his retirement from civil service. Regrettably, he died in 1870 while on a diplomatic mission to Russia before he ever had a chance to fulfill his California dream.
Though major strides have been made, many of the societal problems of the 19th century endure today. But now, with the 2020 election behind us, we have an opportunity to move once again toward a brighter future. One guiding light can be Anson Burlingame, of whom Twain observed: "A chivalrous generosity was his most marked characteristic — a large charity, a noble kindliness that could not comprehend narrowness or meanness."
Such traits, in these unsettled times, we might all do well to embrace.
Jack Burlingame and Barbara Burlingame are brother and sister, and distant relations of Anson Burlingame — his fifth cousins thrice removed. They are currently developing a musical production based on Anson's life.