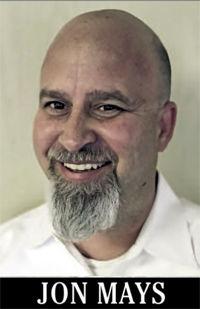 There seemed to be some interest in my column a few weeks back about finding a way to commemorate San Mateo's history through statues or plaques.
There was also some interest in the talent show idea, but it's way too late for that this year. Instead, city staff seem to be working hard on three weekday events in September to commemorate its 125th anniversary. Dubbed San Mateo's September Nights on B Street, the three events will have free live music, dance lessons and trivia with food from local restaurants, beer and wine, and plenty of activities for kids. The first night, Sept. 5, will feature a historic council re-enactment and dueling pianos. Should be fun. Maybe the talent show can be next year. That will give me some time to practice my juggling of bowling pins, swords and flaming sticks while unicycling, balancing a fish bowl on my head and reciting Shakespearean soliloquies. I haven't been able to get that one down just quite yet.
Back to the plaques or statues. Mitch Postel, president of the San Mateo County Historical Association, reminded me it used to put on Victorian Days in the Park, but it didn't generate revenue enough to fulfill its original mission as a fundraiser. Victorian Days used to draw about 30,000 to 50,000 people during the weekend. It served to highlight the city's history and also used the former Victorian garden of Central Park to do it.
It would be a great fit to have some new markers in the park when it is revamped to have a central plaza. Perhaps some sort of partnership between the city and the Historical Association can be explored. Or at least a conversation could get started. The Historical Association does some tremendously neat programming throughout the county, including some historical walks in San Mateo. While the association's museum is a grand cornerstone of downtown Redwood City, there is absolutely no reason to have more of its resources shared here in San Mateo as long as the relationship is mutually beneficial, in my opinion.
Jennifer Pfaff, of the Burlingame Historical Society, pointed out a visit she and her husband had to Cedar City, Utah, where, throughout its downtown, historical figures are depicted in life-size bronze statues with a plaque explaining their significance. I've seen something similar in Yountville. They are something quite difficult not to notice and can serve to be a draw for out-of-towners and longtimers alike and even selfie material for those prone to such activities. Surreptitious edification is always fun.
This type of thing might be pricey, however. Perhaps there could be a fundraiser, with donor bricks at the base. They could be in the new plaza, and also throughout downtown as a way to engage people in new ways. Something to think about.
I also expected others to have different ideas about the city's historical figures I suggested to be honored. While I suggested Tomisuke Ito, Tokutaro Takahashi, Elsa McGinn, the Leong family, Noah Williams, A.P. Giannini, Robert Wisnom, Rosalie Brown, William Brown, Capt. A.H. Payson and Abby Parrott Payson, there are others and other things to be remembered. Perhaps that might be the point of my suggested "Remembrance Day."
San Mateo has had quite a few interesting people in its past and I think it is a worthwhile goal to share that with those who might not be familiar. This is one way to build community, and that is always a goal of mine.
The developer of a seven-story tower proposed for 1766 El Camino Real in Burlingame at the current location of the Peninsula Museum of Art is looking to build 60 units of housing, 148,327 square feet of office space and a ground floor reserved for commercial space. However, in a story about the proposal in May, city officials suggested it might be hard to fill the commercial space with retail.
Might I suggest allowing the Peninsula Museum of Art to stay there? I'm sure it would be interested and it would fulfill the requirement for commercial space, though it might be more complicated than I think. It would also generate some community goodwill.
Also, Sam's Italian Sandwich Co. — or Sam's Sandwiches — just a block away at the old Greyhound Bus Depot is set to close sometime soon, maybe this fall. It started in 1972 in a tiny 200-square-foot slot on California Drive sandwiched (sorry) next to Clyde's Barber Shop and Cheese Please right off Burlingame Avenue where Limón Rotisserie is now. It moved over to the city-owned depot in 2004. Wanted to get the word out. It's the end of an era, for sure.
Jon Mays is the editor in chief of the Daily Journal. He can be reached at jon@smdailyjournal.com. Follow Jon on Twitter @jonmays.