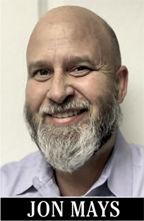 It was good to see that the San Mateo Union High School District will take a revote of its decision to not fly the pride flag during the month of June, Pride Month.
What seemed to be a noncontroversial consent item (or one typically passed without discussion) turned into a 2-2 vote that failed when two trustees, Robert Griffin and Peter Hanley, took issue for a variety of reasons like precedent, but my sense is that the main issue was they didn't understand the meaning of it and this area's growing to essentially universal acceptance of and support for the LGBTQ community.
June is Pride Month, and flying the flag shows the district is on the side of the LGBTQ community. For many young people in that community, either overtly or covertly, that has meaning. It also shows this issue, and our community, is evolving but that the transition is not always smooth or easy.
Consider the evolution of the support of same-sex marriage. At one time, it was considered political suicide to support it. Even former President Barack Obama said he believed marriage should be between a man and a woman in 2008 before saying in 2012 he was in support of same-sex marriage. In 2004, only one state, Massachusetts, allowed it and then San Francisco mayor Gavin Newsom caused a huge stir when he allowed same-sex marriages for two months in 2004. This county also saw its own activism as a same-sex couple Ramona and Arzu Gatto sought to be married here after tying the knot in San Francisco. That multiyear battle saw victories in a handful of elected officials, and eventually a majority of the San Mateo County Board of Supervisors, publicly agreeing with their rights to marriage even as they were not allowed to hold an official ceremony here.
California first allowed same-sex marriages in 2008 but later in the year, the state's voters narrowly passed Proposition 8, which banned same-sex marriage. The passage of Proposition 8 indicated that the state was still split but it was later overturned in court, and same-sex marriages resumed in 2013. Before Proposition 8, California and Massachusetts were the only two states to allow same-sex marriage.
In 2015, the U.S. Supreme Court essentially legalized same-sex marriage in the United States — a huge step, but not that long ago.
Worldwide, while the first nation to legalize it was the Netherlands in 2001, same-sex marriage is legal in only 29 of the world's 195 countries. There has been significant progress in the last 20 years, but there is still more to be done. The allowance and acceptance of same-sex marriage is critical, but it is but one issue in the larger acceptance and support of the LGBTQ community.
That acceptance and support has steadily grown, along with greater awareness of the trans community. The emerging progress pride flag with the sideways chevron of the pink and blue trans colors and the black and brown stripe show further inclusivity.
Part of the progress we as a society have made is local governmental agencies showing support for the LGBTQ community in various ways. A high school district is an exemplar of that support as the age of its students is often when identity is forged or solidified. Showing support is just that, support. And while it can be seen as performative, it can also mean the world to someone facing insecurity. Flying the pride flag in June could simply show the school district is on that one student's side.
The argument that it could lead to other requests like flying a Confederate flag or a 49ers flag is looking beyond the current issue. The request is just for this one, and that is the decision that should be taken into consideration. And put simply, flying the pride flag in June during Pride Month in San Mateo County is not alternative, or different. It is now mainstream, the same as those for whom the flag has meaning.
Progress takes evolution, and not everyone is ready to make the jump at the same time. This could be a teaching moment in which students, parents and people in our community can speak out about why this is important to them and others. This is how we can carry others along, and how true progress is made.
Besides, Pride Month is just around the corner. It is a reason to celebrate, a reason for joy and love and inclusion. So let's fly a flag!
This weekend is Memorial Day, when we remember those who gave the ultimate sacrifice for our country. This is also a good time to fly a flag, the American flag, in their honor.
Jon Mays is the editor in chief of the Daily Journal. He can be reached at jon@smdailyjournal.com. Follow Jon on Twitter @jonmays.