Two doctors were appointed to determine whether a suspect who assaulted a South San Francisco police officer with a skateboard in 2016 was insane at the time of the crime after the man entered a plea of not guilty by reason of insanity Tuesday, according to the San Mateo County District Attorney's Office.
Though the competency of South San Francisco resident Luis Alberto Ramos-Coreas, 30, to stand trial has already been called into question, doctors who previously evaluated him determined he was competent to stand trial, according to prosecutors.
Insanity is a person's mental state at the time of a crime while competency is a defendant's ability to aid in their own defense.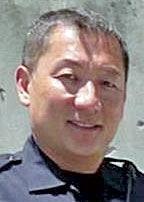 Ramos-Coreas is suspected of hitting 12-year veteran South San Francisco police Officer Robby Chon in the head with a skateboard at about 2:20 p.m. Nov. 24, 2016.
Chon was responding to a report of a man acting irate toward patrons at a business on the 300 block of Grand Avenue. When officers responded, they tried to approach Ramos-Coreas, who was allegedly causing the disturbance, police said previously.
Ramos-Coreas allegedly refused to comply with the officers' requests. When additional officers arrived, Ramos-Coreas allegedly fled on a skateboard and Chon began chasing him, according to prosecutors.
During the chase, Ramos-Coreas allegedly stopped, turned and struck Chon in the head with the skateboard. Ramos-Coreas allegedly started running again but officers were able to capture him, according to prosecutors.
He was arrested on suspicion of attempted murder, assault with a deadly weapon, resisting arrest and battery on a peace officer, police said previously.
Chon lost consciousness in the attack, suffered a skull fracture and required brain surgery to stop some bleeding, according to prosecutors.
After undergoing multiple surgeries and spending hours in rehabilitation, Chon returned to light duty in January, more than a year after the attack, according to the department.
Ramos-Coreas is in custody on $2 million bail and will next appear in court April 18 for receipt of the doctor's reports. His jury trial remains set for July 9, according to prosecutors.