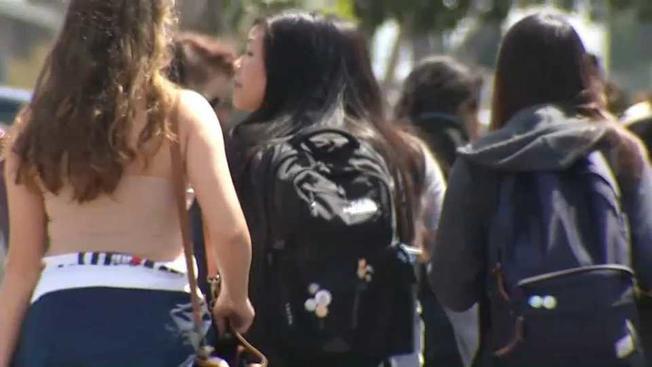 Heeding concerns from those who felt the school system's dress code was sexist, San Mateo Union High School District officials supporting amending the policy in a fashion which they believe is more fair to female students.
The district Board of Trustees approved during a meeting Thursday, Feb. 7, an initial proposal to change the dress code language in a fashion designed to be more inclusive and sensitive to concerns raised by students.
The policy amendments, which are aligned with similar shifts recently adopted by other Bay Area school districts, are reflective of the evolving perspectives on appropriate student attire, said board President Greg Land.
"It is definitely something where students are speaking up and the girls are speaking up and I think that voice needs to be heard and I think this is a good example of how it could be implemented," said Land.
Under the amendments, the new dress code is written to emphasize the attire allowed at school while taking special care to define appropriate ways the policy should be implemented.
Removed from the previous code are bans on specific garments such as halter tops, fishnet fabrics, low-cut tops or shorts that rise above mid thigh, under concerns raised by female students who felt the policy was sexist.
The new policy is designed so that the "student dress code should serve to support all students to develop a body-positive self-image," according to the basic principles. Such an intent is achieved by encouraging students to "dress in a manner that is comfortable and conducive to an active school day and allows them to express their self-identified gender," with an ability to "wear clothing without fear of or actual unnecessary discipline or body shaming," according the policy.
Julia Kempkey, assistant superintendent of Curriculum and Instruction, said the changes were borne from suggestions that students felt the previous language was inequitably punitive.
"At the beginning of the school year students identified language which unfairly targeted female students for wearing clothing viewed as 'suggestive' or 'distracting,'" she said in an email. "As administrators we began to look at the language to identify ways to make the policy more equitable and revise it in a way that promotes a positive body image."
While the policy is more permissive in its design, it still mandates clothes sufficiently conceal underwear and the torso while disallowing clothing that promotes inappropriate images or behavior such as violence, drugs, alcohol, hate speech and more. Gang-related apparel is prohibited as well.
Short of students wearing clothes explicitly banned, those who violate the dress code should not be taken out of class to address the issue and a variety of options should be presented to rectify the issue.
The local school district's decision mimics amendments such as those approved last year in Alameda, where students led the charge to change previous policies precluding them from wearing clothes considered too revealing or inappropriate.
Land said while officials are largely on board with the changing conventional wisdom on the issue, he said questions among his colleagues linger of appropriate implementation of the policy. As a result, the discussion will return for further examination at a later board meeting.
For her part, Kempkey said staff training to better understand the focus of the new policy will be essential for an effective rollout.
"We believe the new policy is a step in the right direction. We look forward to working with administrators and students to see that is it successfully implemented," she said.
Kempkey also lauded the contributions of students in developing a dress code which they felt was more fair and appropriate.
"Working with students is the best part of my job. We worked with a core group of students across all of our schools who had an interest in seeing these revisions come to fruition. They took the task seriously, making some wonderful suggestions," she said. "We had a passionate group of students (many of them seniors) who really wanted to make the policy revisions in support of future students. It was a great project."
In other business at the meeting, trustees agreed further exploration of a potential bond measure was in order, Land said. He said the issue will return for further discussion, including whether to hire a pollster to gauge public opinion on the initiative.
Also, officials stopped short of approving a proposal to install video cameras at campuses. Land said before spending as much as $3 million on the proposal, officials asked for a deeper examination of the district's broader security policy.