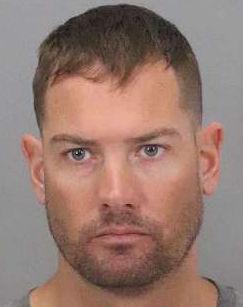 A San Mateo police officer was arrested by San Jose police Thursday for contacting a minor to commit a felony while off duty in an alleged crime that was generated by a tipster who posed as a 16-year-old girl in several mobile apps, according to authorities.
The officer, identified as Robert Edward Davies, 40, of Morgan Hill, was placed on paid administrative leave, according to San Mateo police.
"This alleged conduct, if true, is in no way a reflection of all that we stand for as a department, and is an affront to the tenets of our department and our profession as a whole," San Mateo Police Chief Susan Manheimer said in a prepared statement. "As San Mateo police officers, we have sworn an oath to serve and protect our communities. I can assure you that we remain steadfast to this commitment to serving our community with 'professionalism, integrity and excellence.'"
On Saturday, May 11, Silicon Valley Crime Stoppers received a tip from a concerned citizen who posed as a 16 year-old girl on several mobile applications and chatted with an adult male about engaging in sexual activity. The tipster did research and determined the suspect was a police officer in the Bay Area, according to San Jose police.
On Monday, May 13, detectives launched a criminal investigation and learned the tipster created a fictitious Tinder account as a 19-year-old female, but filtered the profile photo to appear as a young girl. The tipster was aware Tinder does not allow accounts for juveniles, according to San Jose police.
Detectives discovered the tipster began chatting with Davies on Tinder on May 11, and they switched to Kik where the tipster told Davies she was 16, and Davies allegedly acknowledged. Davies then allegedly asked her to switch to Snapchat where they also discussed her being 16 and about engaging in sexual activity, according to San Jose police.
During the follow-up investigation, detectives confirmed his identity and served search warrants on electronic devices, mobile applications and on his residence. On Thursday, June 6, detectives obtained a felony arrest warrant and the San Jose Police Department's Covert Response Unit arrested him in Morgan Hill. He was booked into Santa Clara County Jail for contacting a minor to commit a felony, according to San Jose police.
Anyone with information regarding this incident or any other similar incidents are urged to contact Detective Michael O'Grady of the San Jose Police Department's ICAC/CED Unit at (408) 537-1397. Anyone wishing to remain anonymous may either call the Crime Stoppers Tip Line, (408) 947-STOP (7867).
A former San Mateo police officer, Noah Winchester, of Stockton, is slated to go on trial in September for charges he sexually assaulted several women while on duty between 2013 and 2015 while on duty in San Mateo and for the Los Rios Community College Police Department.