Ed Wilkinson and Aneese Bishara risked their life savings four years ago to start commercial cannabis farm Half Moon Grow.
The duo, at the time in their late 20s, spent $250,000 of their own money and another $7 million from investors to purchase and renovate a 165-acre farm on the coastside just outside of Half Moon Bay. With its several greenhouses, the property had previously been used to farm orchids and cherries.
But, in 2019, Half Moon Grow became the first in the county to be issued a permit for legal cultivation.
And now, thanks to a rule change handed down by the county last month, Wilkinson and Bishara, along with the county's four other permitted growers, will see their profit margins increased and be allowed a clearer path to expanding their operations.
The easing of rules comes as other agriculture on the county's coastside had suffered — with revenue down by 28% from 2019 to 2020 according to the most recent report. The change could allow marijuana, a high value crop with an expanding legal market, to be a more viable endeavor for the county's agricultural sector.
Growers will now be able to distribute their own product to retailers, a task they previously were required to outsource. Also removed from the county's ordinance is a 66,000-square-foot cap on cultivation space, and a rule that had required growers to replace other agriculture if non-cannabis crops were being displaced.
Wilkinson said he'll no longer need to pay a distributor in Oakland 10% of his packaged products' worth for the task of delivering it to stores. Now, he said, he completes the job himself to a number of retailers statewide.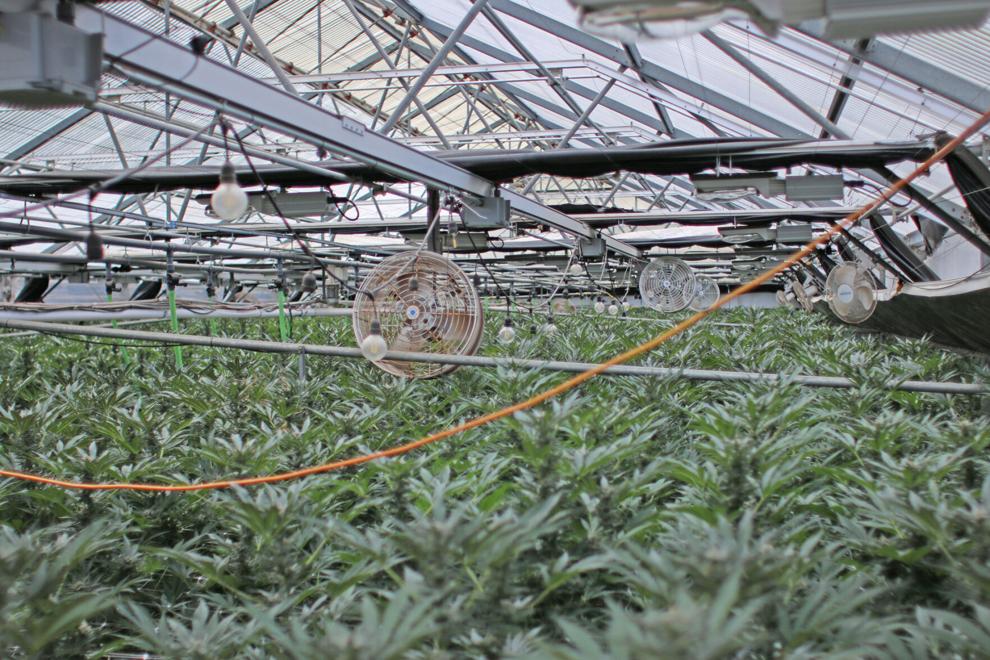 "We've said, for us to be, down the line, a viable business, we need to have our distribution, we need to control our own supply chain," he said. He estimated 20% of his business is packaged goods, the rest is wholesale.
He added that while he doesn't have immediate plans for expansion, the removal of the cap on space will help clear the path for others looking to enter the industry, as many available properties contain greenhouses significantly larger than the previous limit.
The rule had forced growers to find multiple operators to obtain individual permits to utilize large spaces, he explained, creating a logistics nightmare and deterring investment. His property includes two permits, and another in Pescadero accounts for the other three in the county.
"Now they got rid of that, it actually will allow a streamline of people to invest and overtake bigger parcels, and come in and actually be able to utilize these run-down properties that don't have anything in them," he said.
In total, there is 188,000 square feet of permitted cannabis space in the county, according to county Community Development Director Steve Monowitz. He said there are currently three other applications for permits being processed.
Commercial marijuana growing to the point of harvesting a flower remains only permitted in unincorporated parts of the county, and growers are still subject to regulations above and beyond other crops, including video surveillance requirements, local hiring, odor control, waste management protocol and ventilation.
Still, Wilkinson, who previously operated a cannabis farm in Humboldt County, said San Mateo County is among the best in the state for cultivators, and he appreciates county leadership's willingness to work with growers' needs.
"San Mateo County is traditionally an ag county, so because they see this ag product being a viable option in the county, they want to support it," he said.
Since its legalization for recreational use in California in 2016, growers in the state have had to contend with stringent and evolving regulations, stiff taxation and a volatile market. Those in the industry have attributed those factors and others to a black market that continues to thrive.
Wilkinson said the industry is currently reeling from a price crash, fueled by overproduction in 2021 that was sparked by massive demand amid lockdowns and stimulus checks during the pandemics first year.
He said a pound of his product in April last year was fetching $1,500 to $2,000, but this year he's lucky to get $600. He expects many growers in the state will exit the industry this year, if they haven't already, which could help prices rebound next year, he added.
"We're lucky that we grow super fire weed, so we're going to skim by and get through it, but if you don't have that quality, you're done," he said.
Other changes to the county's ordinance include requiring license renewal every five years instead of every year, and a removal of several requirements from the application process. The county Board of Supervisors unanimously passed the changes at its July 12 meeting.
Additionally, the state's recently signed budget includes a major overhaul of the cannabis tax structure, including eliminating the tax on growers entirely. The tax had been $10.08 per ounce. A 15% tax for retail, however, remains.
(650) 344-5200, ext. 105