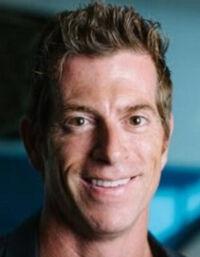 After more than a decade of producing holiday light shows from his home in Redwood City, Russell Muzzolini felt continuing the tradition through a pandemic holiday season was vital for spreading cheer to a strained community. 
For two weeks straight the 20 minute shows have played twice a night, featuring thousands of dancing LED lights choreographed to traditional Christmas songs and the newest pop music favorites. And on New Year's Eve, the main event featuring four shows was held, waving in the new year. 
This year, featured songs included "Lit This Year" by country duo Florida Georgia Line, "Stuck With You" by pop stars Justin Bieber and Ariana Grande and "Stayin' Alive" by the Bee Gees, a nod to the pandemic, said Muzzolini, 54. 
"I've tried to do something community oriented and there's some selfishness there too because I'm doing something I enjoy doing," said Muzzolini, noting the Bay Area often lacks the holiday block parties regularly hosted in his home country, Canada. 
Muzzolini, a software engineer, programs each song himself, often spending hours on a single three-minute piece of music and 100 hours a year planning the shows. Only requiring he like the songs, Muzzolini does not select the music himself, instead accepting recommendations organized into a list by his wife Leslie Muzzolini. 
Nearly 15 years ago, following a suggestion from Leslie Muzzolini, he began organizing the displays. Having just left his job at the personalized photo product company Shutterfly, Russell Muzzolini said he spent most of his past Christmases working through and dreading the season. 
"Christmas was the most stressful time of year. I was relieved when it was over," said Russell Muzzolini. "I just wanted to be away from everyone. I wanted to be left alone." 
Once he began investing his time in the displays, which he said he knew would get out of hand, that's when his love for the season grew. Now, he enjoys the excitement children express when songs from Disney's Frozen play and meeting new people who come by for entertainment. 
Letters of thanks are often left at their home at 752 Valota Road, including one from a little girl who offered $2 from her piggy bank for the show, gushed Russell Muzzolini. And neighbors have also begun to lend a hand with displays, offering to help set up and hopefully break down, he added. 
Unlike the shows of the past, however, Russell Muzzolini has had to pull back on the nightly events as communities grapple with the most recent surge of COVID-19. A 30-foot light tunnel once erected across the street at Red Morton Park has remained stored away and no advertisements were done, to avoid large gatherings. 
Before, thousands of people from all over the Bay Area would come to watch the shows, eventually leading to a partnership between the Redwood City Parks and Recreation Department and the Roosevelt Neighborhood Association, but this year, modest crowds of 50 people have gathered, said Russell Muzzolini. 
"Russell and Leslie are great neighbors who have always decorated for the holidays," said Parks and Recreation Director Chris Beth. "It was a nice connection for neighbors and something he wanted to do to benefit the community." 
Beth, noting this year's celebration needed to be downsized due to the pandemic, said he appreciated this year's display, which still featured Christmas lights at Red Morton Park while maintaining a safe neighborhood event. 
Russell Muzzolini also understood the importance of keeping the shows small. When the first shelter-in-place order was announced in March, he planned a single-song show to honor the night the lockdown went in place, expecting the virus to be kicked within weeks. Instead, a song was played 100 days in a row until he eventually opted for a once weekly feature. 
"I thought, wow this is cool, I'll do this while COVID is going on for only a few weeks," said Russell Muzzolini. "It actually rolled forward to where we are now." 
After nearly a year of creating new shows, Russell Muzzolini intends on returning back to featuring one show a week until the most recent shelter order is lifted. Looking back, he said content with the productions he's created and joy he's spread. 
"If a few people are happy or I meet a new person that I didn't know," he said, "then the job is done."