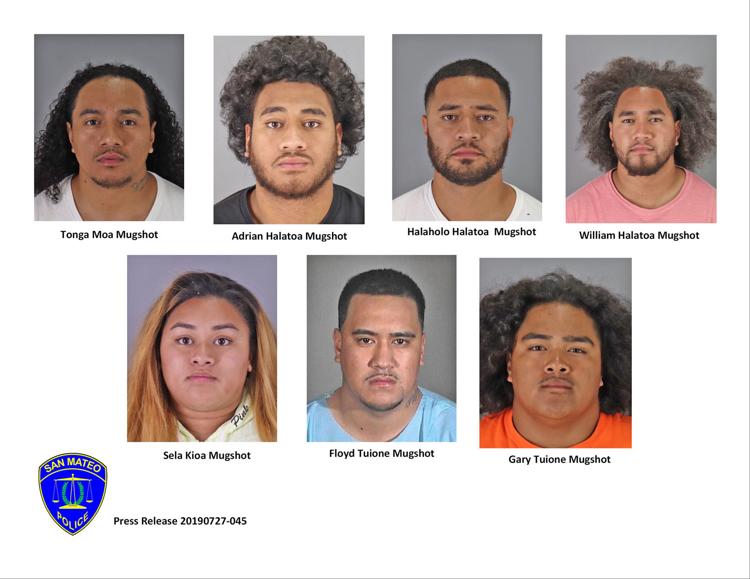 Nearly two weeks after his six alleged co-conspirators appeared in court, one of two alleged shooters in a San Mateo bar brawl that ended in a shoot-out in June appeared in court for the first time Thursday to face 12 felony charges, including attempted murder, according to the San Mateo County District Attorney's Office.
Though he was initially transferred to Los Angeles County to face unrelated charges after his July 25 arrest, Carson resident Floyd Tuione, 27, is in custody in San Mateo County on no-bail status. Believed to have shot at a group his friends got into a fight with at Club Shoreview June 22, Tuione is also charged with assault with a semi-automatic weapon, possession of a firearm by a felon and conspiracy, among other charges, according to prosecutors.
Oakland residents Adrian Halatoa, 18, Halaholo Halatoa, 27, William Halatoa, 24, Sela Kioa, 21, Tonga Moa, 29, and Gary Tuione, 19, made their first court appearance July 26, the day after the group's arrests. Facing felony charges ranging from assault with a deadly weapon to conspiracy to commit assault for their roles in the alleged shoot-out occurring in the early-morning hours of June 23, the group of seven is next expected to appear in court Aug. 16 for entry of plea, according to prosecutors.
At around 11:30 p.m. June 22, Adrian Halatoa allegedly got into a fight with another patron of the bar during a graduation celebration, and indicated he would be back before leaving with Gary Tuione and Kioa. Kioa allegedly drove the car into a crowd outside the bar and the trio allegedly called Halaholo Halatoa, William Halatoa, Moa and Floyd Tuione, who drove to San Mateo from Oakland to meet them, according to prosecutors.
Just after 12:30 a.m. June 23, the group of seven allegedly drove three cars to Club Shoreview and confronted two alleged victims at the bar before allegedly beating them. When the alleged victims' friends came to help them, Floyd Tuione and Halaholo Halatoa allegedly took out 9 mm semiautomatic handguns outside the bar, according to prosecutors.
Floyd Tuione allegedly fired 10 shots at the opposing group and Halaholo Halatoa allegedly moved to another position and fired 11 shots at the alleged victims. The seven then allegedly ran back to their cars and fled, according to prosecutors.
One of the alleged victims was hit in the head by a bullet fragment and surgery was required. Another alleged victim was struck in the shoulder by a bullet fragment, causing minor injury. No firearms were found within the alleged victims' group, according to prosecutors.
Floyd Tuione did not enter a plea when he appeared in court Thursday, and the county's private defender program was appointed to his case. Though Halaholo Halatoa's defense attorney made a motion to reduce his bail Thursday, which was set at $425,000, the motion was allegedly denied, according to prosecutors.
Bail was set at $100,000 for Adrian Halatoa, William Halatoa, Kioa and Moa. Bail was set at $50,000 for Gary Tuione, according to prosecutors.