A Napa man was crowned winner of Half Moon Bay's annual pumpkin weigh-off for submitting a 2,175-pound gourd that sets a new record for being the largest in California.
Leonardo Urena was awarded $15,225 and a night at the posh Ritz-Carlton Hotel for his efforts.
"It feels great to win, it's one of the best things that can happen to a grower," he said. "Winning Half Moon Bay is fantastic. We're proud because when you win Half Moon Bay the rest of the growers have respect for you. To be on top with the rest of the growers is so nice." 
This is the second time Urena has taken home the title in Half Moon Bay after 13 years of participating in the contest. In 2011, he won it all with a 1,704-pound submission.
Urena narrowly topped the previous California record of 2,138 pounds set last year. The heaviest pumpkin ever weighed in Half Moon Bay was grown in Washington and clocked in at 2,363 pounds. 
Urena planted the pumpkin seeds in April with the goal of reaching the 2,000-pound marker for the first time in his growing career. He said it takes about two to three hours of work a day — including heavy watering, trimming vines and applying fertilizer — to grow pumpkins of this size.
"Working hard is the key to growing big," he said.
Urena's pumpkin will be on display at the Art & Pumpkin Festival next weekend along with the other top three submissions, and then at San Francisco's Marketbar restaurant through Thanksgiving.
Coming in second place was Rueben Frias, also of Napa, who grew a 2,017-pound pumpkin, third place belongs to Cindy Tobeck of Olympia, Washington, who submitted a 1,736 pounder while John Hawkley of Napa came in fourth with a 1,727-pound gourd. Each of them went home with between $3,000 and $2,000 in prize money.
The biggest pumpkin grown on the coastside of San Mateo County weighed in at 881 pounds and was grown by "Farmer" John Muller.
Tobeck's pumpkin submission was unusual in that it was grown upside down so the stem was on the bottom. Concerned it would shoot into the belly of the pumpkin when it's placed on the scale, officials decided to saw off the stem, but still placed it on the scale to preserve in the record books whatever weight it provided.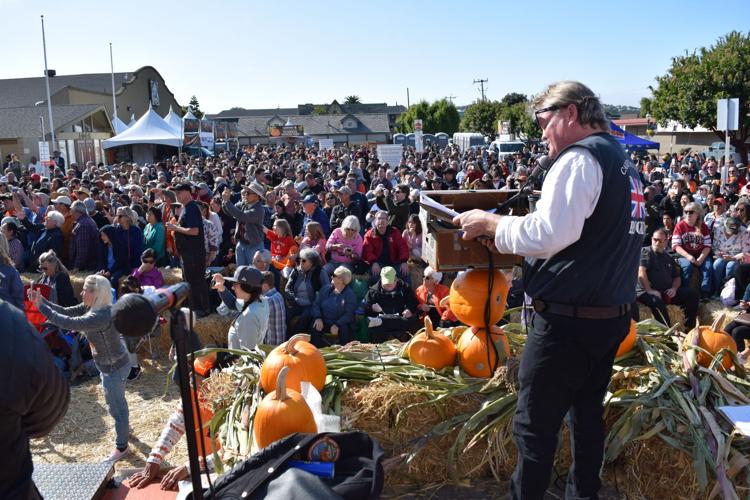 Using forklifts and harnesses, the massive gourds were placed on a 5-ton capacity digital scale and watched closely by officials from the The San Mateo County Department of Agriculture/Weights and Measures. 
In addition to pumpkin weighing, the 46th annual event offered live music, fundraising opportunities for local nonprofits and plenty of pumpkin-themed food and drink, including pie, ice cream, pancakes, cheesecake, macaroni and cheese and beer made from the orange fruit. 
The heaviest pumpkin in the world was a 2,624 pounder weighed in Germany in 2016. A pumpkin that breaks that record would be eligible for a $30,000 prize in Half Moon Bay.