Annual holiday gift drives have been a long-held tradition for many San Mateo County agencies but COVID-19 safety concerns have complicated gift collections while compounding community needs this time of year.
Some organizations have seen overwhelming generosity like the nonprofit Samaritan House and a multi-agency drive between county and Redwood City departments. But others have struggled to collect enough donations to meet the demand of families in need, including the Central County Fire Department, San Mateo Consolidated Fire Department and the mental health nonprofit StarVista. 
"This year is a lot different. It's been pretty challenging drumming up enough donations to meet the need," said Melissa Guariglia, department director with StarVista. "People love the spirit of the holidays and giving gifts because there's something about that that feels rewarding knowing a child will play with that gift." 
StarVista's financial-donation focused drive is short of its goal by more than 50% even with servicing half the number of families they've helped in the past. At Central County, where Fire Capt. Herman Barahona has run the gift collection for 16 years, donations are down by 75%, dropping the number of nonprofits the department can support from 16 to eight. 
And Angelo Santiago, the firefighter responsible for the San Mateo Consolidated gift drive, said the organization opted to "dig deep" into its rainy day fund to provide donations to local nonprofits. The agency received in past years between $10,000 and $15,000 in financial donations, a goal he believes will still be met, along with toys worth thousands of dollars.
Being separated from the community has hindered collections. StarVista's presence in classrooms has largely gone virtual, reducing the number of children with whom the organization regularly comes into contact. Santiago noted traditional events where hundreds of gifts are collected had to be canceled and Barahona said business closures have limited how many collection bins that can be distributed. 
"Usually we have about 370 bales of toys. This year we'll be lucky to break 100," said Barahona. 
Similarly, Officer Jesse Castro with the Redwood City Police Department, said bins stationed in Redwood City storefronts have dropped from 150 bins to about half. Despite the hard pivot, Castro and all other organizers said the importance of hosting events this holiday season was overwhelmingly apparent. 
"This year of all years it was most important to have the program up and running. So many families have been impacted by COVID, losing their jobs and everything else you can think of," said Castro. "We felt it was a necessity to make this happen."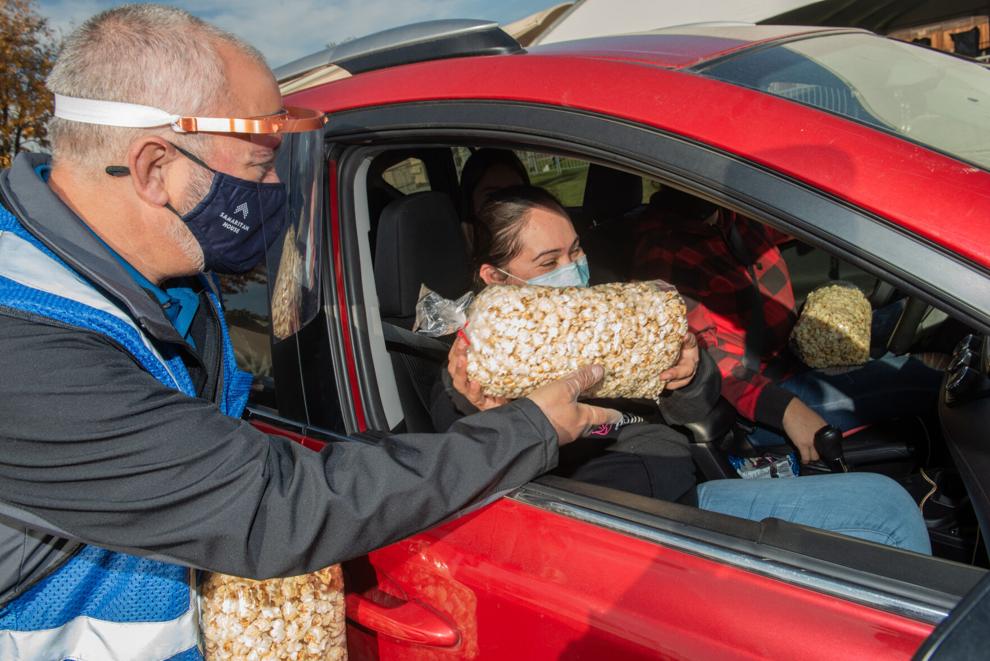 The department has partnered with various county and city agencies to organize a modified version of their traditional gift drive and expect to serve roughly 600 families. The agencies include the fire departments of Redwood City, San Carlos and Woodside, the Redwood City Police Department and Sheriff's Office with each organization's activities leagues, the California Highway Patrol, the city's Parks and Recreation Department and 330 Squad Club and the CARON Project. 
Taking COVID-19 health and safety protocol into consideration, none of the drives and distributions have looked as they did in years past. Both StarVista and San Mateo Consolidated, which serves Belmont, Foster City and San Mateo, have not accepted goods like books and toys because of the risk presented by multiple people handling items. 
StarVista instead intends to purchase personally requested gifts from vendors to have them sent directly to the recipient. San Mateo Consolidated, along with its large donations to local nonprofits, is also accepting gift cards. Anyone interested in donating items has been directed to Central County. 
"We knew we needed to do something and knew it wasn't an option to not do anything," said Santiago. "It's a balance between being safe and helping the public through this health crisis." 
The Redwood City gift distribution, which traditionally involved officers driving door to door delivering gifts with Santa Claus, has also had to pivot to a drive-up collection. Samaritan House has followed a similar path, with both events instead hosting Santa along the path amid holiday decorations. 
Samaritan House CEO Bart Charlow said he expects the organization's second gift card distribution in East Palo Alto on Sunday to be as successful as the first event in San Mateo on Saturday, Dec. 5. Like San Mateo Consolidated, Charlow said monetary gifts are the safest option for both the volunteers and the thousands of children participating. 
Recognizing the sustained need only exacerbated by the pandemic, Charlow said the lines of those requiring assistance will only grow into the new year but shared appreciation for those who have provided a helping hand. 
"The thing that gives me hope is seeing our community step up the way they have to volunteer, to share with others who have nothing, a little of what they have," said Charlow. "Our community is much better than what we give ourselves credit for." 
Visit star-vista.org to learn more about StarVista's gift drive and for more information on how to donate to Samaritan House visit samaritanhousesanmateo.org/article/holiday_program_2020. Visit redwoodcitypal.org/toy-drive for more information on Redwood City and the County's gift drive. Go to ccfdtoydrive.com for to learn more about donating to the Central County Fire Department's gift drive and fftoysfortots.org for San Mateo Consolidated.
(650) 344-5200 ext. 106