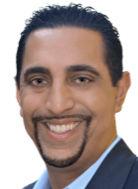 Foster City Councilman Sanjay Gehani has violated the Brown Act, but no punitive action will be taken, according to San Mateo County District Attorney Steve Wagstaffe.
The Brown Act was passed by the California legislature in 1953 to ensure transparency in local government. It specifically prohibits a councilmember from "discussing an item of business that is within the subject matter of a jurisdiction of the council with a majority of the council outside of a noticed meeting," according to a letter dated Aug. 9 that Wagstaffe sent to both Gehani and City Attorney Jean Savaree.
Gehani, who was elected to the council in November and is also a partner and chief marketing officer for Building Kidz, a franchiser of preschools, had plans to buy and redevelop 388 Vintage Park Drive in Foster City into a preschool, according to the letter. That site was formerly home to Mexican restaurant El Torito. 
According to the letter, Gehani understood that his redevelopment plans would require involvement and/or approval by the council. Gehani indicated to City Manager Jeff Moneda that he intended to be the spokesperson for the project when it was presented to the council and that he already had the support of two councilmembers, according to the letter. Interviews established that Gehani discussed the redevelopment proposal with three councilmembers, the letter reads. 
"We do find that [Gehani] violated Section 54952.1(b)(1) by conducting what is referred to as a 'serial meeting' with other members of a legislative body, one at a time, until [Gehani] had discussed with a majority of the council [his] intention to buy and redevelop the El Torito site," according to the letter. "That effort would qualify as 'business' within the subject matter jurisdiction of the council in that the council would have to approve a 'general plan amendment' for the project to proceed." 
The letter goes on to declare that no action will be taken.
"As no action was taken by the council on this matter, there is no need for any 'cure and correct' remedy," the letter reads. "Further, we will decline any further action on this matter since we believe there is no pervasive failure by [Gehani] nor this council to abide by the regulations and spirit of the act in conducting the business of the city of Foster City." 
Gehani described his actions as a "rookie mistake" and looks forward to putting the experience behind him.
"This was a rookie mistake. I have learned a lot from this," he said. "Now I am excited to put this experience behind me and continue my focus on serving our community." 
Mayor Sam Hindi said he takes the Brown Act seriously and hopes that his colleagues are more careful about what they discuss moving forward. 
"I take this very seriously. I don't want this to happen again. This is a rule and a law that was put in place for a reason so the public is privy to everything we talk about and vote on and everything that will impact the city, policies and decision that we make," he said. "It's important that all of us abide by that and, moving forward, it's my hope that people are a whole lot more careful when they decide to talk about things that might come before council in the future." 
Vice Mayor Herb Perez offered a different perspective to the news.
"It's unfortunate that for the first time in Foster City's history, an elected official would use their public position for their personal and financial gain," he said. "It's a stain on our elected officials and has eroded the pristine reputation our city has previously had. I am hopeful that this will serve as a clear warning for all others not to behave in such a fashion."
Wagstaffe said Brown Act violations are not exactly uncommon in San Mateo County, adding that they typically result in a letter of admonition similar to the one sent to Gehani or perhaps Brown Act training is recommended. He cannot recall a single Brown Act prosecution, in which the offender was aware of the fact that he or she was breaking the law and did it anyway. If that happened, the offender could be fined $100,000 and spend up to six months in jail, Wagstaffe said.