In an effort to spruce up the pedestrian experience for downtown San Mateo visitors, city officials are ramping up efforts to get rid of hard-to-clean stains and spills through a power-washing effort in recent weeks.
Stains from food waste, spilled beverages and other waste collecting on downtown San Mateo sidewalks are the target of a power-washing machine that has been making its way through downtown sidewalks, operating in the middle of the night or in the early-morning hours since mid-October.
Though the sidewalks have been periodically cleaned with a pressure-washing wand tool, Russ Cohen, the city's downtown coordinator, is hoping the use of a power-washing machine blasting high-temperature water at tough sidewalk stains will take downtown cleaning a step further. In recent months, the city has worked with the Downtown San Mateo Association to fund a downtown porter to pick up litter that accumulates during the course of the day. In response to concerns about garbage cans belonging to businesses cluttering downtown sidewalks, the City Council in August began discussions of proposed changes in the city's code that would establish specific hours when they will be allowed.
Cohen said the power-washing effort started at the intersection of Tilton Avenue and North B Street and as it's spread throughout downtown. He believes business owners and visitors are starting to take note.
"I do get complaints periodically about this particular issue, and so I'm hoping this is going to make a real impact," said Cohen. "I'm very, very optimistic about this effort."
As president of the Downtown San Mateo Association and owner of B Street Books at 301 S. B St., Lew Cohen has been encouraged to see the downtown cleaning efforts take shape. He noted the power-washing of sidewalks, combined with an effort to replace the liners of downtown garbage cans, has improved the look of sidewalks lately, a detail he felt could affect whether downtown visitors return to San Mateo.
"It's important," he said. "One of the first impressions people have of the downtown is the state of the sidewalks."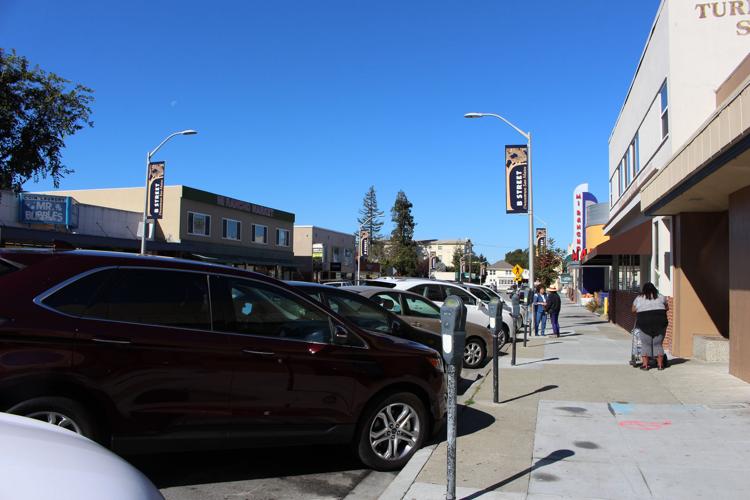 Having seen garbage and waste staining the sidewalks near businesses on North B Street for several years, Gigy Cabral, owner of the convenience store Video Loco at 132 N. B St., said the sidewalk outside her business looked noticeably better immediately following the power-washing earlier this month. She said she's noticed trash and waste that doesn't make it into the public garbage cans accumulates quickly unless someone takes the initiative to clean them up. And though the power-washing effort spruced up the sidewalks outside North B Street businesses in the near term, Cabral was doubtful it would stay that way unless the sidewalks are cleaned regularly.
"You notice right away," she said. "This side always gets dirty and we have to clean up."
Because the three- to four-week power-washing effort is estimated to cost between $30,000 and $40,000, Russ Cohen said the officials are planning to evaluate the impact of the effort and then make a decision on how often they will provide the service.
Having lived in San Mateo for more than 25 years, resident Oscar López-Guerra said he walks to downtown from his home five days a week and has noticed garbage cans blocking pedestrian traffic and stained downtown sidewalks for some time. Though he didn't notice a measurable difference in the cleanliness of downtown sidewalks in recent weeks, López-Guerra voiced support for officials' focus on cleaning streets and sidewalks, noting the messiness has made him think twice about patronizing downtown businesses. López-Guerra said he loves San Mateo, but has considered visiting other cities such as Burlingame and San Carlos because he feels their downtowns are cleaner and hoped the cleaning efforts in San Mateo's downtown could attract and retain visitors.
"I am a part of the economy, I am spending money … I am invested here," he said. "I'm an optimistic person, but I haven't seen any improvements [yet]."