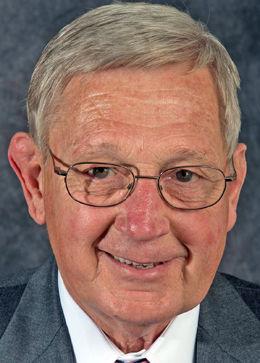 In his decadeslong journey through the ranks of local schools from the classroom to district office to the board room, Tom Mohr cites a single, key ability above all in his sustained success — collaboration.
The former teacher, site administrator, superintendent and current member of the San Mateo County Community College District cites his ability to bring school communities together for an open, honest dialogue as one of his most useful assets.
And despite his ongoing battle with pancreatic cancer, he would like to continue applying that skill and the others he has honed over the many years to serve the local education community as he plans to pursue another term in office, said Mohr.
Though realistic about the toll chemotherapy and other treatments combating his diagnosis two years ago can take, Mohr believes he has more to offer the school community he has been a part of for more than 60 years.
"Is it exhausting? Yeah. But if I get my rest and manage my time well, I believe I can do it," said Mohr, 83, whose term on the community college school board is slated to expire in December.
Should he formally opt to seek re-election, Mohr would seek support in the district's first election since transitioning from an at-large system awarding the highest vote getters. Instead, candidates will run against others living in the same ward boundaries drawn under the transition to by-district elections.
The college district recently agreed to adopt the system used by the county Board of Supervisors, which is becoming increasingly common locally. The Redwood City Elementary School District also adopted the shift, and city councils in Menlo Park and South San Francisco are amidst similar transitions.
While the thought of running another campaign after such an illustrious career may dissuade some, Mohr said he wants to continue giving back to the school community which he believes has given him so much.
Beyond the depth of institutional knowledge Mohr can offer by drawing from his local work experience beginning as teacher in the Jefferson Unified School District in 1961, Mohr said he would like to continue examining ways to improve education.
A central tool Mohr has learned to employ in that effort, which he refined when hired as superintendent of the San Mateo Union High School District in 1996, is community engagement.
Mohr suggests the ability to unify all stakeholders and facilitate direct dialogue about potentially divisive issues is one of his greatest skills and one that he hopes to continue utilizing through his next term.
Should Mohr garner the support required to preserve his spot on the board, it would mark the continuation of a relationship established with the district when he was hired in 2007 as president of Cañada College.
Following his five-year term at the school's top post, he parlayed his engagement with the district into a spot on the school board when he won his first election in 2013.
Leaning on his years of experience, Mohr said he believes he maintains a unique perspective as one of the few career educators ever to be elected to the board.
He said after his rise through the administrative ranks, he considers it essential for the board to include at least one member who can relate to those working as educators, especially in the classroom.
"You need someone who understands the academy and understands how powerful great teaching is," he said.
As Mohr asserts the value he can grant to the district, he also recognized the reciprocal benefit he enjoys through serving the school system while battling his illness.
Mohr said he believes staying active on the board adds to his vibrancy and helps him fend off the challenges posed by his cancer. And though he acknowledges there could be hurdles ahead posed by his eventual return to chemotherapy, Mohr said his confidence in his ability to fulfill his obligations is buttressed through his successfully navigating the issues previously.
"I've managed all this before," he said. "I'm expecting to manage it again."