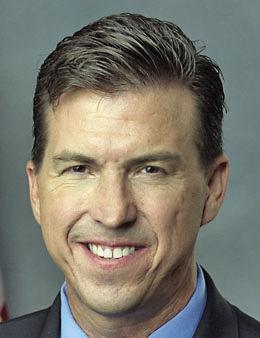 A local lawmaker is spearheading the effort to raise $6.7 billion with a statewide bond he hopes will fortify the state's climate resiliency through investment in environmental infrastructure.
Assembly Speaker pro Tem Kevin Mullin, D-South San Francisco, announced Monday, Feb. 22, a proposal to float a fall 2022 ballot measure raising money for an expansive slate of work programs.
Assembly Bill 1500 would finance capital projects protecting California against the hazards posed by sea level rise, wildfires, droughts, extreme heat and other natural disasters.
Mullin framed the proposal as an investment in the state's future that could provide critical resources as California confronts the challenges brought by climate change.
"We, as a state, need to step up and exert national and global leadership on this issue," said Mullin.
AB 1500 is co-authored by Assemblyman Eduardo Garcia, D-Coachella, who also touted its importance in a prepared statement.
"The passage of a climate resilience bond must be the next step in California's climate leadership," he said. "A crisis of this magnitude requires urgent action and historic investments to protect our communities from the devastating public health, safety and economic impacts of climate change."
The bill would earmark $1.1 billion for wildfire protection; $1.2 billion to address sea level rise; $1.6 billion for safe drinking water; $1.06 billion for natural disaster response; $800 million for fish and wildlife adaptation; $640 million to protect against extreme heat; and $300 million to protect farms, ranches and other land from climate risks.
The introduction of the bond caps an extended rollout for Mullin, who had discussed the measure last year before postponing it to focus on pandemic response.
While the public health crisis remains the top priority to state lawmakers, Mullin said it is also important to keep an eye to the future.
To that end, he considered the proposal a means for assuring the state is adequately prepared to address environmental issues and also generating jobs that can help the economy rebound.
"This could be a green jobs generator if we make the right kind of investment," he said.
Mullin shared some confidence that the proposal could work in alignment with contributions from the federal government to bolster California's disaster preparedness.
Further, he felt the bond would serve alongside climate policy bills floated in the state Legislature plus regional efforts to address local infrastructure needs.
To that end, he said revenue created by the measure could go far to helping San Mateo Could fend off the threat posed by sea level rise.
And though he has credited the commitment of local officials to collaboratively address the issue, additional resources will be required to expand the effort beyond the county's borders, he said.
"We really have a generational responsibility to do whatever we can to incentivize the proper regional planning when it comes to climate resiliency," he said.
Sea level rise is especially critical locally because it threatens billions of dollars worth of infrastructure both along the San Francisco Bay as well as the coastal regions of the county's shoreline.
"We are the most impacted county from a property value standpoint when it comes to climate change and sea level rise," he said.
The extent of the environmental hazard does not subside at rising sea levels, as Mullin noted San Mateo County faces greater wildfire danger than ever before.
Acknowledging the increased frequency with which climate-driven disasters are occurring, Mullin said he considers the effort urgent to assure future generations of Californians are protected.
"We can't afford to wait on investing in climate resiliency," he said.